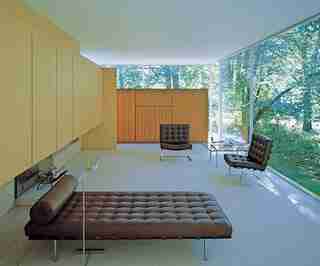 Ludwig Mies Van Der Rohe
As a leader of the Modern Movement, Van Der Rohe was a celebrated designer and architect. Following the "less is more" school of thought, Mies' architectural style is characterized by a prolific use of industrialized steel and glass. His most noteworthy piece of furniture, the Barcelona chair (pictured above), is currently reproduced by Knoll and widely available for purchase ( www.knollom ).
Ludwig Mies van der Rohe's 1951 Farnsworth House in Illinois. ( January 2001 )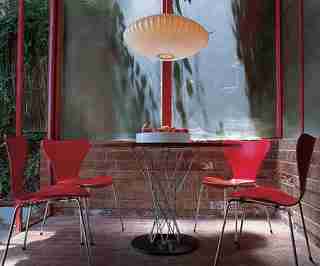 Isamu Noguchi
This designer's free-form aesthetic informed his furniture, artwork and paper-and-metal lamp designs. Noguchi designed many noteworthy pieces of furniture for both Herman Miller and Knoll, including tables, stools, sofas and rocking stools. A sculptor by trade, Noguchi sought to fuse scultpure and furniture, resulting in an organic style all his own.
Chrome rods support a circa 1950's table by Noguchi. ( April 2001 )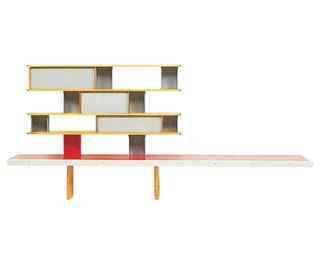 Jean Prouvé
" Jean Prouvé used new materials, like aluminum and plastic, and made an important connection between production and function," Serge Robin says of the French furniture designer and architect's machine-inspired works.
A 1953 Jean Prouvé bookcase.
Arne Jacobsen
Designers Shelton, Mindel often employ mid-century pieces to frame their streamlined interiors. A Jacobsen Egg chair in the media room is "the aerodynamic modern version of a wing chair," Mindel says. "It provides a sense of coziness without enclosure, which is the same principle at work in the penthouse as a whole." Jacobsen also designed the lamp.
A New York penthouse designed by Shelton, Mindel. ( March 2005 )
Maharam
Upholstery and wallcovering fabrics featuring the work of Charles and Ray Eames , Josef Hoffman, Arne Jacobsen, Alexander Girard and more can be found at Maharam ( aharamom ) in their Textiles of the 20th Century collection.
Alphabet by Alexander Girard.
Edward Wormley
Architect Peter Bohlin and interior designer Steven Shadley team up to create a timeless Pennsylvania house. Working with a palette of creams, rich browns and the grayed-out blue of stone, Shadley furnished the progressive house with midcentury classics. "The heavy and light elements have been carefully juxtaposed, giving the space clarity and strength," says Bohlin.
The dining area features a tawhai-wood table and Asian style chairs designed by Edward Wormley in the 1950s.
Herman Miller
The Herman Miller Company, based out of Zeeland, Michigan, is a major purveyor of mid-century furniture for the masses. The company has historically taken bold steps in hiring visionary designers like Charles and Ray Eames, George Nelson and Isamu Noguchi.
A display of Herman Miller ( www.hermanmillerom ) pieces includes Verner Panton's plastic stacking chairs. At left is a contemporary reissue of a storage unit by Charles and Ray Eames; a 1951 original is at right.
Charles and Ray Eames' Neutra Apartment
Designer Michael Webb redecorated the apartment as a tribute to Neutra and the Eameses: "The goal was to foster a dialogue—enriched by personal memories and enthusiasms—between those giants, weaving together metal and wood, angles and curves, plain and colored surfaces, and finding the connections between them."
Webb's sitting room houses an Eames molded plywood chair, two Alvar Aalto armchairs and a tubular metal sofa by Gilbert Rohde.
Mark Rothko
New York School painter Mark Rothko once said "a large picture is an immediate translation; it takes you into it."
Rothko's #73, 1952, with its glowing clouds of color, relfects the artist's mature style and presaged color-field painting.
Artwork courtesy of the High Museum of Art, Atlanta, Georgia/Gift of The Mark Rothko Foundation, Inc./Artists Rights Society (ARS), New York.
Marc Newson, Konstantin Grcic
The view of Indian Creek from Alexander Gorlin's apartment in Aqua, a Miami building he designed, "becomes an extension of the interiors." A contoured Marc Newson chair and a vibrant side table by Konstantin Grcic are near a foam table made to look like cement set with small river stones.
Alexander Gorlin's Miami residence.
Harry Bertoia
During his time at Knoll, Bertoia flourished as a gifted metal sculptor. His unique wire chairs, circa 1951, were almost entirely crafted by hand and would later become archetypes of timeless, mid-century modern design.
Bertoia bar chairs make a statement in a minimalist Napa Valley kitchen designed by architect Jim Jennings.
Charles and Ray Eames
Beverly Boulevard, in Los Angeles's design district, is home to many boutiques aiming to preserve the once-futuristic design era known as 20th-century modern.
At Modernica ( odernicaet ), Eames fiberglass armchairs and rockers line up against a wall of the showroom.