In this first comprehensive monograph on American architect and artist Maya Lin, the astounding scope of her last three decades is considered through photographs, sketches, a foreword by John McPhee, and compelling essays from Paul Goldberger, Dava Sobel, and Lin herself, among others. While the 50 projects featured in Maya Lin: Topologies (Rizzoli, $75) range from sculptural earth forms to memorials, institutional structures, and residences, Lin's wonder at and respect for the natural world shine through in each.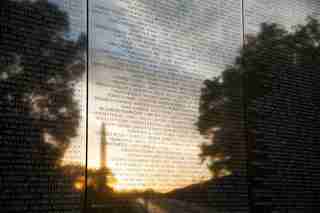 Lin was only an undergraduate at Yale when she entered a class assignment into the competition for a Vietnam Veterans Memorial in Washington D.C. Her spare, ground-cleaving design was picked out of 27,000 entries, and the result, built in 1982, has become one of the most visited memorials in the world.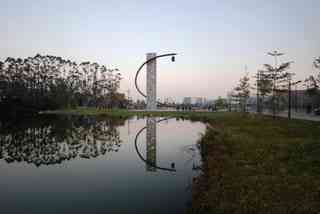 Many of Lin's works begin with gestural sketches, simple lines that are then executed in stone, metal, and earth. Here, a stone bell tower on the campus of Shantou University in Guangdong, China, features an unembellished metal arc inspired by calligraphic brushstrokes.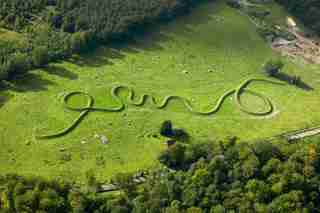 Eleven Minute Line is from a series of earthwork installations Lin calls "Earth Drawings." Located outside the Wanås castle in Knislinge, Sweden, the original sketch was repeatedly adjusted to fit into the scale and slope of the pasture that hosts the final product.
Lin created the on-site installation, Groundswell, for the Wexner Center for the Arts at the Ohio State University in Columbus. She poured two colors of broken safety glass into throwaway spaces that were both highly visible and neglected, creating volumes and shadings that evoke landscape and seascape.
Lin designed the Museum of Chinese in America, located in New York's Chinatown. As a backdrop to chronicling the history of Chinese Americans from the 1800s to the present day, she left the museum's inner courtyard raw as a reminder of the history immigrants bring with them to new countries.
In one of the book's essays, "The Courage to Omit," architecture critic Paul Goldberger praises Lin for navigating the line between simplicity and complexity. In this private New York residence, Lin used movable walls and partitions to maximize utility while maintaining a simple, clean aesthetic.
Maya Lin: Topologies is out this month from Rizzoli.