The smooth contours of a round building can feel at once futuristic, sexy, and playful. The modernity of Jetsons-style curves is undeniable, and so is the allure of any structure that's sleek and suggestive, while the buoyant nature of a bubble-like building can instantly lift spirits. Maybe it's the mercurial meaning of elliptical structures that has led architects like Renzo Piano to design a visionary glass bubble on the roof of a former car factory, or Rem Koolhaas to create a pavilion at London's Serpentine gallery that inflates like a giant bubble of chewing gum. Pierre Cardin's former home Bubble Palace charms with whimsical arrangements of tubular halls and round windows, while Beijing's Water Cube takes the natural formation of soapy bubbles to new heights. Regardless of its inspiration, a globular building, especially viewed in comparison to a more linear structure, is inherently evocative and instantly enticing.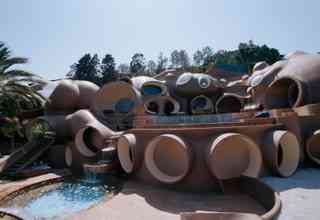 Bubble Palace
Located on the French Riviera, this whimsical, Dr. Seuss-like home is known as Palais Bulles (or in English: Bubble Palace). Commissioned by industrialist Pierre Bernard, the futuristic home was designed by architect Antti Lovag and completed in 1989. After Bernard's death in 1991, the house was owned by another Pierre (Cardin, the fashion designer), until it hit the market in 2015.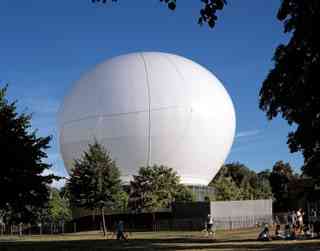 2006 Serpentine Pavilion
Blown up like a giant chewing gum bubble, the 2006 Serpentine Pavilion by Pritzker Prize-winner Rem Koolhaas was an inflatable auditorium made from translucent plastic. Deflated slightly on days with bad weather, the bulbous structure was home to two 24-hour interview series hosted by Koolhaas and curator Hans-Ulrich Obrist.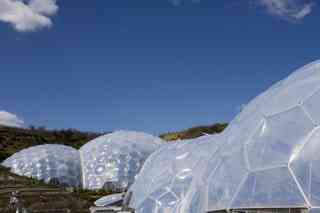 Eden Project
Resembling clusters of soap bubbles, these domes are biomes for the Eden Project, an initiative to collect plants from around the world conceived by businessman Tim Smit. Located in Cornwall, England, the plastic-and-steel structures were designed by architect Nicholas Grimshaw and opened in 2001.
Water Cube
Australian firm PTW Architects envisioned a cube covered in bubbles for the Beijing National Aquaics Center. Built for the 2008 Sunmer Olympics, the building is known informally as the Water Cube and features and exterior pattern that mimics the natural formation of lathered soap bubbles.
Oil Bubble Sculpture
This stainless steel sculpture in Karamay, China has drawn ire for its resemblance to The Bean, the famous sculpture in Chicago's Millenium Park by artist Anish Kapoor. This globular-looking structure, whose artist is not named, is reportedly modeled after an oil bubble and featured several smaller bubbles around it.
National Grand Theatre
Opened in 2007, The National Centre for the Performing Arts in Beijing features a large bubble-like dome of titanium and glass. Designed by French architect Paul Andreau, the arts center and opera house is sometimes called The Egg for its elliptical shape.
Bubble Chamber
Located in Illinois on the grounds of Fermilab, a U.S. Dept. of Energy particle physics lab, this bubble chamber is used to measure the momentum of subatomic particles through applying heat, pressure, and a magnetic field on a liquid to create microscopic bubbles. Chambers like these, bubble-like in their design, have mostly been replaced by more rectilinear wire chambers.
Greenhouse Neptuna
Located near the base of Santiago Calatrava's Turning Torso in Malmö, Sweden, the Greenhouse Neptuna by landscape archtiect Monika Gora is a greenhouse-like structure that offers a tropical respite from the city's cold, windy weather. Opened in 2006, the glass-and-steel blob-like building is colloquially known as the Glass Bubble.
Lingotto Bubble
Once a Fiat car factory, the 1920s Lingotto Building in Turin, Italy, got a modern update by Pritzker Prize-winner Renzo Piano after he won a competition for the renovation in 1985. The structure, now modernized to accommodate an exhibition center, two hotels, and retail space, is topped with a crown jewel called the Bubble, a round meeting room rendered in transparent glass.