For many, the painstaking search for artwork to complement a freshly renovated space is the final stage of the design process—much like pulling an outfit together with the perfect sparkling piece of jewelry. For Maria Brito, the order of things is reversed. The Venezuela-born designer is adamant about placing art at the forefront of every project that her New York City –based business takes on. "There was often a disconnect between my clients' ideas of art and the home design around it," Brito explains. "I'm not the kind of person who is matching art to sofas. The art always outlives the furniture, and it's the most important investment my clients make when they work with me."
Though Brito's approach might seem backward at first, it ensures that her clients are left with fiercely unique interiors, as well as a fledgling collection of high-end pieces reflective of their individual personalities. Brito's youthful overhaul of one couple's Hamptons home a few years back sold them on her unorthodox vision, inspiring the husband and wife—now expecting twins—to enlist her help in finding a Manhattan home for their growing family. Though Brito works primarily as an art adviser, she gamely accompanied them in their search, eventually landing on a 2,500-square-foot apartment on Sutton Place's distinguished main thoroughfare.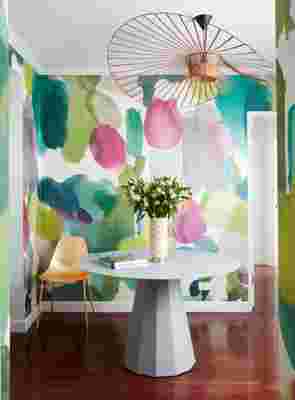 The effect of the Bluebellgray watercolor wallpaper is immediate in the foyer, which also features a metal table and delicate pendant lamp—both by Parisian designer Constance Guisset.
Despite dreamy views of the Queensboro Bridge from the 20th-floor abode, the storied co-op required a complete reimagining. "This apartment was basically in ruins," Brito says. "Nothing had been done since the '70s. The floors had layers of musty carpeting, the walls were covered in wallpaper from the '60s, the kitchen was all Formica—it was really scary." She helped her clients secure a contractor and assigned a project manager to oversee a three-month gut renovation process, which afforded her time to compile a stunning selection of artwork, wallpaper, and furnishings that would make a statement in every room.
"There's a conception that everything that is luxurious has to be beige and gray—that's something I try to break," says Brito. The newly overhauled three-bedroom presented a blank canvas on which Brito could apply a playful palette of colors and patterns, creating the balance of sophistication, surprise, and whimsy that her clients craved. "There's curiosity and conversation in every little thing," she says. In the end, it was exactly what the couple hoped for, ready just in time to welcome home their twin baby boys.