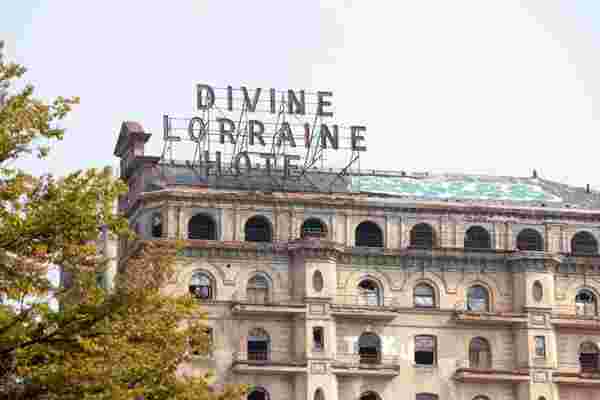 The current exterior of the Divine Lorraine hotel in Philadelphia.
A $44 million renovation was launched several weeks ago to convert the Divine Lorraine, a Victorian landmark in North Philadelphia, into a mixed-use building with 20,000 square feet of retail and restaurant space and more than 100 apartments. The project is part of an initiative to rejuvenate the Broad Street Corridor, a once-grand section of Philadelphia that's fallen into disrepair.
Originally built in 1894, the ten-story structure was among the first high-rises in Philadelphia. It was an upscale apartment building—one of the few in the city to provide luxury amenities, like electricity—until 1900, when the Metropolitan Hotel Co. purchased the space and converted it into the Divine Lorraine Hotel. In 1948, it would be transformed again into the city's first racially integrated hotel.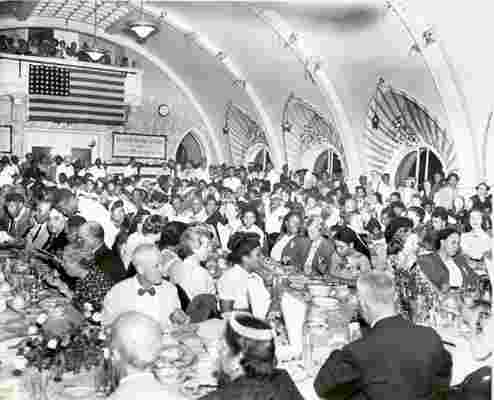 A vintage photograph of the Divine Lorraine Hotel.
The building, located at 699 North Broad Street, was awarded a historical marker by the Pennsylvania Historical and Museum Commission in 1994; the National Register of Historic Places noted its significance both in terms of architecture and civil rights history in 2002. But the former hotel has stood empty for the past 16 years. A failed renovation in the mid-2000s left the space gutted; the exposed brick walls have since been tagged with graffiti.
That's when Eric Blumenfeld, who owns the neighboring apartment building 640 North Broad, seized the opportunity to restore the Divine Lorraine to its former glory. "Every inch of this building is interesting. The mission is to honor the history, but bring it into the future," he says.
While maintaining the building's architectural framework, the renovation will convert the ground floor into restaurant and retail space. The residences will be roughly 800 square feet each, with units on the upper floors enjoying views of the Philadelphia Museum of Art, located a mile to the west.
The renovation promises to "preserve and honor the great history of this landmark," according to Blumenfeld, while helping to revitalizing the Broad Street Corridor. The project broke ground on September 16 and is expected to continue through January 2017.
For more information visit thedivinelorrainehotelom .