It's almost impossible to imagine New York City without such landmarks as Central Park. Yet, were it not for a mid-19th-century bill enacted by the state legislature calling for more than 750 acres to be allocated for the grounds, New Yorkers would've never been able to experience the spoils of the iconic park. But what about other would-be landmarks that, for reasons political or other, were never realized in New York City? The new book Never Built New York (Metropolis Books, 2016) explores that very topic. Included in this tome are unbuilt projects such as a beautiful Park Avenue skyscraper by Zaha Hadid; a design for Brooklyn's Dodger Stadium that featured a giant dome to shield players and fans from the rain; an airport perched on steel columns 200 feet above street level, spanning from 24th to 71st Street and Ninth Avenue to the Hudson River; and many others.
"The drawings in this book . . . are for me not a compendium of nostalgia, regret, or opportunities missed," writes architect Daniel Libeskind in the book's introduction. "They are, on the contrary, drawing the open mind to rethink the built and unbuilt." Indeed, by looking at old projects through a modern scope, we are better able to learn from past mistakes when designing future structures. Here, you will find a sampling of the scrapped projects the book examines.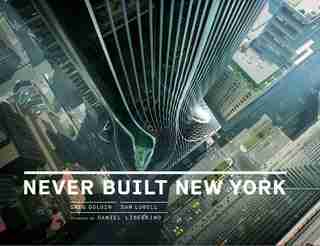 The book's cover image shows Zaha Hadid's design for a skyscraper on 425 Park Avenue, one of several entries in a 2012 competition eventually won by Foster + Partners.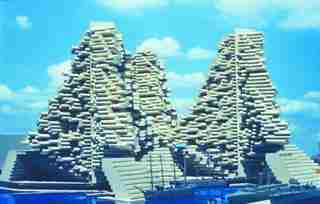 Although The New York Times gushed over Moshe Safdie's bold design for the city's very own version of Habitat 67, noting that the plan was breaking "just about every housing and building rule, precedent, practice, custom, and convention," the project never took root.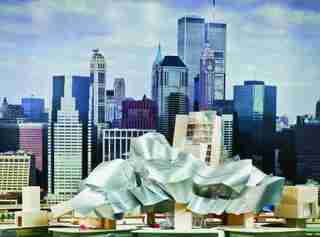 Plans were in place for Frank Gehry's Guggenheim Bilbao to have a Manhattan sibling. But after the events of 9/11, the world economy turned downward, and funding (and enthusiasm) for the ambitious project evaporated.
In December 1945, prominent U.S. real-estate developer William Zeckendorf proposed a radical design for New York's next airport: a $3 billion elevated runway that would stretch 144 square blocks along the Hudson River (from 71st Street to 24th Street). The plan for the airport, which would have rivaled LaGuardia for total plane capacity, was eventually declined.
Roosevelt Island, the 147-acre strip of land in the East River between Manhattan and Queens, was once intended to house several 50-story apartment buildings with built-on platforms containing schools, shops, and recreational space. The design was scrapped in favor of a much more modest design, which included smaller apartments and nothing more.