When Boston native and fashion insider Jason Basmajian was looking for a country retreat outside Paris, he fell in love with Le Couvent, a pink house built in the late 19th century. At the time, he was based in Paris, the head designer at luxury goods brand S.T. Dupont. Basmajian has since been the creative mastermind behind such menswear brands as Brioni and Gieves & Hawkes, and is currently chief creative officer for the luxury label Cerruti. Although he is now based in London, the dynamic man on the go still manages to escape to Le Couvent on weekends and holidays.
Located in the picturesque region of Sancerre, this weekend retreat seems to have everything. In his words, Basmajian was looking for "interesting architecture, not too big, something to redo with potential." Le Couvent fit the bill, and the antique rose color of the exterior sealed the deal. Never mind that the property was completely overgrown and difficult to enter by car. The trees were beautiful, and there were still lovely gardens and woods.
Although he basically kept the original floor plan, the entire roof had to be replaced immediately, and all the plumbing was installed along with radiant floor heating. "I left all the creaks in the floors and wanted to keep the old house's sensitivity, but with all the modern comforts," he says. The main entrance hall was enlarged, and he broke through the wall to make a larger kitchen. Windows were added for more light. A library wall was removed and replaced with glass for a view onto the staircase leading to the bedrooms.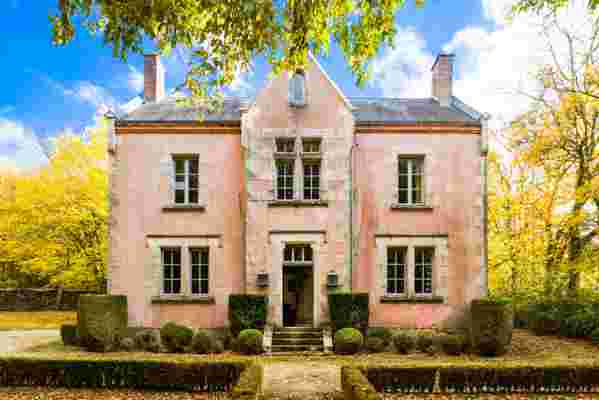 The pale pink façade is original and untouched. Basmajian says, "I love the shock of color and how it changes each season." Though this is actually the front door, everyone enters through the kitchen door on the side, near the terrace.
The original house had no bathrooms, so where to put them? Basmajian was inspired by something he saw in Amsterdam, where all the bathrooms were put in the attics and "this gave me the idea," he explains. " I put the master bathroom and lounge suite in the attic above my bedroom and another guest bathroom on the other side of the house for the two guest rooms. Being up there feels like a tree house."
The entire residence is designed to be "soothing," in the words of the owner. "I like to live contemporary, cozy, timeless, and luxurious, but not pretentious. The color palette is all black—shades of nature and muted," Basmajian comments. "I think the story here is all about texture and color."
The interiors are very much in dialogue with the exterior space. "I created the terrace, planted boxwoods and an herb garden behind the kitchen. I also wanted to separate the property from a communal path, so I built up a wall of logs, inspired by the artist Andy Goldsworthy." There is also a charming outdoor salon which is in much use during the warmer months. "This is a house for all seasons," he says. "Wonderful in the winter with the fires going and cooking, great in the warmer months with outdoor living and lots to do all around the area—but this is really a home for recharging the batteries."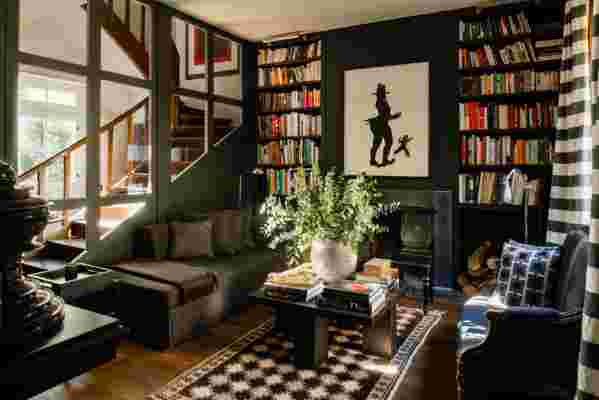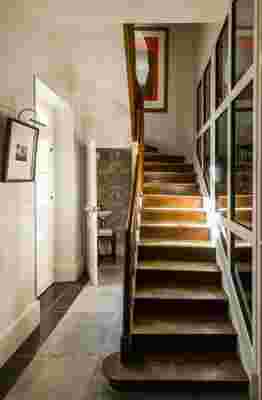 RELATED: An Idyllic Country House in the Middle of Paris