The Acer K750 is an LED and laser projector that aims to strike the perfect balance between home cinema and educational use by combining the best of its respective technologies. Normal LED projectors have individual red, green and blue lamps, but a hybrid projector like the K750 creates green by combining its red and blue LED lamps with a blue laser. This allows it to be much brighter than usual over a longer period of time.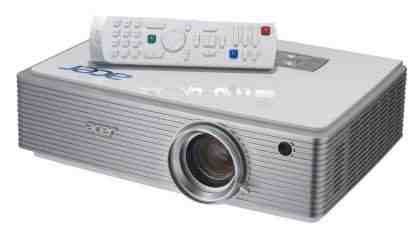 It's certainly very bright when you first turn it on, and its 1,500 lumens proved perfectly capable of showing our test presentation in both normal lighting conditions and with the lights turned off. It also coped equally well with long and short throw distances, and primary colours were all quite punchy and vivid even in a brightly lit room.
Image quality was good for a mid-range projector. Skin tones were even, if a little on the warm side, and we measured a contrast ratio of 813:1 with our X-rite i1 Display Pro colour calibrator. Our high contrast test photos produced a reasonable level of detail in both the light and dark areas of each image, but its main weakness was poor black levels. This made it difficult to pick out detail in some of our darker photos, such as our scene of a harbour at night, and there's no auto-iris feature to help improve black levels either. We were still able to read black-on-white text and white-on-black text with the lights on, but to get the best results you really need to use the K750 in the dark.
Moving images proved more taxing, as we noticed quite a lot of judder while watching films. Action sequences were particularly jerky, and there was a perceptible amount of flicker even when the film was paused. Despite not having a colour wheel producing its images, we also saw a lot of rainbow effects while casting our eyes across the screen, so much so that one of our testers had to stop watching altogether. There aren't any options to help smooth out the image in its menu settings either, making the K750 fairly unsuitable for watching 24p video at its native resolution of 1,920x1,080.
Its menu interface is fairly simple, and there are eight different preset modes to use. These are comprised of Standard, Movie, Dark Cinema, Game, Sports, User, Bright and Presentation, but the only difference between them is varying gamma levels. This makes some modes like Movie and Dark Cinema appear almost identical to each other, while other modes such as Bright looked truly awful, as it completely sapped all colour from the screen and made everything look a sickly shade of green. The moment you try to adjust the brightness, contrast or colour temperature, it automatically switches to User mode, which gives you very little leeway to customise your preferred setting. Noise reduction, on the other hand, seemed to be permanently blacked out on every setting.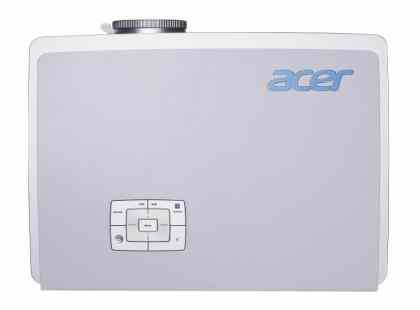 If you're worried about the K750's energy consumption, there's also an Eco setting that dims the projector's overall brightness. We found this didn't make too much of a difference to viewing our test files, and we were pleased to see that it didn't lock it to one particular brightness setting. This meant we could still increase the brightness without jumping out of Eco mode. There's also an option to turn on Brilliant Colour mode, but we found this actually sacrificed colour depth for an extra dose of brightness, so we didn't use it.