On the Los Angeles design and art scene, few couples cut such a dashing figure as Valerj Pobega and Mattia Biagi. They look as if they came straight out of central casting on a call for gorgeous Italian creative types. But it's not just Pobega's signature copper locks or Biagi's kaleidoscopic tattoos that set the provocative pair apart. Both possess serious bona fides as designers whose work drifts easily into the realms of art and fantasy.
Biagi hails from Ravenna, Italy. Pobega, his wife of 15 years, is a native of Sardinia. The couple met on the fashion scene in Milan when they were working as models (naturally). They landed in Los Angeles when Biagi was tasked with curating a newly opened boutique for the Italian contemporary design powerhouse Cappellini. "We both fell in love with L.A.," Biagi recalls, citing the city's balmy allure and its echoes of their Mediterranean homeland. They were married at the famed Little White Chapel in Las Vegas shortly after their arrival in the U.S.
In 2008, Pobega launched her namesake collection of avant-garde fashion. Each article of clothing she creates is unique—Pobega herself designs, cuts, sews, and hand-paints every piece in the line. Her artistry has attracted a cultlike following, and she has designed custom items for superstars on the order of Lady Gaga, Madonna, and Beyoncé. The Los Angeles County Museum of Art recently acquired one of the pieces Pobega designed for Lady Gaga's stint on the television series American Horror Story.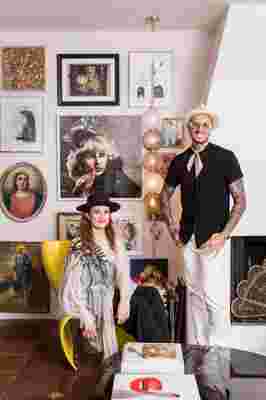 Pobega (left) sits on an early prototype of Marc Newson's Felt chair. Biagi stands next to a Venini Abaco suspension light.
Biagi, too, has found success under the sunny skies of L.A. In addition to his work as a curator and furniture designer, he gained serious notoriety for his compelling sculptures of quotidian objects dipped in molten black tar. "A lot of people know me from the tar work, but I don't want to be pigeonholed," he insists. Indeed, Biagi's work has taken many directions. During the 2018 Milan Design Fair, for example, he exhibited a series of divinely surreal chair sculptures designed as collages of wood and marble at Spazio Rossana Orlandi. On February 15, in conjunction with the upcoming Frieze art fair, Biagi is curating "Metropolitan Sets," an intriguing installation at L.A.'s BADD House that marries his own art and design work with vintage treasures plucked from 1stdibs , the presenting sponsor.
Biagi and Pobega live in an appropriately romantic setting in one of West Hollywood's historic courtyard buildings of the 1920s, within walking distance of their beloved Chateau Marmont. Set amid lush plantings and gurgling fountains, their home is a wonderland of cutting-edge design, high and low art, idiosyncratic decorative flourishes, and color galore. "It's all very personal—things we have collected over the years, mementos of our life together, and tributes to the artists who have inspired us," Pobega explains.
The mood is set in the interior entryway, where the walls are covered in a custom Biagi wallpaper of abstracted watercolor breasts arrayed in a grid. " Madre Natura feeds us all," he says of the homage. From there, a veritable cornucopia of great design spills out into the open living and dining rooms. The mix includes chairs by Marc Newson and Carlo de Carli, lighting by Carlo Scarpa and Angelo Mangiarotti, and Biagi's own bespoke designs. In the dining area, a massive plaster arm modeled after Michelangelo rests on a Piero Lissoni console beneath a traditional 1920s tapestry—pure magic. The stairway to the upper floor is painted silver in a nod to Andy Warhol's Factory. In the bedroom, a scenic grisaille wallpaper provides a striking contrast to a bedcover printed with an image of a kissing couple.
Although both Pobega and Biagi love to cook, their dazzling Weho hideaway is not meant for large-scale entertaining. "Yes, we have friends over occasionally, but never big parties," Biagi says. Pobega seconds the notion: "This is our sacred space, our refuge."