Azulik Uh May, a new cultural complex that opened in the jungle outside Tulum at the beginning of December, is full of holes. Under the 52-foot-tall dome of IK LAB, the central art gallery, live trees emerge from holes in the polished concrete floor and shoot straight through tunnels that hang down from the ceiling. And when it rains, the holes in the roof funnel water directly to their roots.
The design is by an Argentine-born local hotel owner who simply goes by Roth, whose vision was to build a contemplative space where art convenes with nature. In April, when he opened the first IK LAB gallery at the original Azulik, his own eco-hotel on Tulum's resort-lined coast, he had already begun construction of a second larger location further afield, some 30 minutes away by car. It's in the forests of Francisco Uh May, a Mayan village a half-hour drive from the touristed beaches. The journey passes a stretch of roadside, open-air vendors of woven hammocks and tapestries and veers off into a potholed dirt road that leads to an opening among the trees. That's where the chain of extraterrestrial buildings that hosts the gallery, a restaurant, Roth's home, and a forthcoming artist-residency program has begun to take shape.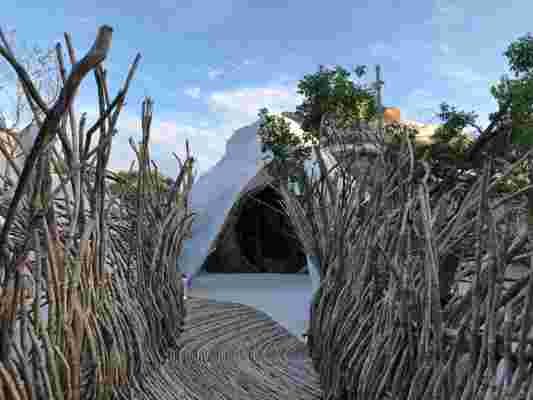 Visitors enter the central gallery via an elevated pathway and grand glass portico door.
Unlike most institutions, IK LAB is not a white cube, nor does it possess any right angles. The dome at Azulik Uh May is full of fluid shapes: spiraling, elevated walkways paved with bejuco vines and cozy hidden nooks that visitors explore with bare feet. By design, the space frees the art-viewing experience here from the formalities of a museum.
"In museums, for instance, there's such a barrier between the viewer and the artwork: You can't approach the works, and you're being dwarfed by a flood of information and procedures," artistic director Claudia Paetzold tells AD, and the stress of these conditions can make it difficult to really look.
Consequently, "The work confronts you with not being fully present," she says. "You fall back on the museum shop to buy at least a token of the experience after you leave because frankly, you didn't have one when you were there."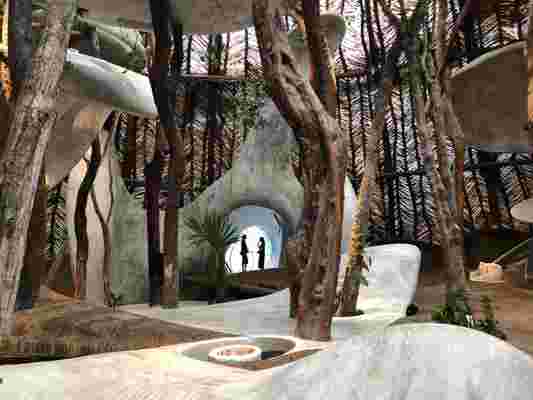 None of the trees were cut during the construction of the space. Instead, they grow directly out of the gallery floor.
The inaugural exhibition, "Conjunctions," is full of plenty of grounding material. Focused on a theme of "the crossroads of the human journey," Paetzold chose three artists whose practices were sympathetic to IK LAB's particular spiritual wavelength: Paulo Nazareth, Ernesto Neto, and Oskar Metsavaht. All three contributed pieces where visitors can comfortably pause to bask in their work. There are performance videos of Nazareth, an artist who challenges the notion of borders in works like his three-year trek from Brazil to the United States on foot. Alongside the TV monitors is his "Sem Titulo: [Rede de Pescador]," an installation of three colorful hammocks under a canopy of empty white bags of salt, a symbol of water's circuitous flow between the mineral-rich sea and the air. Neto's crocheted sculptures, a reference to the fishermen's nets of his native Rio de Janeiro, hang from various surfaces in the dome a little longer than usual to accommodate the daunting height. And his Casa de Cura, or "Healing House," offers a break from the sheer grandeur of the space; it envelops its viewer in its porous, crocheted walls and the scent of lavender. Metsavaht, following an Ayahuasca ceremony with the Amazonian Ashaninka tribe, made the video piece, "Man//Cosmos//Forest," a choreography of geometric motifs overlaid onto footage of the rainforest.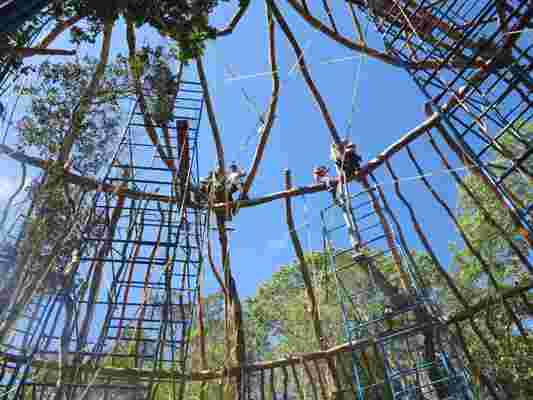 Construction of the central dome began in the spring.
"The piece shows both the perception of what surrounds him and his inner perception, and so it invites us also to reconnect with our inner vision," Paetzold says. Although the piece debuted in 2015 as a projection on tunnel made of silk, here it's shown in a corner of IK LAB that brings to mind the 1963 church Le Corbusier built in Firminy, France: The soaring polished concrete wall that Metsavaht's video is projected on is similarly punctuated with rays of light. Visitors watch curled up on the floor with a mound of plush, circular cushions. Rather than shuffle from work to work along a designated flow of visitor traffic, Azulik Uh May encourages visitors to wander and to linger and ultimately lose track of time. "It's almost like you take an eraser and you get rid of all the noise and unnecessary things," Paetzold says.
WHEN AD PAID A VISIT to Azulik Uh May in April, construction workers without hard hats were upwards of 40 feet in the air, balancing on the slim trunks of fallen trees as they secured the wooden framework of the dome. Trails of narrow PVC pipes on the ground lay the outlines of future floors, and the strings tied between two trees were indicators of where the walls would go. At that point, when AD asked where electricity would come from, the answer was still undecided.
The view from one of the IK LAB's terraces.
For Roth, a former painter who hails from Patagonia, design is a daily act of improvisation. It's a process that similarly grounds him in the present: Rather than draw premeditated plans, he and his team sculpt each building on site daily, disregarding what they did the day before or what they'll do tomorrow. He directs the construction crew's nudging of the strings and PVC pipes a bit to the left or right, higher or lower, until he's satisfied with their dimensions.
"It's an alchemical process rather than an academic one," he says, "a collaboration with a lot of elements: the sum of the human beings, the trees, and even the animals involved." He employs hundreds of workers hailing from the surrounding indigenous Mayan pueblos, whom he admires for both their expert carpentry skills and their intimate, generational knowledge of the ecosystem in which he's building. There are also two trained architects, Fernando Artigas and Jorge Berea, who relocated from Mexico City to Tulum to work on this project and have since dismantled the formal methods of their architecture-school education.
Installation view of Conjunctions, IK LAB Uh May. Ernesto Neto, Healing House, 2016.
"I had a revelation coming here," says Berea. "You can explore new things without being afraid that someone is going to tell you that it's not possible."
As a team they troubleshoot: Construction can abruptly change direction with the weather, the addition of new programming, or a dream Roth had the night before. His unusually shaped vision in tandem with run-ins with local building codes amount to new methods of building. The ceiling construction of IK LAB, for example, in which the daylight glows through a translucent layer of fiberglass and a lattice of vines, was an invention from a previous building. When the local government placed a height restriction on his proposal for a palapa -style roof, he took the inexpensive vines he had on hand and simply made do.
Roth is hoping that this alchemical process will seep into the creative residency programs he has planned. His vision is for fashion designers, artists, musicians, and chefs to live on site, cross-pollinating their disciplines with the arts and crafts school that will be open to local residents free of charge. Ideally, their workshops and craftsmen master classes would be self-sustaining through the sale of their finished products.
Azulik Uh May in the morning light.
During the next two years, Azulik Uh May will continue to spread over the 10 acres it's sited on, with the addition of labs and studios to support the residencies. Roth says he's also working on a solar-panel system that could be installed without cutting down any trees (at the moment, Azulik Uh May is powered by a generator) and a new type of roofing construction, since he's gotten bored with the fiberglass.
"We have a master plan but no idea how it's going to be," says Berea, "whether it's going to be very tall or very short or whether it's going to have water." The shape of the space has a way of revealing itself little by little, one day at a time.
RELATED: Step Inside Tulum's Treehouse Version of the Guggenheim Museum