Dutch-based firm MVRDV just completed the first of ten buildings located next to Shanghai's Hongqiao International Airport, the fourth busiest airport in mainland China. The floral-shaped structure, dubbed the Flower Building, has more than 161,000 square feet of office space, designed to meet a three-star green building label, the best energy performance rating available in China, a country known for its pollution woes. Over the next few months, MVRDV will add nine more buildings to the planned office park, including retail space and parking. Underneath the development, the architecture firm Aedas will build an subterranean shopping mall.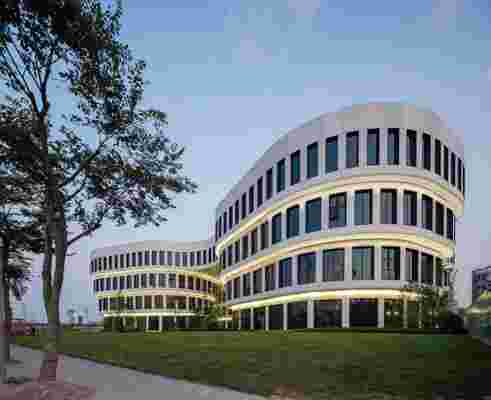 MVRDV won the competition to build the office park with a striking design that incorporated eco-friendly materials and systems. Once awarded the job, the firm ensured the space would be both beautiful and eco-friendly. All of the buildings will include high-performance insulation, natural ventilation systems, and rainwater collections through green rooftops. The complex will have permeable road surfaces, and nearby links to public transportation.
"The Flower Building is the landmark in our overall plan," says MVRDV cofounder and principal architect Jacob van Rijs. "The building is located near the entrance to a new metro station and acts as a beacon for pedestrians. The second phase of the master plan is under construction; there we combine flexible, more generic office spaces with a village-like urban plan that offers intimacy and friendly outdoor spaces." The project is scheduled to be completed by early 2016.