Asus' O!Play Mini Plus is a budget media streamer, but it still manages to pack in a fast Gigabit Ethernet port and 802.11n Wi-Fi for streaming media across a home network. It also has a pair of USB ports for attaching external drives and it's one of the few streamers to come with an eSATA port, as well as a memory card slot that supports Sony's Memory Stick format as well as the more popular SDHC cards.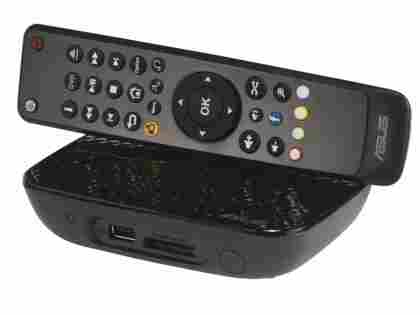 The O!Play Mini Plus supports a wide variety of file formats. The specifications fail to mention WMA audio or WMV video support, but in our tests it played both types of file with no problems. It supports menus in DVD ISO files, but didn't recognise our Blu-ray ISO. It can also resume playback in videos, and prompts you to resume when you open a video. As well as HDMI, LAN and optical S/PDIF ports, it has a 3.5mm port and an adaptor cable that adds composite video support.
Both USB ports support either a keyboard or mouse, so you can have both plugged in at once. There's really little need for either, as the keyboard may be handy for entering your Picasa, Facebook or YouTube account details, and can also be used to navigate the interface using the arrow and Enter keys, but there's little text entry necessary, and the mouse only works in some of the internet services.

Like many budget streamers, the O!Play Mini Plus's interface is divided into two parts. The Photo, Music and Movies sections only display content from plugged-in storage, such as drives or memory cards. For network access you have to use the File Manager section to navigate to content stored on network drives. Annoyingly, these network locations aren't saved either, and you have to rescan for files each time you access the network, so unless you copy your content to an external drive, it's a pain to use.
We were hoping support for playlists would make listening to music a bit less of a chore. You can open existing M3U playlists, but to create a new playlist, you have to open an existing one and then save it with a new name. However, when we tried to play either an existing playlist over the network, the O!Play Mini Plus simply locked up. Playlists from an attached USB drive worked fine, however.
It might be less of a chore if the interface didn't lag so much. The remote control is clear and well laid-out, but it requires line-of-sight to the small receptor on the O!Play Mini Plus, and it's slow to react.

As well as file access, there's a section marked "IMS" that contains internet services. It's not a comprehensive collection by any means: apart from Facebook, the only other major services are YouTube, DailyMotion, Picasa, Flickr and Yahoo! news feeds. The Muzee TV and Radio and MediaFly apps are awful, with laggy interfaces and random, amateur content, whilst the AceTrax movie service charges in Swiss Francs and most films are in German.
While the O!Play Mini Plus is functional, it's the barest minimum you'd expect, even at this low price. Its inability to remember network locations, its laggy interface and its poor selection of internet services mean it lags some way behind the competition here. The Western Digital WD TV Live is cheaper, has a far more intuitive interface and a better variety of online content.
Basic Specifications

Rating
**
Media Streamer type
streaming multimedia receiver

Audio Compatibility

Audio MP3 playback
Yes
Audio WMA playback
Yes
Audio WMA-DRM playback
No
Audio AAC playback
Yes
Audio Protected AAC playback
No
Audio OGG playback
Yes
Audio WAV playback
Yes
Audio Audible playback
No
Other audio formats
FLAC, AIFF

Video Compatibility

Other video formats
MPEG-1, MPEG-2, MPEG-4, RM, RMVB, VC-1, H.264, WMV9

Image Compatibility

Image BMP support
Yes
Image JPEG support
Yes
Image TIFF support
Yes

Network Interfaces

Wired network ports
1x 10/100/1000
Wireless networking support
Yes

AV Interfaces

Minijack line outputs
0
Minijack headphone outputs
0
Stereo phono outputs
1
Coaxial S/PDIF outputs
0
Optical S/PDIF outputs
1
Total SCART sockets
0
HDMI outputs
1
Component outputs
0
S-video output
0
Composite outputs
1
Other connectors
1x USB, 1x eSATA/USB, SDHC, Memory Stick, xD, MMC

Physical

Size
29x152x107mm
Power consumption standby
1W
Power consumption on
4W

Server Compatibility

Software included
none
UPnP
Yes
iTunes
No
SlimServer
No
SMB
Yes

Buying Information

Price
£94
Warranty
one year RTB
Supplier
http://www.morecomputers.com
Details
www.asus.com