Compact projectors are great for temporary home cinema setups, where a lack of space or money means you can't install a permanent screen or projector mount in a dedicated projector room. The Full HD BenQ W1350 is one effective solution to this problem, with tiny 330x120x247mm chassis and a 3.7kg weight that means it's easy to set up and tuck away again without any bother.
The W1350 has practicality that more than matches its portability. The throw ratio of 1.39-2.09 means you get a sizable 65in image from just two metres away, and with 30 degrees of horizontal and vertical keystone adjustment, a generous amount of vertical lens shift as well as zoom and focus knobs so you can place the projector at any reasonable angle and still get a straight picture. There two adjustable feet at the rear and a single, retractable foot at the front, too, so if you place your W1350 on a table you'll be able to make some fine adjustments.
Image quality is impressive. The default colour mode is so good, in fact, there's very little reason for anybody but the most hardcore home cinema enthusiasts to delve into the picture adjustment menus. If that's your bag, you'll find individual hue, grain and saturation settings for red, blue, green, cyan, magenta and yellow colours as well as contrast, brightness and gamma settings. The only adjustment we felt compelled to make was a slight bump in contrast; even in a dark room we felt dark greys in very dark movie scenes were just a little crushed.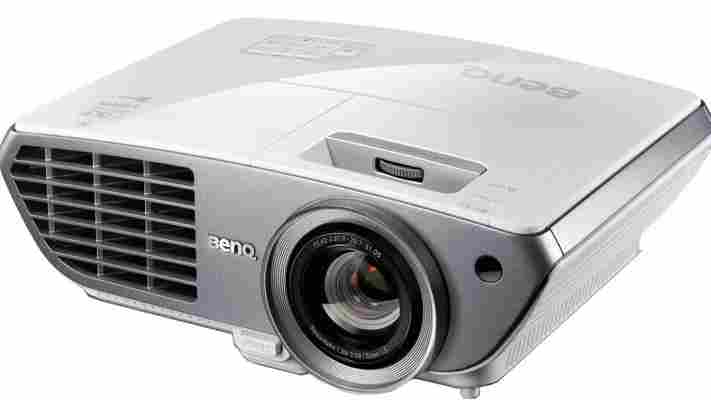 Some models of this projector are supplied with a wireless projection kit and are around £200-£250 more expensive depending on the retailer. We were not supplied with this hardware, however, so cannot comment on its reliability.
The menu system is a little cluttered and it's sometimes hard to find the setting you're looking for, but the backlit remote control is responsive and has plenty of shortcut buttons on it for ease of access for more commonly used settings.
The projector uses a single-chip DLP projection system with a bright 2,500 ANSI Lumen lamp. The spinning colour wheel inside the projector has six segments (two lots of RGB) for better colour coverage, and we have to say this has been a success. Colours in bright photographs are vibrant while skin tones in movies are natural. The Full HD resolution means there's a huge amount of detail visible in Blu-Ray movies and games. Some single-chip DLP projectors suffer from a "rainbow" effect when watching fast-moving images or when your eyes pan across the screen, but we didn't notice this in our testing.
What we did notice, however, was a fair amount of judder on objects moving horizontally and vertically across the screen. Projectors starting from around £1,000 will have built-in frame interpolation technology, but the W1350 has no such option. Juddering was very noticeable in the opening scene of Star Trek: Into Darkness, and this continued through the rest of the movie.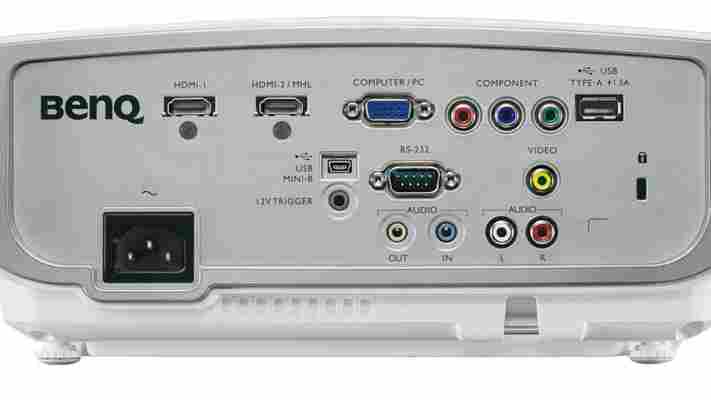 There is a wide range of inputs on the back of the projector including a VGA port, two HDMI connectors (one of which can connect to MHL-enabled smartphones and tablets), a set of component connectors and an composite video port, too. There's also a pair of 3.5mm audio input and output jacks, and a pair of left and right composite audio connectors.