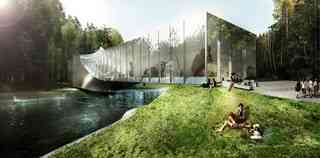 Bjarke Ingels Group has unveiled its plans for an art museum on the grounds of Norway's Kistefos Sculpture Park. The museum site is on the Randselva River in Jevnaker, and the structure will act as a bridge.
"With the inhabited bridge, we stumbled upon our first experiment with social infrastructure—a building that serves as a bridge or a cultural institution that serves as a piece of infrastructure," Bjarke Ingels said.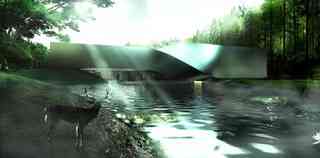 The proposed structure is conceived as a simple, twisted beam, which rises from a lower forested area in the south to a hillside in the north. Designed in collaboration with AKT II, Max Fordham, Davis Langdon, GCAM, and MIR, the museum will be constructed with a combination of stainless steel and large insulated glass panels with a UV film to protect the artworks inside. There will also be an electrical solar shading system.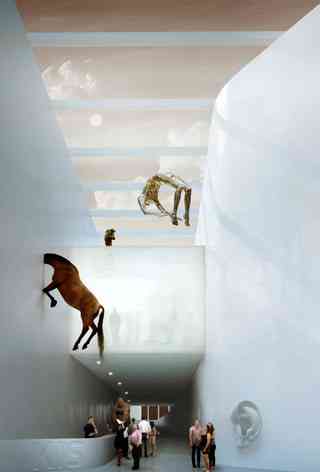 Visitors will enter the museum through a triple-height space and from there will be able to see all the way through the structure. The building's warped geometry creates a staircase that can be used as an informal seating area for video projections and performance art.
"Kistefos Art Museum is a raw and simple form that responds to the challenges of the landscape: building, sculpture, and infrastructure—all in one. Placed as an abstract shape in the landscape, the sculptural form is spanning between perfect geometry and specific bridge technology. On one side it's a simple box—on the other it's a huge warping sculpture," said project leader Brian Yang.
Construction is set to begin in 2016 and should be completed in 2019.