When YouView was launched, the TV platform was never exclusively designed just for PVRs, although that's all we've seen to date. BT changes that with its Mini YouView Box (also know as the Zapper), the first set-top box that we've seen that gives you YouView without the ability to record.
In many ways, this product can be thought of as a competitor to Apple TV or Chromecast , upgrading your TV into a smart one. This is reinforced by the fact that it's available as a standalone product, so you can buy it regardless as to whether or not you have BT broadband or not.
BT broadband customers get a little extra if they sign up for a TV package, which adds the BT Player to YouView for on-demand movies, TV and music. To get the Mini YouView box, BT customers can either sign up for a basic package and get the box for free, or it can be added to an existing package and be used alongside the BT YouView+ box to add multi-room BT TV for £5 a month.
BT MINI YOUVIEW BOX SET UP
Size-wise, the BT Mini YouView Box is a small square box that's a little larger than the Apple TV, although still small and discrete enough to tuck neatly out of the way. On the rear are an HDMI output, USB port (not used), aerial socket and an Ethernet port.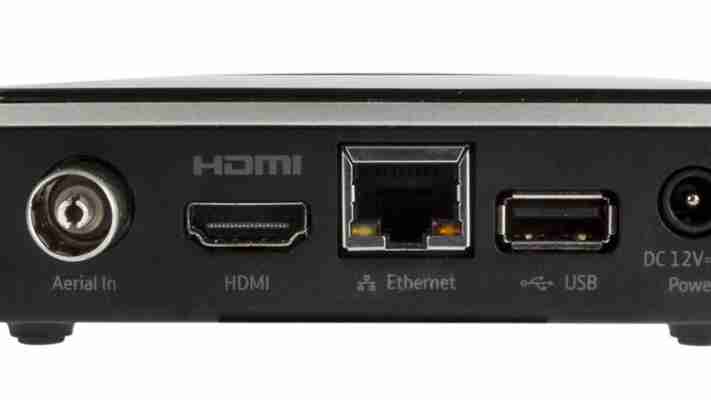 Unfortunately, you have to use Ethernet, as Wi-Fi is not built in and there's no USB wireless adaptor available. If you put the box out of cable range of your router, your only option is to buy a HomePlug powerline networking kit. This is quite frustrating, as a box like this for most people is likely to be used in bedroom or kitchen, where Wi-Fi would be a far more convenient method of connecting it.
Once everything's hooked up, you just have to power the YouView Box on and follow the on-screen instructions to automatically scan for channels. It only takes a few minutes and then you can dive into the YouView interface.
BT MINI YOUVIEW BOX TV
One of the main uses of the BT Mini YouView Box is for watching TV. Given that this isn't a PVR that may seem a little pointless, doubling up on the features that your TV no-doubt already has. Bear with us, as it actually makes a lot of sense.
For starters, this box has a Freeview HD tuner inside, so you can upgrade a TV that only has an SD digital tuner to receive HD channels. Secondly, it may not be a PVR, but the built-in memory means that you can still pause and rewind live TV. There's enough storage to store up to around 30 minutes of an SD channel or 15 minutes of an HD channel, which is more than enough time to answer the door, finish cooking or make a telephone call. This is another brilliant reason to use this box over your TV's built-in tuner.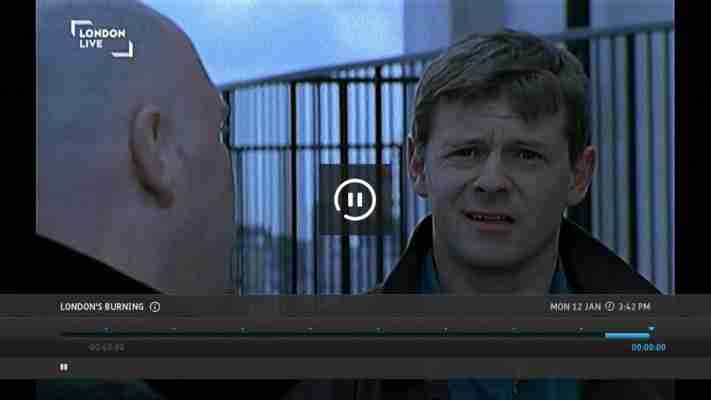 You may notice that the remote control has a Record button on it, as it's the same remote that BT ships with its YouView+ box; however, it just brings up a warning icon on the TV, letting you know that you can't use this option. Cleverly, the My View menu, which displays recordings, has also been removed.

Beyond that, you also get the brilliant YouView EPG. This is one of the best in the business, pulling in its content from online. This gives you more information than a regular EPG does, plus additional content, such as being able to see when showings of the same show are on. As well as being able to step forwards in time, you can step backwards through the EPG and watch programmes that are available via one of the on-demand services (BBC iPlayer, ITV Player, 4oD and Demand Five). It's this seamless integration of live and on-demand TV that sets YouView apart from its competition.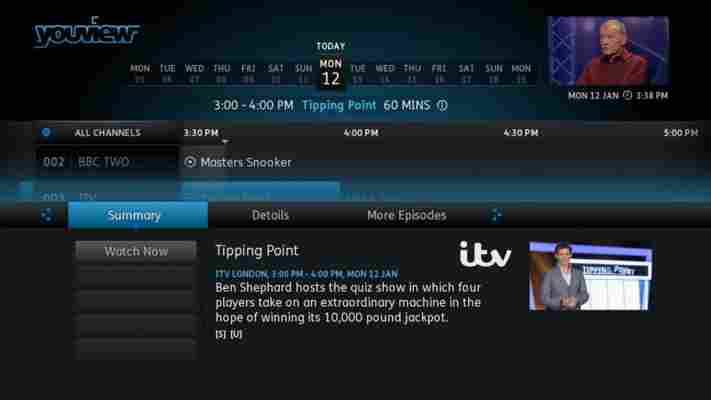 This integration is throughout the box. So, when the EPG suggests other episodes of a programme that you select, these can be live or via the on-demand service. As well as accessing on-demand content by stepping back in time through the EPG, each player also has its own app. This gives you access to a wider back catalogue of content from each provider. Essentially, from here you get the same range of content as you would by going to each TV channel's website. Continues on page 2