Mention fake plants to most people and the response will be outrage—artificial flora is a soulless simulacrum, they moan, a horticultural travesty, and just plain tacky. John Updike, the novelist, called them an "obscene mockery."
Yet no less a design authority than Mario Buatta swears by potted silk orchids, saying they look like the real thing and are godsend for clients who travel so frequently they can't keep real ones alive. The late French decorator Madeleine Castaing was an enthusiastic faker, too, greening the influential rooms of Maison de Lèves—her Directoire country house near Chartres, France—with plastic ferns, palms, schefflera, ivy, and morning glories because she found shedding leaves and wilting flowers depressing. (She also hand-painted the false blossoms to bring them into greater chromatic harmony with her color schemes.)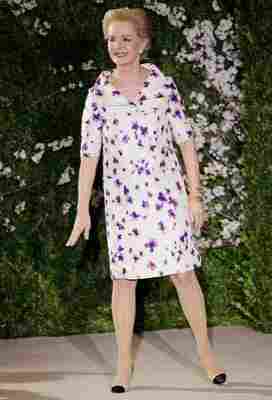 Carolina Herrera is another stylesetter who sees magic in the mock. The award-winning fashion designer's robustly pebbled office terrace in midtown Manhattan—17 floors above Seventh Avenue—is a sweeping L-shaped space with incredible views of the Empire State Building. Fake vines planted in groups of three scale the terrace's brick parapet, alternating with grand spheres of thoroughly man-made but absolutely convincing boxwood in big terra-cotta pots.
Herrera's smashing setup brings to mind a mignon parterre created after World War II at Donnington Grove, a quirkily elegant estate in Berkshire, England, owned by international style diva Daisy Fellowes, the daughter of a French duke and an heiress to the Singer sewing-machine fortune. There, low box hedges (real) enclosed masses of colorful flowers. Some of the blooms were real—and after they faded, plastic replicas were brought in to augment the display. The stand-ins could be hosed down when dusty, as Fellowes told a startled but not unappreciative gardener friend. Donnington's chatelaine also deployed counterfeit plant life indoors. At Fellowes's Paris residence, amid opulent rooms decorated by Georges Geffroy in the 1950s, vases often combined bogus blooms with real foliage, and vice versa.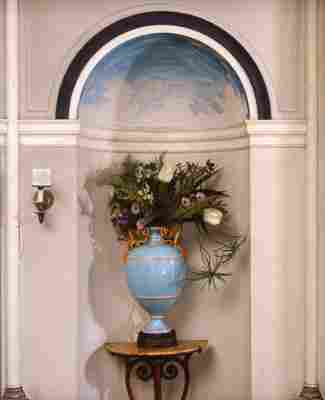 Just across town and at the same time, another Paris hostess was also faking it. In art collector Marie-Laure de Noailles's grandiose hôtel particulier at 11 Place des États-Unis (now a Baccarat store, museum, and restaurant), the famous salon decorated by Jean-Michel Frank contained masterpieces by Balthus, Dalí, and the like—along with an ancient Greek vase holding an ersatz sunflower, stalks of apparently plastic papyrus and a couple of dried ears of corn.
Looking for a more recent stateside example? Just a short stroll from The Aesthete's desk is the elevator lobby of Architectural Digest at 4 Times Square, where fake boxwood topiaries in metal planters serve as evergreen sentinels.