View Slideshow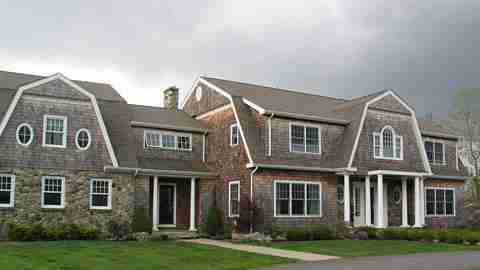 First Meeting
After getting all of the logistics worked out, my office scheduled our first meeting on site. Litchfield, Connecticut, is a scenic two-hour drive from my office in midtown Manhattan. Armed with a tape measure, camera and a cup of coffee, I drove up with Brian Orosz, one of my designers on staff. As we were a bit early, we stopped in charming downtown Litchfield at The Blue Bakery for another coffee.
Suitably caffeinated, we headed to the Chapman house. Shingle-style, it is situated at the end of a long drive at the top of a ridge. Immediately I noted the rock formations, which were left from what had been, in Lynn's own words, "blasted away" to make the clearing for the house. The landscape with the rocks immediately appealed to me.
After meeting the family, the initial consultation with Lynn and Stuart began. Lynn had put together a book of inspirations from magazine clippings. These are always helpful–they give a point of departure. We took a tour of the house and discussed how the family uses the house as well as the room we are to design. How they use the room as a family, how often they entertain and to what degree of formality are all important factors in determining the layout. We took inventory of pieces they would like to keep and what could go to other rooms in the house. The large wood TV cabinet was the main item that they would like to stay. We also decided to re-use a pair of oval side tables, a pair of lamps (which would get new shades), a pair of pedestals and two occasional oval side tables, a rocker (to get a new cushion) and a Victorian Renaissance-Revival wood frame chair (to be reupholstered).
While the view from the back of the house–of the valley and hills–was stunning, I was particularly drawn to the blues and grays of the stone seen from the living room windows. I felt that this view might be the inspiration for a successful room scheme.
After a lunch made from their own farm fresh eggs, we relaxed on the terrace taking in a magnificent view. Before long, we were heading back to the city to draw some plans and pull some schemes together.