The face of London is growing, vertically. At 1,015 feet above sea level, the new skyscraper 1 Undershaft will be the tallest building in the capital's financial district. The area, known as City of London, already boasts many towering structures, including 22 Leadenhall Street (734 feet) and 30 St. Mary Axe (590 feet). Designed by London-based firm Eric Parry Architects, 1 Undershaft will contain 73 floors of office space and accommodate some 10,000 people.
Located directly across the Thames from 1 Undershaft is the Shard skyscraper. Completed in 2013, the Renzo Piano–designed building stands at 1,003 feet, making it the tallest building in London proper, and in the European Union. Since 1 Undershaft will be constructed in an elevated part of the city, it will rise 12 feet above the Shard, even though the structure itself is about 30 feet shorter. Nevertheless, 1 Undershaft will be the tallest building in the City of London area, and north of the Thames River as well.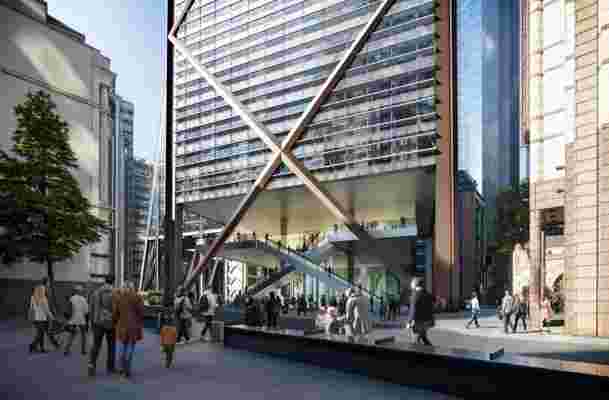 At the top of 1 Undershaft, visitors will be able to take in the sweeping vistas from a free viewing area, while a restaurant will cater to those who want to enjoy a meal along with the scenery. The base of the building will be raised nearly 33 feet above the street, allowing visitors to walk below the massive skyscraper. "1 Undershaft represents the very best of British architecture in a premier location at the heart of London," architect Eric Parry said in a statement. "It will be a building where the public are put first, with a new public square at its base and the capital's tallest free public viewing gallery at its top." A completion date for the building has not been set, though it's likely to be within the next ten years.