View Slideshow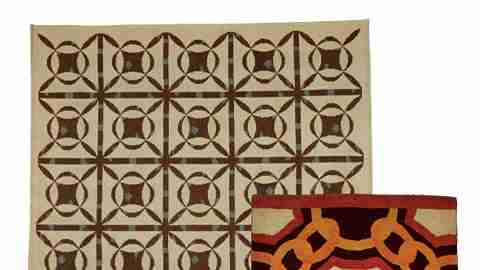 When Nader Bolour teamed up with the legendary rug dealer Doris Leslie Blau in 1997, the firm was renowned for its inventory of impressive antique carpets. Over the last decade Bolour has expanded the gallery's focus to include contemporary pieces. As he puts it, "I am continually seeking to engage high style and fashion in our work." His first foray into that realm was a 2001 collection inspired by vintage textiles and works of art. He shifted gears for the next two collections, drawing on the skills of a wide range of talented individuals. In 2002 he commissioned carpets from architects and interior designers, and in 2007 he launched a collection created by notable figures in the world of fashion.
Now Bolour has turned to a second group of architects and designers for a 2009 collection. "I encouraged them to go crazy," Bolour says of the brief he gave the 46 participants. "I wanted them to come from a pure and noncarpet' place. After creating carpets for the last seven years, I knew about a lot of different textures. I told the designers what was available, but I gave them no limitations on color, texture or design." Indeed, the latest rugs are made of silk, wool or banana fiber in a variety of weaves, with imagery ranging from the figural to the abstract.
Elissa Cullman, of Cullman Kravis, sums up the experience she and the others had this way: "It's greatly liberating to design our own rugs!" she reports. "I've spent so many years looking for the perfect rug with the perfect palette for the perfect fabric. In the old days you had to find the rug first, because if you didn't, the furniture and the fabrics might be all wrong and you would want to shoot yourself. Now I can make my own rug, and it's the right rug."