House of Marley, the earth-friendly headphone company set up in support of the Marley family charitable organization 1Love, has been steadily releasing headphones and portable Bluetooth speakers for the past few years, but has finally started making a move into home audio with the One Foundation. The massive wireless sound system was announced at CES earlier this year, but was on display at a reveal event earlier today so we got the chance to put it through its paces with some music from the man himself.
At more than three feet across, the One Foundation is an absolutely huge sound system that immediately stands out because of the oak wood front panel. House of Marley uses real FSC-certified wood in its products and the One Foundation is no exception - the panel is several inches thick and adds significantly to the weight of the system. The wood is stained and aged, giving the speaker a well-worn effect that looks absolutely stunning in the flesh. It's a shame there's not a wall-mounting bracket on the back of the unit, as we think it would look absolutely gorgeous installed floating on a wall.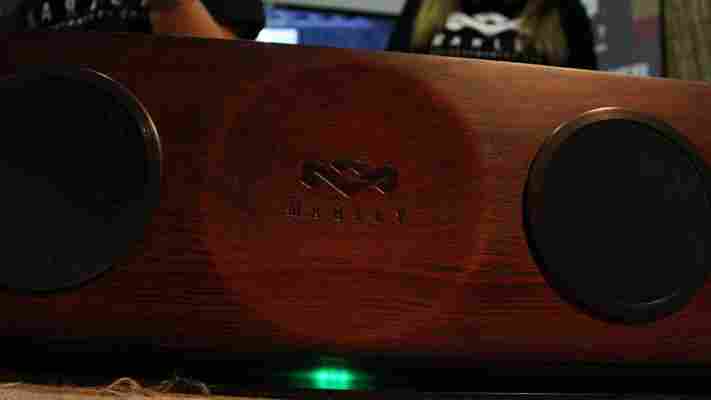 There are four main 5.25in drivers and two 1in silk-dome tweeters inside, which provide 200W of sound power. "One Love", "Jammin" and "Get up, Stand up" sounded punchy and vibrant, with warm steel drums and a powerful low-end, but there's an optional input for hooking up an external subwoofer if you need more bass. You certainly won't be left wanting more volume, as even in a loud room filled with people the One Foundation was able to make itself the dominant sound, drowning out conversations.
It supports both standard A2DP Bluetooth and the AptX profile for the best possible wireless streaming quality, along with SPDIF digitial optical, analogue phono and 3.5mm auxiliary connections for hooking up wired devices, meaning you should be able to play music from almost any source. There's a glowing volume dial on the top of the unit, with all inputs hidden around the back and sides.
The House of Marley One Foundation will be going on sale in the UK from July onwards for £799.99, direct from House of Marley .