One scorching afternoon, we meet. It's been a week since Hurricane Harvey landed in Houston. The stench of fetid floodwater and mold knocks me sideways. I take a break from mucking flooded homes to grab some fresh air. Urania Clark is weaving a client's hair outside her apartment as I pass by. She motions her comb toward the open door, shakes her head slowly, and says: "Everything. Gone." It is as simple and heartbreaking as that.
Urania and I click into easy conversation. She's sad. She's sassy. She's anxious for FEMA to arrive already. She wants the inspector to bear witness to her family's loss: the soggy living room set they finally got off layaway last year, the new television, the stereo speakers received as a wedding gift 23 years ago that, until last week, still sounded damn good. Like me, Urania has outsized love for every inch of her home.
Over the weeks that follow, we text. Life is out of sync. Her job as a school crossing guard is on hiatus as schools are still closed. But her home health aid work is undisrupted, as is her hairstyling side business. "Storm or no storm, the ladies like to get their hair done," she says.
Urania is thankful for that, but not the eviction notice and lock put on her front door. The landlord cites storm damage as the cause and allows just a few days notice for her to remove her personal belongings. Urania later learns this is illegal, but is too consumed by a myriad of other demands to investigate the vagaries of Texas rental law. She's busy learning how to live without her flooded car, rectifying a paperwork snafu that led to a FEMA denial, and wrestling with escalating post-Harvey stress.
One Tuesday more than a month after the storm, FEMA rental assistance finally comes through. Urania wastes no time leaving the roach-infested motel she's been staying in with her husband and eight year-old daughter. She finds an apartment she can move into on Friday. With no furniture and few belongings, we have 72 hours to accomplish this greenfield project.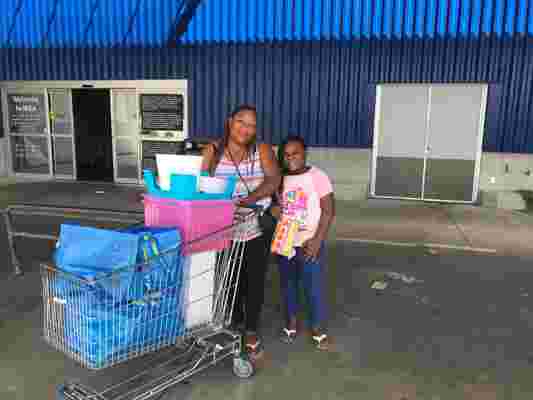 Urania and her daughter at Ikea.
We are up to that challenge. Friends scan their homes and open their wallets. Laura collects gift cards and donates an empire-style buffet. Wendy has a spare queen-size mattress and Venmos cash. Adrienne tapes a check to her front door. Noreen PayPals more. My extended family kicks in. Jen offers six dining chairs. Hilary has a bar cart, outdoor bistro table and chairs, linen and dish sets, and a new-in-box toaster oven and pans. I buy secondhand coffee and end tables, a microwave, and lamps through Nextdoor. When I mention these purchases are for a family displaced by Hurricane Harvey, neighbors invariably find other items to donate. I have a twin mattress, TV, and small stereo. It will be was a poor replacement for the sentimental speakers Urania lost, but it will do the job.
Thursday is Shop Till We Drop Day. We have big dreams and just north of $1,000. In the first store, we score a half-price swivel stool that transforms Hilary's bar cart into a workstation for Urania's hairstyling business. At Ikea, she chooses a Flokati rug and dining table to match Jen's donated chairs. Urania's daughter chooses a petite white desk and hot pink chair as her cheerful study space. We find throw pillows that delight us for no particular reason and a variety of practical housewares. Our legs feel like rubber and our stomachs growl, but we forge on to Cort furniture clearance showroom without skipping a beat. Here, Urania picks out a gently used couch and chair set and a television stand in the same espresso finish as the dining set. Cort takes an extra 25 percent off for Harvey victims, which is ideal as we have just exhausted our funds.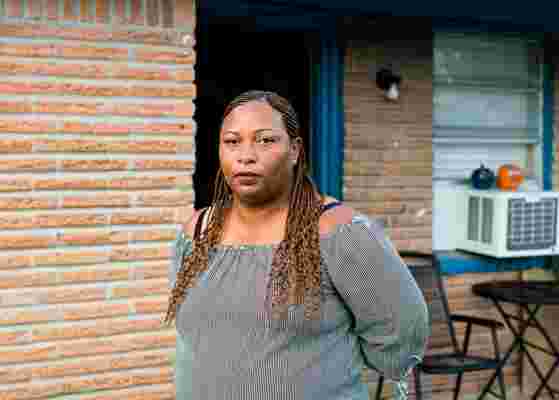 Urania stands in front of her new home.
Next comes the tricky part: transporting Wendy's queen-size mattress. We lash it to the roof of the car with bungee cords of dubious strength. On the highway, the mattress tilts at a 90-degree angle and inches ominously towards the road behind us. We pull over, open our windows, and hold onto the mattress for dear life as we drive on. Taking local roads at slow speeds, Urania and I lose some fingernails but not the mattress. With one hand on the steering wheel and the other hanging out of the car, I can't wipe away my tears of laughter.
Friday is moving day. Urania is pleased all the furniture works perfectly together. By my next visit, she has already sewn kitchen curtains, given the outdoor bistro table set a fresh coat of paint, and hung mirrors. Mission accomplished. Urania and I still text, but not always about the hurricane or FEMA or furniture. We make plans to go trick-or-treating with our children on Halloween.
Houstonians are a proud bunch, and our city has exploded with #houstonstrong reminders of the road we still need to travel. But Puerto Rico, Mexico City, Las Vegas, and Sonoma all demonstrate that, though loss comes in grim varieties, recovery looks pretty much the same anywhere you go. Each of us does what we can, helping one person at a time, and counting our blessings. My new friend Urania Clark is certainly among mine.