Even as he squints through blue tinted glasses, Ian Schrager can see the floor lamps are failing to achieve their full potential. Like everything and everyone at the Barcelona Edition, Schrager's latest hotel in partnership with Marriott, they have exacting purpose. In the first-floor Punch Room, an importation the brand's clubby London cocktail bar, the golden glow these lamps cast are meant to accentuate texture, the grain on wood paneling, the plush of jade velvet sofas, a marigold felted billiards table. "There's a richness to these things," he says. "And I never know when or who it is who can see it, so you have to do it yourself."
But as the brand's creative director, responsible for the growth of Edition's portfolio from four hotels to eight this year, Schrager, who is anchored in New York by a young family, no longer can do everything everywhere himself. Here, the overhaul of an El Born apartment building was trusted to Carlos Ferrater Studio, and it's the famed Spanish interior designer, Lazaro Rosa-Violan, who deserves credit for the blues that sing through the lobby—a melange of Gerrit Thomas Rietveld armchairs in Yves Klein blue, an orblike sapphire chandelier from Eric Schmitt, an elevator bank wall cast in the spiritual fluorescence of Spanish artist Carlos Coronas.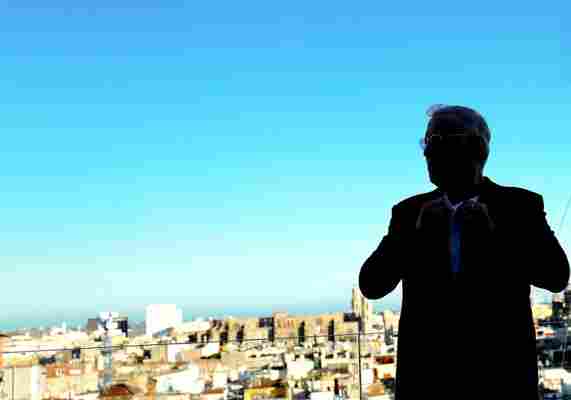 Schrager, at the Barcelona Edition.
Schrager's ideal guests take notice. "When I was starting, I'd be in a dimly lit elevator and I'd hear guests say they're in the hotel from hell because they couldn't see the elevator buttons. Really, they shouldn't be at my hotel." At the Barcelona Edition, the guests that belong are those who not only appreciate Salvador Dali's gold Leda chair resting on its heels in the hotel lobby but also are unintimidated to cocoon themselves in its arms while waiting to check in, landing with the same enthusiasm with which they may submerge themselves in the rooftop plunge pool, awash in the hues of an unobstructed skyline. They may also be well traveled enough to recognize that the bottom-lit curvilinear staircase that spirals between the lobby and Punch Room is a faithful reproduction of the steps that ascend from the lobby of his first New York Edition and Jason Atherton's Clocktower restaurant.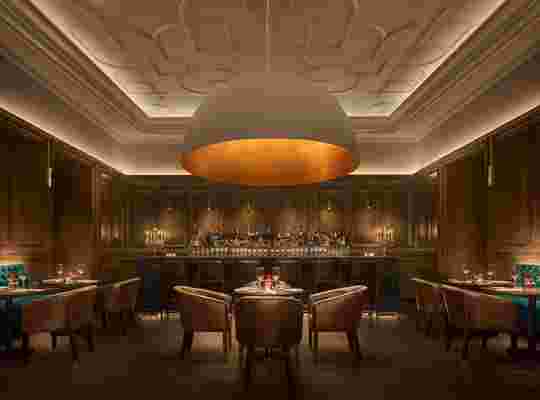 The Oak Room at the Abu Dhabi Edition, with its awe-inspiring light fixture—a Schrager signature.
Come spring, Schrager will bring the brand back to New York with the opening of the Times Square Edition. And while he still considers Times Square his backyard—it's here he came to fame four decades ago with Studio 54—he now looks around at his neighbors and mourns the loss of a once gritty bohemia.
"I would love to bring that back," he says. "There are too many hedge fund guys and not enough of a creative class that doesn't have anything to lose." However, it's not so much gentrification but globalization that incenses Schrager. "We had this thing: 'only in New York.' Now the shopping, the restaurants, the museums—you can find that in Houston. If I went to every city, every country in Europe, the skirt lengths and haircuts were different, and it's not like that anymore."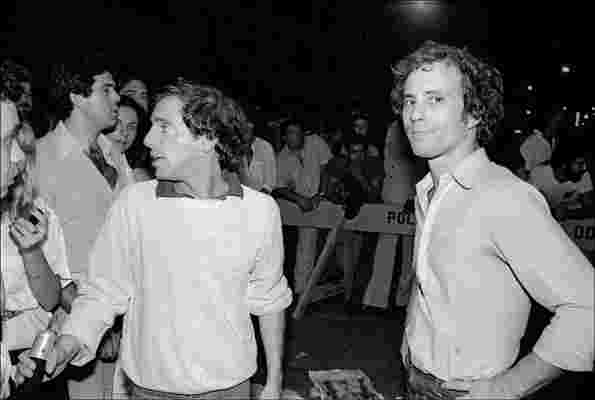 Ian Schrager (right) and Steve Rubell outside Studio 54.
While opening the Shanghai Edition this summer, Schrager felt the pulse his New York had lost. "It's a great international city with 30 million people living around it, and it's the most western of all the cities in China," he says. "You hear the Asian tiger is going to kill us and you go there and you understand it." It also presented him with the puzzles of hospitality he's made a career solving. "In London, they don't like music during dinner, but in New York they do. In Shanghai the girls don't go out unescorted, and figuring those things out still interests me, hitting the cultural zeitgeist bullseye."
There was a time not long ago when Schrager feared he would never be approved for a visa to visit China, never mind win the approval of industry partners, following his prison sentence he served for tax evasion, the cinderblock bookend to the Studio era. To speak of it now causes him to blush, like being caught all over again, even after receiving a pardon from President Obama last year. "I couldn't get a bank account or a driver's license when I got out—I had nothing," he recalls. He's embraced all the success that's followed with utmost humility. "Success isn't the same thing as acceptance, and sometimes people are sensitive. When I started to do with Marriott, I was never quite sure how it was going to play out," he says. Today, they're partnering with him on 41 future projects around the globe.
The Punch Room at the Barcelona Edition, where the golden glow that the lamps cast is meant to accentuate texture, the grain on wood paneling, and the plush of jade velvet sofas.
So what keeps Schrager grounded? He stays for his eight-year-old son, Louis, heir to his father's eye. Louis's school and friends reside in Manhattan, and while his father is across the Atlantic fussing in the shadow of Barcelona Cathedral, Louis is honing his sense of taste in the remains of old New York. Schrager shares an email recapping his son's most recent sleepover at a converted parish house on Gramercy Park. "He was so observant of our apartment, pointing out the finishes, and how he loves all the stain glass and columns from the church," a parent writes. "You might have a future developer on your hands."
RELATED: Studio 54's Paradigm-Shifting Design