"Architecture is the learned game, correct and magnificent, of forms assembled in the light." ―Le Corbusier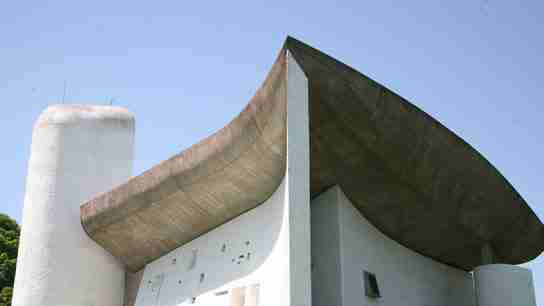 With all the well-deserved attention Le Corbusier's work has recently received , I was compelled to revisit the master's masterpiece, Notre Dame du Haut, a few weeks ago. Commonly referred to as Ronchamp for the French town it resides in, this remarkable chapel, built in 1954, continues to inform my own work and is well worth a pilgrimage. Iconic photographs of its hatlike concrete roof hovering over the whitewashed masonry façade are known to many, but the structure's sculptural, almost painterly, qualities become even clearer when viewing the way light plays throughout the interiors, which in itself can create a spiritual experience. I've also always been in awe of the building's relationship with the surrounding landscape.
Click to see my photos of this inspiring work of art.
More on archdigesom:
Step inside Le Corbusier's family home in Switzerland, La Maison Blanche
Don't miss Lee F. Mindel's photographic tour of the showstopping architecture of Brasília