For anyone hoping to navigate Los Angeles, car ownership is a near-unavoidable fact of life. But if three pedestrian bridge projects spanning the Los Angeles River come to fruition, the scales could start to tilt in an eco-friendly direction.
The product of a partnership between T.Y. Lin International Group and the Los Angeles Bureau of Engineering, the recently unveiled bridge project is a pedestrian- and bike-friendly bridge that crosses the L.A. River bed and Interstate-5 to connect the Atwater Village neighborhood and Griffith Park. This final $20 million piece of the Glendale Narrows Riverwalk Project would combine both form and function, featuring a winding span, striking white metal trellises, and planting beds.
Elsewhere in the city, Studio Pali Fekete Architects has plans for a $19 million 400-foot bridge that would connect Elysian Valley to Taylor Yards, a 41-acre strip of land purchased by the city of Los Angeles earlier this year with an eye towards converting the former train switchyard into a multipurpose outdoor space. The newest proposed structure would also stand nearby a 325-foot cable-stayed span designed by British engineering firm BuroHappold, if all goes according to plan.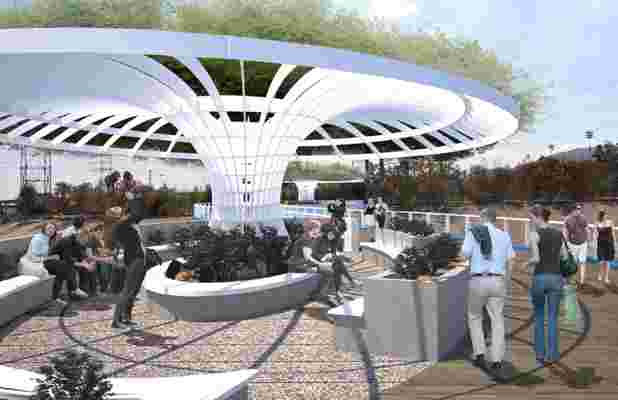 A rendering of pedestrian bridge in Los Angeles by T.Y. Lin International Group.
That looks to be a big "if." Cost overruns have threatened to sink the (formerly) $16.1 million BuroHappold project, and the Atwater to Griffith Park project won't be built until it passes through a statewide ballot referendum this November. But as Laura Friedman has stated, the benefits extend far beyond Glendale. "It's [about] connecting people with open space, miles of bike paths, and economic opportunity, all while creating jobs and reducing greenhouse gas emissions and congestion on our streets and freeways," the California state assemblywoman said in a statement.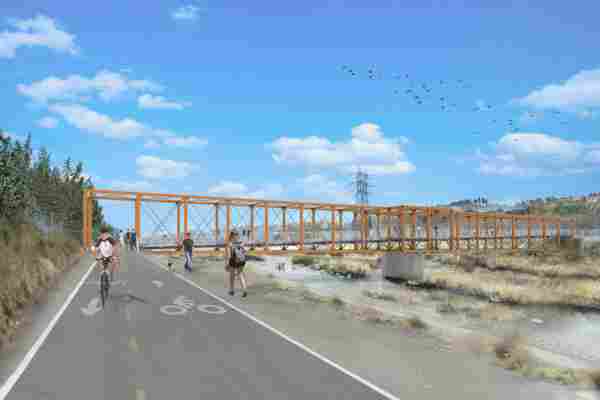 One of the proposed bridges in Los Angeles, this one by Studio Pali Fekete Architects.
In conjunction with the multiple Metro Rail expansions that have been completed or initiated in the past few years, these bridges could reshape how Angelenos navigate their city. Who knows? There may come a day when L.A. isn't synonymous with smog and congestion—talk about a Hollywood ending.