View Slideshow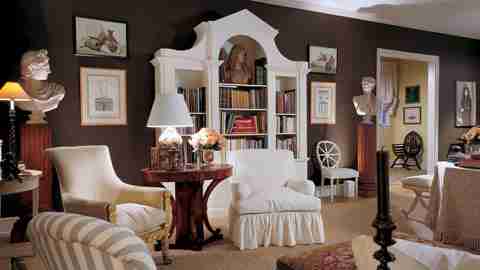 In his commendable 1992 book, Legendary Decorators of the Twentieth Century, Mark Hampton celebrated not only certain avatars of interior design but, by those very choices, his kinship with them. Now his own name can join the ones on his figurative—and surely well-appointed—wall of honor.
Indiana-born and -bred, schooled in art history and fine arts, he cut his decorating teeth with David Hicks, along the curves and lines of modernism, then with Parish-Hadley and McMillen, where, in his own words, he "slipped away from modernism into the world of decorating that looks to the past for its inspiration." He opened his own firm in 1976, and though his abiding credo could well have been "the older the better," his veneration of the traditional did anything but cramp or crowd his style. His interiors were formal without ever looking stuffy, the tonality patrician rather than ponderously rich—"a nice, undercooked look," he called it, going on to add that "the single greatest vulgarity in interior decoration is pretentiousness."
Hampton was quick to admit he didn't have a signature; "I have absolutely no interest in a trademark style" was in fact his trademark quote. He would doubtless have agreed with one of his mentors that "the perfect interior designer, like the magician, must be a past master of the art of disappearing." To Hampton, decorating was not about pyrotechnics, or ego, or bending clients to one's will; it was simple quality that counted—and lasted. His particular distinction was that he was brilliant at and resonated in whatever style suited a given project—absorbing it and then adapting it to the animate present. (Because he was at home in every period—one would have to range far and wide to find a professional so incorrigibly versatile—his work, in a word, could be described as comprehensive.)
To the degree that he had made a pact with the past, he could be seen to have come out of it the winner: In each job, he managed to leap nimbly over the rocks in the streams of appreciation and emulation and end with a synthesis that was significantly more and entirely his own. The rooms on which Hampton left his inimitable mark (footprint, thumb-print, fingertip) all had an individual character, even—for all their pervasive harmony and seeming effortlessness—a pulse. His attitude was modern, and up until the last he kept his exquisite balance between nostalgia and spontaneity.
The right stuff where Hampton was concerned was apt to encompass English country house colors, Oriental rugs, floral chintzes, eighteenth- and nineteenth-century antiques, both English and American, and botanical and architectural prints—"Minimalism," he admonished, "is for the very young." In maturity, his regulating—his fusing—principle was sumptuous comfort and livability: "The role of the decorator today is to balance the desire for beauty, chic and glamour with the more prosaic needs of domesticity in the same room."
Hampton's interiors were governed by a rigorous sense of order and proportion. It goes without saying that he could arrange furniture and group objects with the best of them (he was a dab hand at persuading discordant elements—say, George III chairs and Mark Rothko pictures—to co-exist as if organically). Where he was unusual—if not downright unique—was in the very deep, one might say profound, knowledge he had acquired of the history of art and architecture, not to mention literature and music (clearly he subscribed to the French proverb "Il faut meubler l'intérieur de soi-même" ). Palladio, Lutyens, Sir John Soane and David Adler were all within his easy reach. This ready historicity made him an interior architect as well as an interior designer—with the result that Mark Hampton rooms rarely failed to be architecturally beautiful. He was constantly visiting or studying the world's great buildings, and as he had an extraordinary visual memory and preferred to proceed from precedents, the body of his work was highly referenced: He knew not only what he was doing but why he was doing it.
His formidable list of clients included Senator and Mrs. John Heinz, Gayfryd and Saul Steinberg, Susan and Carter Burden, Anne Bass, Henry Kravis, Brooke Astor, Lord Palumbo, J. Carter Brown, Steve Ross, Estée Lauder, Mike Wallace, Pamela Harriman (the private quarters of the United States ambassador's residence in Paris), and George and Barbara Bush (their seaside compound in Kennebunkport and theirhouse in Houston).
He brought the exactitude and fierce intensity of his intelligence to bear on public as well as private spaces, restoring or decorating important period buildings and interiors at the city, state and federal levels. Among them: the Oval Office and private White House quarters for President Bush; the Blue Room for President Clinton (a watercolor that Hampton had done of the Green Room became the Reagans' 1983 White House Christmas card); Blair House; Camp David; the vice-president's residence; the George Bush Presidential Library and Museum in College Station, Texas; the Governor's Mansion in Albany, New York; Gracie Mansion, the residence of New York's mayor; and the American Academy in Rome.
Hampton lectured widely and, since he wore his knowledge lightly and was so palpably eager to share it, without the taint of condescension. He also sketched splendidly (an exhibition of nearly five hundred of his watercolors and drawings, held last spring at the New York School of Interior Design, was widely attended and much remarked).
Not least, there was the exceeding pleasingness of his person. The sense Mark Hampton embodied of a sustained integrity was charmingly offset by his skills as a raconteur and by his picture-perfect appearances on the Best-Dressed List. He was altogether a man on whom no beautiful or delightful thing was ever lost.