View Slideshow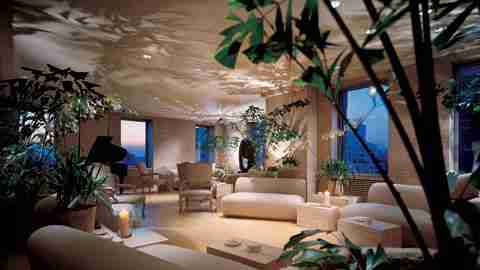 The James Dean of decorators" is how Diana Vreeland described West Coast designer Michael Taylor, who rather adroitly challenged the beliefs of his contemporaries. "Postmodernism has brought back the ostentatious rooms that were what I rebelled against originally. Now rooms are filled with fake columns and broken pediments, with no regard for function, comfort or good taste," he said in 1985, adding that, after thirty-odd years in the business, he was "still a rebel."
Consistently denouncing the cluttered and pretentious, he had a simple ethos: "When you take things out, you must increase the size of what's left." This spawned the widely emulated California Look, which in the latter part of his career was characterized by oversize furniture and signature elements, including Yosemite slate and fossilized stone; plump geometric cushions; logs; wicker; and lots of mirrors, all against a muted backdrop of white on white or beige on beige. Taylor fans recognize his work to be pure and simple but by no means plain, a combination of rusticity and glamour.
Michael Taylor was born in Modesto, California, in 1927 and found early inspiration at a neighbor's house, where he first saw the work of Elsie de Wolfe. Syrie Maugham, the British decorator who helped create the all-white look popular in the 1920s, provided another source: "At that time white in all shades was frequently used almost to the exclusion of other colors in certain fashionable houses, but in the intervening three decades, with the rapid and almost frenzied prewar and postwar succession of fads, gimmicks, trends, and trick schemes, white was almost forgotten," Taylor wrote in his autobiographical essay "A New Look at Decorating" in the 1960s. A third influence was American decorator Frances Elkins (Taylor acquired a substantial portion of Elkins's estate, including pieces originally from Syrie Maugham).
In 1951, after studying at San Francisco's Rudolph Schaeffer School of Design, Taylor formed a partnership with Frances Milhailoff; he set up his own practice in 1956. Four years later he opened a shop on Sutter Street in San Francisco, where he created extraordinary displays that juxtaposed furniture of his own design with natural elements, artifacts from exotic places and antiques from all periods (Taylor liked the Mediterranean coastal regions and East Asia—the latter inspiring his signature spherical pillows). About travel he said: "On my grand tour of Europe I found that California was still in my blood. The peasant things of Scandinavia, Greece and Italy were far more inspiring to me than the stately rooms of England and France."
But it was Taylor's use of light that set him apart. He aimed to create rooms where "airiness and light" predominated, which was easier to achieve in his native California than in areas where the climate is more inclement, and he was fascinated by the effects of different exposures to the light in a room. He believed that white was the most efficient color for capturing light. And, in Taylor's mind, his rooms were far from colorless: "There is a tremendous amount of color in my rooms, but there are not many colors. Light, as we know, contains in itself all colors, so that from the simple background the main color I use in the room travels rapidly and with no competing wave lengths to the eye."
One of the most published decorators of the 1980s—a testament to his skill and prescience—Michael Taylor has had a profound influence on the way we live. His almost Zen-like approach presaged 1990s minimalism.
When Cecil Beaton once inquired of editor Dorothea Walker, "How is the best decorator in the United States doing?" Walker ventured, "Sister Parish?" Then, "Billy Baldwin?" "No, no," he answered. "Michael Taylor. He's the innovative one. An original."