View Slideshow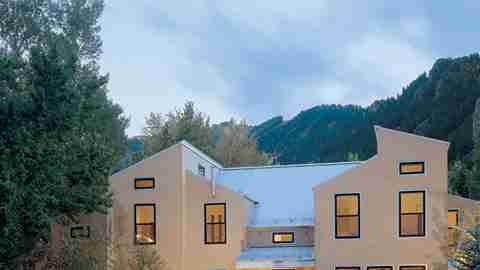 Chicago collector Judith Neisser knew she wanted to build a house in Aspen. "You don't have to be an athlete to love the place—I don't downhill ski, just snowshoe and a little cross country," she says. "But Aspen is sophisticated, with an exciting cultural life. I don't need a lot of property and views from my house. Once I walk out the front door, everything I need is there."
Vacationers such as Neisser often prefer to own a house in the town's beautiful West End historic district, a neighborhood of wide and quiet streets lined with cottonwood trees. Many of the buildings in the area, including fine Queen Anne houses and little Victorian dwellings originally built by miners, are listed in the National Register of Historic Places and are protected by the city's landmark regulations.
Very few lots, however, are available in the West End. Choices are limited to buying a house that can be lived in as is, added on to, remodeled or torn down and replaced. Neisser was fortunate to find some land with good trees and a house that she was allowed to demolish.
While obtaining the site was difficult, Neisser had no problem selecting her architects. Several years ago Stanley Tigerman and Margaret McCurry of Tigerman McCurry Architects designed an apartment for her in Chicago (see Architectural Digest , April 1997). "Stanley and Margaret know that my aesthetic is minimal and serene," she says of the husband-and-wife team. "The apartment they did for me is calming, and I wanted my Aspen house to be peaceful as well."
The house is governed by the architects' understanding of the right thing to do in the historic neighborhood and the wishes of their client. But it was also shaped in important ways by Aspen's residential design ordinance and zoning regulations. "The standards are almost prescriptive, but I have no problem with that because the rules are all for the good," Tigerman german notes.
In accordance with the code, the principal mass of the 4,400-square-foot house is parallel to the street, its front door is on the street façade, and a group of windows—those of the study—also faces the street. The site shares a property line with a house designed by Aspen architect Harry Teague.
"I really wanted to work with Harry's house because I like it a lot," Tigerman explains. He and McCurry placed the Neisser house as close to the street and to the site's western boundary as was allowed, thereby creating space for a terrace and garden, which Neisser was willing to sacrifice square footage for. This outdoor area, which was designed by landscape architect Maria Smithburg, is seamlessly connected to the neighbors' yard and offers a partial view of Teague's divertingly intricate façades.
The plan consists of three rectangular wings arranged on the site asymmetrically, but within each of these segments the meticulous symmetry for which McCurry is famous prevails. The principal mass contains the entrance hall, with a stair to a second-story bridge that connects two bedrooms and two baths. To the east of the entrance hall is the master bedroom, with a double-sloped roof adjoined by a single-story bath and closet; to the west is a study, of similar width, with a bath and storage.
Beneath the eight-foot-high bridge, the entrance hall opens onto the second wing, which is the grandly scaled heart of the house. This low-ceilinged passage further emphasizes the space the architects call the great room, a living and dining area with a twenty-two-and-a-half-foot-high peaked ceiling.
Because Neisser likes simple detailing and modest materials, the architects chose aluminum roofs, beige-painted cedar siding for the exterior walls, and double-hung and clerestory windows. Colorado redstone was used for the exterior base cladding, the terrace and the floors on the first level. The roof forms a series of sheds of varying dimensions and pitches, and although its framing had to be thick to carry the snow loads, it was carefully designed to appear as light as possible.
August Reno of Gibson Reno, associate architects for the project, considers this effort particularly noteworthy. "Today a lot of people in the West End are doing their houses in the log, timber and stone style," he says. "That has its place in the mountains but not in the town, which has an architectural history of industrial mine buildings and little miners' houses with Victorian trim. These buildings had wood siding and sloping metal roofs. The Neisser house acknowledges that early period."
"We meant it to be a house you can walk into with your ski boots," says McCurry, who collaborated with Tigerman on the house as a whole and was responsible, with senior associate Melany Telleen, for all aspects of the interior design. The fireplace was designed by Telleen and features a redstone surround and a stainless-steel screen and mantel; all the furniture was either made or hand-picked by the architects. The use of metal extends to the kitchen, which is separated from the dining area by three bays of rolling steel garage doors that can be lowered while food is being prepared and raised when it is ready to be served.
"We had a lot of back and forth with Judy about those doors before she finally agreed to have them," McCurry recalls. "She enjoys industrial motifs as a theoretical notion, but she's wary of their use too close to home."
From the inside, the great room fenestration comes as something of a surprise. It consists of five double-hung windows in a row, with two tiers of five clerestory windows above. Given the view of the terrace and garden, one expects the south wall to be almost entirely of glass, or at least to have a series of French doors.
"The double-hungs were Stanley's idea—our bow to Victoriana," McCurry points out. "You can look through them and see the mountains, but the whole house isn't oriented toward that view. We didn't want to do the commonplace Aspen-Tyrolean-style living room gable with big glass windows all the way up."
The Neisser house has turned out to be not in the least bit commonplace. It is so unusual for the West End, in fact, as to be controversial among local architecture buffs. For Stanley Tigerman, however, controversy and discussion are essential to the design process, and for this reason he and Margaret McCurry seldom directly collaborate.
"Margaret and I don't work together much," he confesses, "because, frankly, it's too hard on a marriage. Most clients—and Judy is an exception—choose her or me. I'm more spontaneous than Margaret; she's more sophisticated than I am. When we do collaborate, may I indeed be so bold as to say, the result is even better than when we work separately."