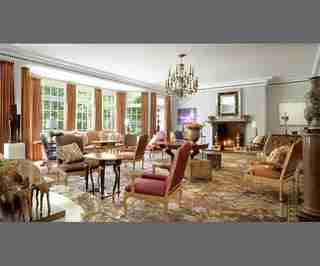 dam-images-architects-2007-12-huniford-arsl01_huniford.jpg
"The clients wanted an elegant country house into which we could weave their contemporary paintings," says designer Stephen Sills, of Sills Huniford, which collaborated with the architectural firm Shope Reno Wharton on a Long Island house.
The living room has paintings by Gerhard Richter, left, and Robert Ryman. Armchair fabrics from Scalamandré. Stark floral on sofa and pillows.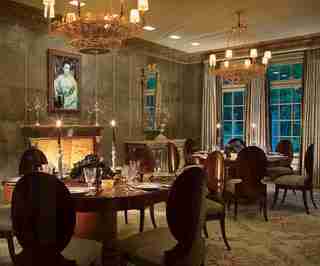 dam-images-architects-2007-12-huniford-arsl02_huniford.jpg
"I always loved the Spanish-leather-paneled walls that I saw in Paris 30 years ago," says Sills, who adapted the effect for the dining room using damask-covered panels. Over the fireplace is a photograph by Cindy Sherman. Stark chair fabric. Silver drapery fabric, Decorators Walk.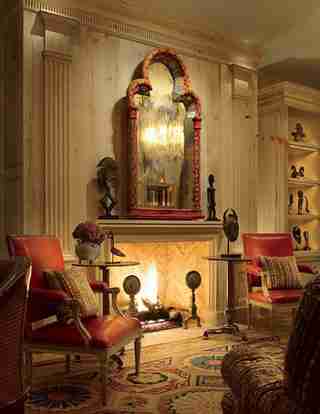 dam-images-architects-2007-12-huniford-arsl03_huniford.jpg
A 19th-century Russian mirror hangs over the mantel in the library, which holds a collection of African art and rare books. "All the furniture was selected because of its purity and because it goes well with a modern backdrop." Brunschwig Fils chair and pillow fabric.
dam-images-architects-2007-12-huniford-arsl04_huniford.jpg
"The staircase has a Hollywood Regency-style handrail," Sills observes, "like something Billy Haines would design." A painting by Brice Marden hangs above a circa 1730 boulle marquetry table. The sculpture, L'Oiseau Solaire, 1966, is by Joan Miró. The lantern is circa 1790.
dam-images-architects-2007-12-huniford-arsl06_huniford.jpg
The rear façade. "Conceptually, the scale of the house is constantly being broken down," says project architect Arthur Hanlon, who worked with principal architect Bernard Wharton. "Different roof shapes create a house that's exciting to look at. Multiple gables and dormers give it a very human scale."
dam-images-architects-2007-12-huniford-arsl05_huniford.jpg
"It's an eclectic mix of styles," Sills says of the master bedroom, which is furnished with a circa 1760-65 English four-poster, a circa 1900 French rug, a circa 1950 table by André Arbus and a pair of circa 1922 sconces by Armand Albert Rateau. The painting is by Franz Kline. The Greek marble relief is 2nd or 3rd century. Headboard, canopy lining and bedcovering fabric from Stark.