Though ISIS has been expelled from Mosul, there's still a long road ahead to sufficiently rebuild its housing and infrastructure. But if a winning proposal from a recent design competition centered on becomes a reality, one of Iraq's largest cities might possibly serve as a model for the future of urban agriculture and modular housing.
Envisioned and articulated by Belgian ecological architect Vincent Callebaut, "Five Farming Bridges" recently placed among the top three finishers for the Rifat Chadirji prize, a new Iraq-centric design competition that sought proposals to rebuild the liberated areas of Mosul. An effort to rebuild some of the bridges destroyed before ISIS was driven from the city, Callebaut's plan draws inspirations from both medieval Islamic architecture and mass-scale 3-D printing in order to devise a solution that seamlessly integrates sustainable vertical farming with a highly-scalable housing solution. The five bridges would connect the two parts of the city (which are divided by the Tigris River), while also providing urban farms and urban homes for the residents of Mosul.
The plan centers on vertical farms that draw irrigation from the Tigris river, plowed by Archimedes screws. Other passive systems that will fuel agriculture include wastewater filtration assisted by lagoon waterfalls, and biomass composers to assist with orchard and vegetable garden growth. The ultimate goal is to ensure food security by creating a self-contained ecological system that spirals upward and spans across the Tigris.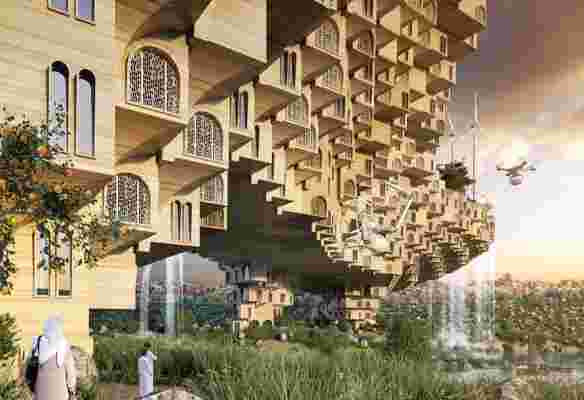 A rendering from the foot of one of the bridges.
For the housing, Callebaut's aesthetic focal point was the muqarna , a high, ornamentally vaunted archway that stands as one of the defining characteristics of classical Islamic architecture. These form the basis of modular homes, which can be adjusted and arranged in clusters of two, five, or ten. A series of 3-D printers the project describes as "articulated spiders" make it possible to construct up to 30 units per day.
Though Callebaut acknowledges that the project's mission centers on "fighting poverty and feeding post-ISIS Mosul," he ultimately believes that the project's implications could extend far beyond Iraq. "This pioneering concept could change the way to construct buildings—making the process faster and less costly," he said in a statement. It remains to be seen which (if any) of the winning Rifat Chadirji projects will be put to use, but this interesting marriage of self-sustaining agriculture and modular housing can hopefully inspire other projects in communities around the world.