Fans of contemporary landscape design will be delighted by Landscape and Garden Design Sketchbooks (Thames & Hudson, $60), a new book that peeks behind the curtain of genius and into the early stages of creative process. Thirty-seven designers share drawings and scribbles from notebooks, hotel memo pads, and the backs of cigarette packs. The international mix includes such luminaries as the Netherland's Piet Oudolf, whose planting maps show a personal Morse code of colorful dots and dashes; Britain's Sarah Price, who says she prefers rolls of tracing paper to the confines of a computer monitor; and Argentina's Cristina Le Mehauté, whose moody watercolors display mesmerizing color combinations.
Most contributors are based in the U.S. and Europe, but the conceptualization excerpts also draw from firms in Canada, India, and Australia. Featured examples take form in pencil, photomontage, watercolor, and clay, among other media, and to a one they evoke a feeling of place and emotional connection that no computer-rendered plan could begin to suggest.
The book's author, Tim Richardson, is best known as the director of the world-renowned Chelsea Fringe gardening festival in London, and while his book doesn't wholly dismiss the value of technology in shaping landscape plans, he isolates an aspect of the design process that is consistently fascinating and often swoon-worthy. These early creations are frequently works of art in their own right.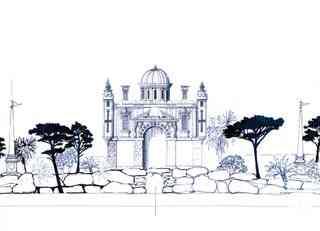 Isabel and Julian Bannerman are known for "quirkiness and 'English eccentricity,'" writes Richardson, particularly for follies such as this Sussex garden structure, which was inspired by the 1611 drawing for a court masque made by Inigo Jones. Isabel doesn't claim to be a great draftsman, but she prizes drawing as an effective way of helping clients understand projects in three dimensions.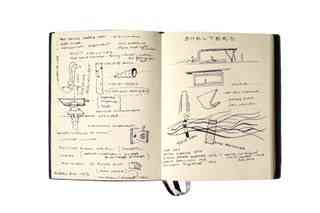 The work of Liverpool- and London-based BCA Landscape tends to show a strong graphic style, as do these doodles from the sketchbook of partner Andy Thompson. "Drawing is a process of discovery," Thompson writes, "of testing things out, of trying to transfer a half-developed picture from your mind to the visible world."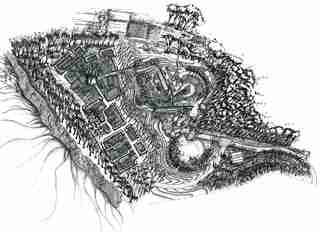 At the Mumbai, India, firm of Prabhakar B. Bhagwat, computers and handmade drawings are seen not as adversaries but as distinct tools. This sketch of a residential project in Baroda was actually completed after the fact as a way to communicate intricate relationships between elements such as buildings, bridges, fields, and woodlands.
The vitality of Miami designer Raymond Jungles is evident in his drawings, where even the annotations are made with exuberance. This early sketch of a Miami Beach garden shows Jungles trying to work through how to shape and place a series of pools.