The new DMR-HW100 is Panasonic's latest attempt at a PVR with integrated Freeview HD tuners – the 320GB hard disk inside should be large enough for around 85 hours of high definition television, but that isn't its only highlight. With DLNA media streaming and online content support, it could be a welcome addition to your home cinema setup.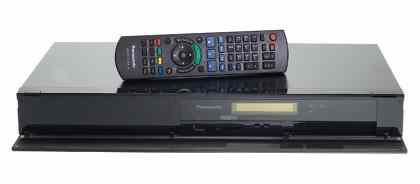 Panasonic's set-top boxes are rarely renowned for their style, and the DMR-HW100 is no different. The angular black plastic fascia folds down to reveal the front-mounted USB port and SD card reader, as well as the single line LCD display. You can close the front flap when an SD card is plugged into the front, but you'll need to leave it open when a USB flash drive or hard disk is connected. You can always use the USB port round the back to avoid this. At the rear, an HDMI output, an aerial input and passthrough and optical S/PDIF and stereo phono audio outputs cover the connection basics.

You'll need to run a network cable to the rear Ethernet port if you want to use the PVR's DLNA media streaming and online content features, as the wireless dongle is sold separately (part number DY-WL10E-K, £67 from www.amazon.co.uk). Once set up, we had no trouble connecting to the networked PC containing our test files over DLNA. Unfortunately, file format support is limited, both over the network and from a USB drive. Although we could play DivX and XviD (with the native .divx and .xvid extensions) and MKV files, MP4, MOV and AVCHD files weren't recognised. Only JPEG images and MP3 audio were supported, so you'll have to convert any other file formats before viewing them through the player. You can't copy recorded programs off the player onto external storage for backup, either.
As a Freeview HD receiver, the HW100 was surprisingly basic. It starts up in a leisurely 25 seconds and takes around 1.5 seconds to change channels. The on-screen programme guide lacks picture-in-picture, covers the entire screen and cuts all audio, so you won't be able to choose another programme without missing out on the one you're currently watching.