In many ways, the late Paul Newman was the epitome of cool. While he was best known for his Oscar-winning performances, the Ohio native, through his time spent on the racetrack and his philanthropic work, also became synonymous with one brand: Rolex. The relationship between the man and the Swiss luxury watchmaker began in the late 1960s and early '70s when Newman first began to fall in love with race car driving. His wife, Joanne Woodward, didn't love the idea of her husband constantly risking death on the racetrack. But nevertheless, she wanted to support his passion. As such, she bought him a Rolex Daytona wristwatch, adding to it an inscription which read, "Drive Carefully Me." Yesterday that very watch sold for $17.8 million, setting a new world record as the world's most expensive watch sold at auction.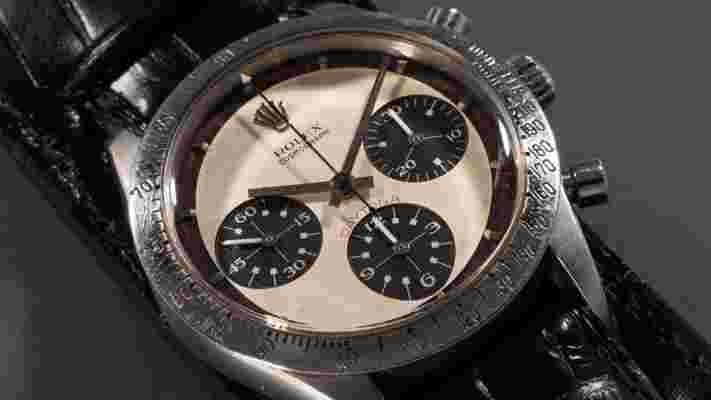 After a 12-minute bidding war, an anonymous buyer offered the winning amount over the phone. While the bidding process was relatively quick, the story of how the watch first left Newman's wrist, and eventually landed on the auction block, is quite the opposite.
It was through a man named James Cox that the auction house, Phillips, received the watch. Mr. Cox, who was the longtime boyfriend of Newman's daughter, was working on a treehouse with the famous actor in the mid-1980s. In an interview with the Wall Street Journal, Cox explained, "Paul asked me what time it was, to set his watch. I replied, 'I don't know—I don't have a watch.' He was clearly surprised. So he said, 'Here, here's a watch. If you wind it, it tells pretty good time."
The watch itself is the epitome of simple, elegant design. Three black dials adorn a cream-colored face, all encased in a stainless-steel rim with a tachymeter on its bezel. Upon closer inspection, one can read in red letters the word "DAYTONA." Of course, the iconic Rolex crown is perched at the very top of the face. A portion of the $17.8 million will be going to the Nell Newman Foundation, an organization involved in sustainable agriculture and conservation efforts.