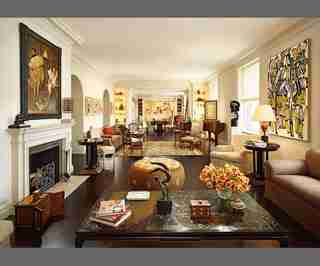 dam-images-architects-2006-12-ertegun-arsl01_ertegun.jpg
Art, books and light fill author and historian Barbara Goldsmith's Manhattan apartment, designed by Mica Ertegun, of MAC II. In the living room, Roy Lichtenstein's Forest Through the Trees, 1983, is at right, near his sculpture Head. Elie Nadelman's Acrobat with Petit Neuf rests on the low table, which was made from a coromandel screen.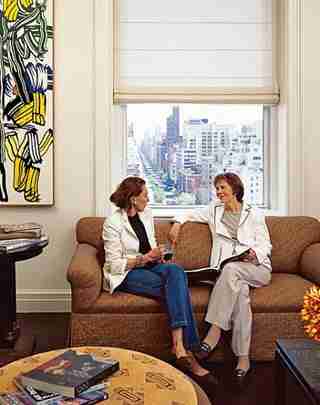 dam-images-architects-2006-12-ertegun-arsl02_ertegun.jpg
"When you have a piece of beautiful furniture," says Ertegun (left, with Goldsmith, right), "it's better to see that. And Barbara has such beautiful paintings: Why look at a tassel?"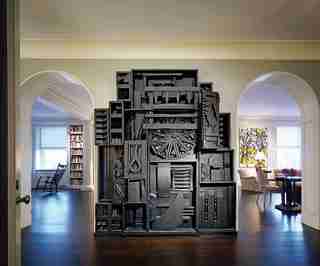 dam-images-architects-2006-12-ertegun-arsl03_ertegun.jpg
The gallery opens to the living room, right, and the dining room/library, left. Moon Garden II, a 1984-88 work by Louise Nevelson, is at center. A Sam Maloof rocking chair is at left.
dam-images-architects-2006-12-ertegun-arsl04_ertegun.jpg
Stone Roberts's oil Paul and Caro, 1992, above the living room fireplace, is flanked by Family Group, 1957, by Henry Moore, left, and Baghdad by Günter Haese. An Adamesque chair is beside a circa 1920 Austrian table; a Louis XV fauteuil, signed by Cresson, is near the sofa. Works from Jim Dine's Five Palettes series line the wall. Mick Jagger, 1975, by Andy Warhol is in the gallery.
dam-images-architects-2006-12-ertegun-arsl06_ertegun.jpg
Above the bed in the master bedroom hangs The Unknowable, a 1952 oil by Irene Rice Pereira, top. Bruno Lucchesi's sculpture Girl on Chair, 1959, is in the foreground. A signed Leleu cabinet stands near the window. Shade and footstool fabrics from Bergamo. E. Braun Co. bedcovering. Lorin Marsh bedside tables. Ruhlmann bed, Maison Gerard.
dam-images-architects-2006-12-ertegun-arsl05_ertegun.jpg
"Instead of jewelry," says Goldsmith, "books have become my Breakfast at Tiffany's."
The dining room/library. Ertegun bought the Art Déco table at a Paris flea market; the chairs were designed by MAC II. At rear is Three Weeks, 1957, by Larry Rivers. Brunschwig Fils bench fabric.