The BD-E6100 is the first of Samsung's 2012 home cinema line-up we've seen. Despite its entry-level price, the Blu-ray player has enough features to make it a worthy upgrade to anyone's home cinema setup.

The unit is compact and attractively finished in brushed-metal-effect plastic. A single-line LCD display sits to the right of the disc tray alongside a single USB port. The port selection at the back is decidedly sparse, with only a single HDMI port, Ethernet and coaxial S/PDIF outputs. Samsung explained to us that this is because many customers were plugging players into their TVs via legacy analogue video ports and mistakenly thinking they were getting Full HD – we can see the logic, although we think adding a component output would add a little more flexibility.

The USB port is certainly useful. Using a USB stick filled with our test files, we quickly discovered that the BD-E6100 has fantastic file format support. DivX, XviD, MKV and MOV files worked perfectly, as did MP4, AVI and H.264 content.
If you don't like the idea of running an Ethernet cable to your TV, you'll be pleased to hear all Samsung's internet-ready Blu-ray players now include integrated Wi-Fi, regardless of specification. This makes it much easier to get online, so you can start using the Smart Hub smart TV system right away.

The interface is mostly unchanged from last year, with one main screen that holds every app, including the Your Video hub, which contains on-demand services such as BBC iPlayer, LoveFilm and Netflix. There's now a universal search option which delves into every app you have installed, so you can search all your video apps from one box to find the content you're after.
There's also the Samsung App store and three new sections dubbed Fitness, Kids Zone and Family Story. Fitness acts like a Wii Fit-style workout program that uses clips of exercise regimes to get you healthy. It's not as accurate as Nintendo's original due to the lack of a balance board, but it can tell you how many calories you've burned based on the number of clips you exercise along to. Kids Zone includes some child-friendly games and parental controls that can limit the time spent playing.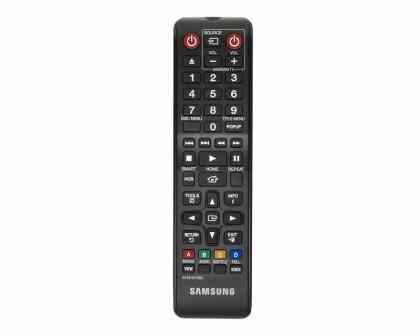 Perhaps the most useful is Family Story, which gives you online storage for your digital photos – using a Samsung account, you can share them with friends and family that also own Samsung products.
If the BD-E6100 is anything to go by, Samsung's 2012 Blu-ray player line-up looks more like evolution than revolution, but it's still a very well equipped entry-level model that should have all the features you could want. Even so, as we have yet to see similar products from the competition, or even Samsung's own high-end Blu-ray players, there could be products on the horizon that offer even greater value.
Details

Price
£134
Rating
****

Buying Information

Price
£134
Warranty
one year RTB
Supplier
http://www.morecomputers.com
Details
www.samsung.co.uk

Features and Connections

Blu-ray profile
5.0
HDMI outputs
1
HDMI Version
1.4
Component outputs
0
S-video output
0
Composite outputs
0
Stereo phono outputs
0
Coaxial S/PDIF outputs
1
Optical S/PDIF outputs
0
Wired network ports
1x 10/100
Wireless standard
802.11n
USB ports
1
Mass storage support
yes
Supported memory cards
none
Other connections
USB

Video, Audio and Photo

Video playback formats
DivX HD, MKV, WMV, MPEG 1, MPEG 2, MPEG4
Image viewing formats
JPEG
Audio playback formats
MP3, WMA
YouTube streaming
yes

Audio

Dynamic Range Control
yes
Dolby TrueHD support
yes
DTS-HD MA support
yes

Physical

Power consumption standby
0W
Power consumption on
9W
Extras
remote control
Size
427x192x36mmmm