This latest incarnation of Sandisk's Sansa Clip adds a full colour screen to our favourite budget MP3 player. Below it are six buttons for navigation and selection. There are volume buttons on the side and a power and locking key at the top. The whole thing measures just 55x33x11mm, including the sturdy plastic clip on the back, which is particularly handy if you want to use it while running. A microSDHC slot allows you to add up to 32GB more audio content to the Clip Zip's built-in 8GB capacity.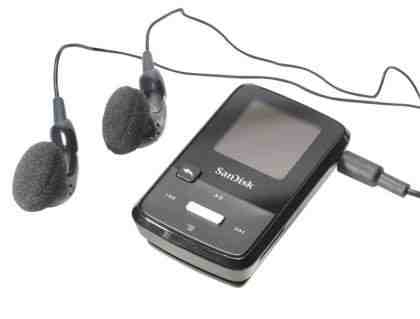 The colour display has a range of icons for the Clip Zip's key features. The music menu allows you to shuffle all tracks or view them by album, artist, genre or playlist. You can use the menus to add individual songs to a quick playlist but there's no handy iPod-style interface for adding multiple tracks. Other menus provide access to the player's FM radio, audiobooks and podcasts, voice recorder, a file manager to browse an inserted SD card, a stopwatch with a lap timer and logging functions and a settings menu.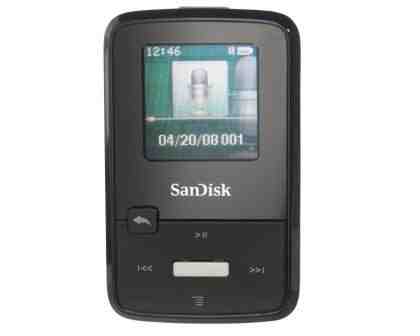 Track order for standard audio files is determined by the track number tag, so if you have these right albums or MP3 format audio books will play in the right sequence. The Clip Zip supports Amazon's proprietary Audible audiobook format, as well as a wide range of audio file types including OGG, 16-bit FLAC, WMA, Protected WMA and AAC. The player has a microUSB port and supports MSC mode for easy transfers from various popular audio programs including Windows Media Player, or you can set it to just mount as a disk in Windows and drag and drop your tunes.
The supplied earbuds are much what you'd expect to get free with an MP3 player. They're comfortable to wear, but don't feel very secure. Music through the supplied pair sounded a bit fuzzy, but once we'd switched to our own headphones, we got to appreciate our music properly. The Clip Zip's 16-bit DAC outputs clean, accurate sound. However, it's worth noting that if you set your region as Europe, the MP3 player will apply a volume limiter that makes it so quiet as to barely to drown out the background noise of our office, let alone output music loud enough to be clearly audible over the sound of a tube train or a gym's music system. Fortunately, setting your region as Rest of the World unlocks the Clip Zip's high volume mode.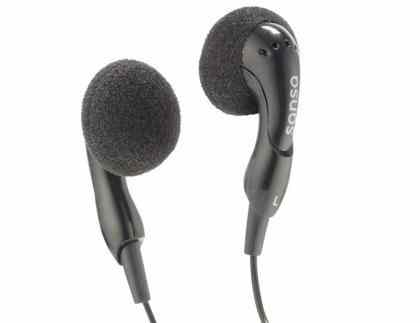 With the volume unlocked, we found that some of our louder tracks sounded harsh and slightly distorted at the very highest volumes. That said, the volumes in question were loud enough to be physically painful to listen to. The Clip Zip supports ReplayGain volume profiles, so if you have the tag set correctly (using a music program such as foobar2000) your tracks will play at similar volumes. We were somewhat disappointed by the battery, which lasted around 11 hours in our tests at a moderate listening volume, making it unsuitable for extended journeys if charging isn't an option.
Battery life is a weak point, but at just £43 for the 8GB version, the Clip Zip is around half the price of the Apple iPod Nano. It's a great Budget Buy if you're after a compact player to wear running or simply slip into your pocket for the morning commute.
Details

Price
£43
Rating
****
Headphone Rating
***
Award
Budget Buy

Hardware

Capacity
8.00GB
Formatted capacity
7.34GB
Interface
USB
Storage medium
flash memory
Battery and charge options
Li-ion, USB
Size
55x33x11mm
Weight
17g

Features

Device has screen?
Yes
Viewable size
1.1 in
Memory card support
MicroSDHC
FM Radio
yes
Audio record options
line-in
Supplied with
headphones, USB cable

Test Results

Tested battery life (MP3 playback)
11h 14m
500MB transfer time
3m 6s
Audio MP3 playback
Yes
Audio WMA playback
Yes
Audio WMA-DRM playback
Yes
Audio AAC playback
Yes
Audio Protected AAC playback
No
Audio OGG playback
Yes
Audio WAV playback
Yes
Audio Audible playback
Yes
Image BMP support
No
Image JPEG support
No
Image TIFF support
No
Video MPEG-4 AVI playback
No
Video MPEG-4 MP4 playback
No
Video WMV playback
No
Video MPEG-1 playback
No
Video MPEG-2 playback
No
Video MPEG-2 VOB playback
No
Video MPEG-4 DivX/XviD support
No
Video H.264 support
No
Video MPEG-4 MP3 audio support
No
Video MPEG-4 AAC audio support
No
Download compatibility
none

Buying Information

Price per MB
0.5p
Warranty
one year RTB
Supplier
http://www.amazon.co.uk
Details
www.sandisk.co.uk