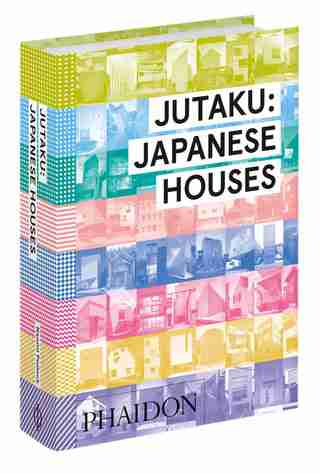 Jutaku: Japanese Houses
In Japanese cities, the average house is 1,075 square feet. That makes sense when you consider that the country has a landmass smaller than Montana but a population that puts it at number 11 worldwide. Creativity abounds despite such constraints, notes Naomi Pollack in Jutaku: Japanese Houses (Phaidon, $25). Pollack, a Tokyo-based architect, showcases more than 400 examples of contemporary residential design that defy gravity, redefine comfort, and dispel Western ideas of home. Featured work comes from rising designers as well as established architects such as Shigeru Ban and Jun Igarashi.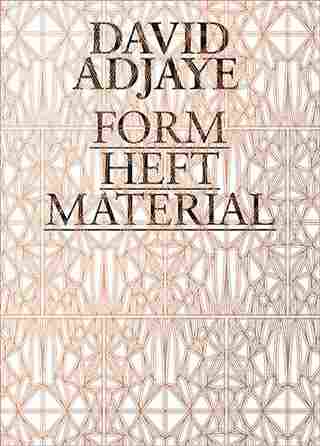 David Adjaye: Form Heft Material
David Adjaye: Form Heft Material (Yale University Press, $55), the catalogue for a current exhibition at the Art Institute of Chicago, traces the Tanzanian-born architect's diverse career with a collection of essays and architectural photography. The book examines Adjaye's uniquely modern residences, many of them designed for his coterie of art-world friends, as well as his famed libraries, museums, and civic centers.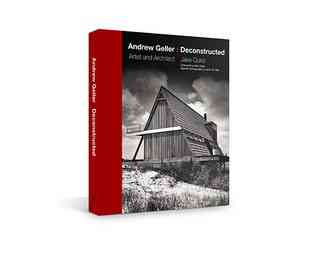 Andrew Geller: Deconstructed
In the postwar era, Long Island beach houses were, for the most part, architectural nonentities—basic boxes and inconsequential Cape Cods. Then along came Andrew Geller, a modernist architect who shook up the sand dunes with strikingly funky, low-cost vacation homes where bohemian lifestyles met geometrical explorations and unpretentious acres of plywood siding. Written by Geller's grandson, Emmy Award–winning documentary filmmaker Jake Gorst, Andrew Geller: Deconstructed (Glitterati, $40) explores an outstanding if undersung residential oeuvre that The New York Times called "eccentrically free-form and eye-grabbing."
The Future of Architecture in 100 Buildings
Can architecture be a path into the clouds? Can you sunbathe underground? Is pretty a public amenity? These are just a few of the questions posed by HWKN architect and Architizerom cofounder Marc Kushner in his new book, The Future of Architecture in 100 Buildings (Simon & Schuster, $17). An offshoot of Kushner's TED talk "30 Years of Architecture History," the volume brings together pioneering buildings that push the basic tenets of architecture into the future.
Midcentury Houses Today
The lushly illustrated Midcentury Houses Today (The Monacelli Press, $65) surveys spectacular dwellings across New Canaan, Connecticut. The 240-page volume by architects Cristina A. Ross and Jeffrey Matz (with photographer Michael Biondo and graphic designer Lorenzo Ottaviani) zeroes in on 16 exemplars of home design from 1950 to 1978, in a town perhaps best known for Philip Johnson's trailblazing Glass House (1949).
Furnitecture
Since the mid-20th century, furniture designers have been crafting pieces that pack more structural punch than a stand-alone chair or table. In Furnitecture (Thames & Hudson, $30) design writer Anna Yudina traces the furniture-as-architecture concept from early examples into the modern day, mapping out contemporary design pieces that interact with space in a big way.
Beauty—Cooper Hewitt Design Triennial
What makes something beautiful? The Cooper Hewitt, Smithsonian Design Museum in New York City shares its perspective in Beauty—Cooper Hewitt Design Triennial (Artbook | DAP, $50), a new book accompanying an upcoming exhibition of the same name. The volume presents 62 global designers and their wide range of groundbreaking—and beautiful—creations, from handcrafted rugs to grand-scale architecture.
Cabin Porn
Zach Klein, creator of the popular Tumblr Cabin Porn, has compiled more than 200 of the stunning photographs from his site into a book of the same name (Little, Brown and Company, $30). Featuring awesome imagery alongside cool tips—how to build a yurt or convert a grain silo into a getaway—the tome is sure to decorate many a salvaged-wood cocktail table.
Buildings That Revolutionized Architecture
In historian Isabel Kuhl's Buildings That Revolutionized Architecture (Prestel, $35), a compendium of history's greatest works of architecture, rich photography is paired with lively encyclopedia-style write-ups to offer a chronological education in what makes these 100 buildings so extraordinary.
Rethink the Way You Live
In 2009, Amanda Talbot left her job editing at British ELLE Decoration to research sustainable lifestyle trends unfolding around the world. Her recent book, Rethink the Way You Live (Chronicle, $40), illustrates how top design talents are using innovative measures in technology, gardening, and architecture to create a sustainable future.
Microshelters: 59 Creative Cabins, Tiny Houses, Tree Houses, and Other Small Structures
Diminutive dwellings are having a moment, and in the book Microshelters: 59 Creative Cabins, Tiny Houses, Tree Houses, and Other Small Structures (Storey Publishing, $19), Derek "Deek" Diedricksen tours miniature spaces for living, working, and just curling up with a book. From an elevated office in Northern California to a curved cabin in Seattle, these structures prove that big design can come in small packages.
Hide and Seek
Hide and Seek (Gestalten, $60) showcases beautiful structures that allow people to live in harmony with nature, including a tiny A-frame shelter in the Alps, a glass-enclosed structure in Finland, and a striking cabin by architecture firm Olson Kundig in the Pacific Northwest.
Mountain Modern
Many of the mountain chalets of yore—with their rustic log construction and charming shingled roofs—were not designed to withstand the test of time. Which is why, in recent years, innovative architects have been using new technologies and materials to construct contemporary homes in high places. The juxtaposition of the modern residences' clean lines and their rugged mountaintop locales caught the eye of photographer and frequent Architectural Digest contributor Richard Powers and author Dominic Bradbury. In Mountain Modern (Thames & Hudson, $35), the pair captured a total of 25 cabins, chalets, and villas, all built along breathtaking perches.
Local Architecture: Place, Craft, and Community
In celebration of the Critical Regionalism approach to architecture, a group of architects, historians, and critics gathered at a farm in Nova Scotia in 2011 for Ghost 13, a conference that examined place-based architecture as a form of resistance to globalism and the International Style. Local Architecture: Place, Craft, and Community (Princeton Architectural Press, $50) is a new book that explores the ideas brought forth at that meeting. Written by the founder of Ghost, architect and teacher Brian MacKay-Lyons, it features keynotes from august figures such as Kenneth Frampton, Glenn Murcutt, and Juhani Pallasmaa and includes annotated examples of projects from around the world that are deeply connected to site and surrounding culture.
Latin America in Construction: Architecture 1955–1980
Published by New York's Museum of Modern Art and arranged like an atlas, Latin America in Construction: Architecture 1955–1980 (MoMA, $55) explores Argentina, Brazil, Chile, Colombia, Cuba, Mexico, Peru, Uruguay, and Venezuela, using architecture as a basis for understanding political and economic changes and shifting regional identities. The book comes 60 years after the institution's landmark exhibit "Latin American Architecture Since 1945," which provided the first examination of modern architecture in the region.
Dallas Modern
Despite the romantic allure of the hackneyed Dallas caricature—ten-gallon hats, big hair, oil derricks churning money on the lawns of debauched neoclassical mansions—there's another side to life in the fabled Texas city that is equally seductive. Dallas Modern (Dallas Architecture Forum, $68) chronicles the city's love affair with modernist architecture and design through the lens of 20 extraordinary houses that span the years 1951 to 2013.
The New Nomads
The New Nomads (Gestalten, $55) examines the modern wanderer—part explorer, part migrant worker, and part old-world flaneur—and how their habits and interests have shaped design. The result is an exploration of innovative design today, from mobile architecture to temporary rooms and flexible furniture.
The New Artisans II
Some would say it's not just interior design or architecture that makes a home feel like a home, it's also the one-of-a-kind objects that personalize the space. In The New Artisans II (Thames & Hudson, $50), author and design authority Olivier Dupon picks up where his last book left off, profiling 60 skilled artists who are using craft techniques to create unique and extraordinary works for the home. From glasswork to botanical installations, Dupon seeks out the best artisanal pieces from around the globe and the innovators behind them.
Fifty Modern Buildings That Changed the World
In Fifty Modern Buildings That Changed the World (Conran, $20), London Design Museum director Deyan Sudjic offers a lushly illustrated cross section of architecture from 1851 to the present. The chronology starts with Joseph Paxton's Crystal Palace and ends with David Adjaye's yet-to-be-completed National Museum of African American History and Culture, stopping at greats such as Le Corbusier's Villa Savoye and Frank Gehry's Guggenheim Bilbao along the way.
30 Years of Emerging Voices: Idea, Form, Resonance
The Architectural League of New York celebrated the anniversary of its Emerging Voices' lecture series with the release of 30 Years of Emerging Voices: Idea, Form, Resonance (Princeton Architectural Press, $55). The book presents vintage and recent projects by 236 past honorees, revealing the talent and vision that earned initial notice and how both have evolved since.