The Netherlands is no stranger to flooding. Half of this small northerly country lies below sea level. Touch down at Schipol Airport outside Amsterdam and you are 13 feet below. To the Dutch, with their centuries-old systems of polders and dikes, water management is a neverending process of give and take. (Indeed, the widely used term "polder model" refers to a negotiated outcome that reconciles competing interests.) While the world has long admired these engineering skills and related traits, hurricanes and flooding are now drawing such design ideas to the fore.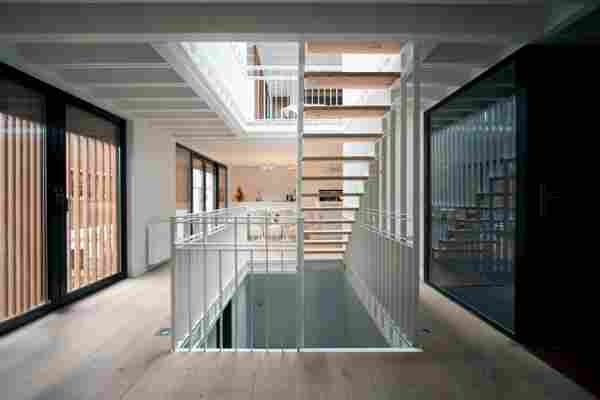 The central atrium of Framework Studio's Water Villa.
Framework Studio 's recent Water Villa updated the classic Amsterdam houseboat concept by adding a second story while also creating livable space below water level. It involved extending a skylit atrium down through the core of the structure to the lowest level. "In Amsterdam, boats can only be two stories above water, for good reasons of stability," comments Thomas Geerlings, Senior Designer at Framework Studio. "Using this design, we transformed the experience aboard, extending and connecting the different spaces in a fluid way while providing for appropriate hierarchy and privacy." This approach has been much emulated in Holland.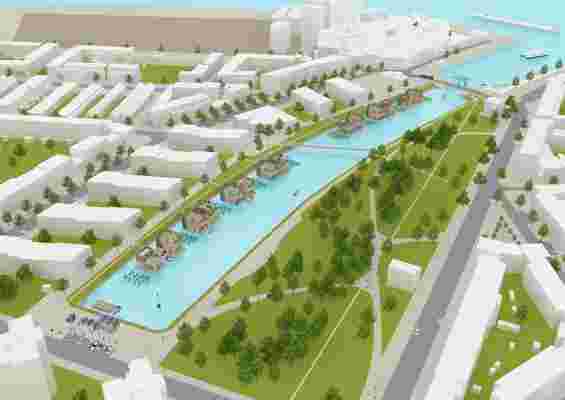 The Harbour Loft floating house development in central Rotterdam.
Rotterdam not only claims Europe's biggest port but also the world's largest sea gate (each of its two arms is equivalent in dimensions to the Eiffel Tower). Ninety percent of the city is below sea level, some neighborhoods nearly 17 feet so. Says Pieter Figdor, principal at Public Domain Architecture: "We are a delta city and extremely susceptible to flooding. Harbour Loft is a new development of detached houses with 150 to 180 square meters (1,600 to 1,950 square feet) of living space each, located near the central Erasmus Bridge. Each will be self-supporting, fully floating, and only connected to land for electricity and drinking water. These houses are also affordable to middle-income families. Above all, they need to be unsinkable. Environmental and social resilience go hand in hand." The build-out should be complete by mid-2018.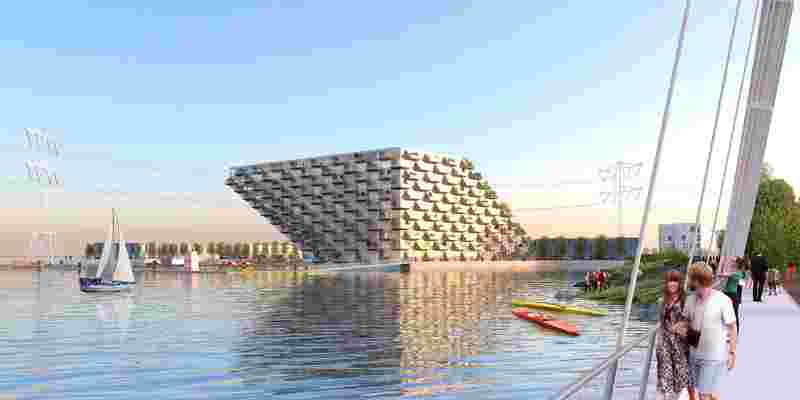 The Sluishuis, representing the cream of both Dutch and Danish design.
On a different scale altogether is the Sluishuis ("water gate house") project planned for Amsterdam's IJburg district. This nodal site lies just outside the protective water gate for IJburg, a landmark area reclaimed from the water. The winning design for the Sluishuis was devised by BIG of Copenhagen and Barcode Architects of Rotterdam—representing the cream of both Danish and Dutch design. Construction is expected to begin next year; once completed in 2021, the complex will feature 380 residential units, shops, a destination restaurant, water gardens, and a sailing school. Shaped like a ship's prow, it even incorporates space to sail though. "You can sail to work or sail home," remarks Dirk Peters, Partner at Barcode Architects. "Whatever the challenges of our times, waterfront property remains a spectacular place to live and work, and—in Holland—is still the most sought-after real estate."