For most students, summer has ended and schools across America are back in session (to the delight of some, to the chagrin of others). So what better time to take a closer look at the thousands of schools across the United States? While many high school buildings might be rather bland from a design perspective, there are others that are veritable works of art—we wouldn't blame you for mistaking them as universities, private homes, or even castles, in some cases. Representing a vast range of architectural styles, from Gothic to Art Deco, these structures, both historic and modern, often represent the pride of a community. Herein, we've selected the most beautiful public school in each and every state.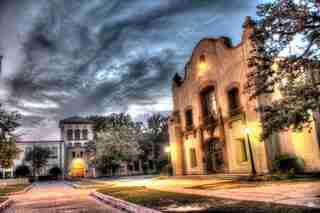 Alabama: Murphy High School, Mobile
Built in 1926, Murphy High School exemplifies the Spanish Revival style. The school, including the Lois Jean Delaney Auditorium and Arts building (pictured), was damaged by a tornado in 2012, but it has since been expertly restored.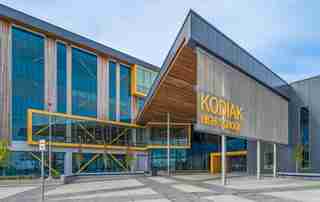 Alaska: Kodiak High School, Kodiak
The original, 1950s-era Kodiak High School building underwent an extensive modernization and expansion that was completed in 2015. The new structure features sleek façades with blue and yellow accents—the school's colors.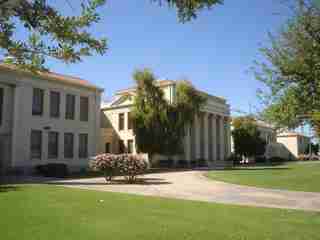 Arizona: Chandler High School, Chandler
One of the oldest schools in the state, Chandler High School was established in 1914, with the oldest buildings standing today completed in the early 1920s. They feature a blend of Colonial Revival and Spanish Revival styles.
Arkansas: Little Rock Central High School, Little Rock
Little Rock High School, listed on the National Register of Historic Places, was one of the largest and most expensive high schools in the U.S. when it opened in 1927—it cost $1.5 million at that time, which is over $20 million today. The school is infamous for its forced desegregation in 1957. That year, nine African-American students, known as the "Little Rock Nine," attempted to attend the formerly all-white school, but they were blocked from entering by the Arkansas National Guard. President Dwight D. Eisenhower then had 1,200 members of the U.S. Army's 101st Airborne Division escort the students in.
California: Torrance High School, Torrance
You might recognize this historic high school from multiple Hollywood productions, since it served as a filming location for TV shows and movies like Beverly Hills, 90210 ; Buffy the Vampire Slayer ; and Bruce Almighty , among many others. Several of its buildings, including the 1917 Mediterranean Revival main building and the 1937 Streamline Moderne–style auditorium, are on the National Register of Historic Places.
Colorado: East High School, Denver
While the school was established in 1875, the "new" building, pictured here, was designed by "old" East High School graduate George Hebard Williamson and built in 1889. Williamson was inspired by Independence Hall in Philadelphia.
Connecticut: Housatonic Valley Regional High School, Canaan
Designed by architect Ernest Sibley in the Georgian Revival style, this regional high school opened in 1939. The 21st century has seen a number of additions and renovations to the campus.
Delaware: Cape Henlopen High School, Lewes
With the original, 1970s-era building aging, officials decided to rebuild Cape Henlopen High School, resulting in this 2009 structure, featuring a central rotunda flanked by brick wings with arcades.
Florida: Hillsborough High School, Tampa
You might not associate Floridian architecture with the Gothic Revival style, but Hillsborough High School is a prime example of the movement. The school was established in 1882, but these buildings date to 1928.
Georgia: Milton High School, Milton
When the school's population outgrew its historic building in downtown Alpharetta, the board voted to build a new one. Completed in 2004, this Perkins+Will–designed structure takes its cues from Colonial Revival and Classical Revival aesthetics.
Hawaii: President William McKinley High School, Honolulu
Spanish Revival architecture isn't limited to the Lower 48. Originally founded as Fort Street English Day School, in 1865, President William McKinley High School moved to its current campus in the 1920s.
Idaho: Boise High School, Boise
The current buildings of Boise High School were built in phases beginning in 1908 and running through the '60s, which led to the diverse architectural styles, from neoclassical to Art Deco, found across the campus.
Illinois: Lake Forest High School, Lake Forest
With a main building that looks more like a country manor than a public high school, Lake Forest High School, in a North Shore suburb of Chicago, is more than pleasing to the eye. The main structure was built in 1935, with additions being built periodically through 2008.
Indiana: Shortridge High School, Indianapolis
This Classical Revival high school has quite a storied history—literally. Author Kurt Vonnegut and I Love Lucy writer Madelyn Pugh were graduates, in 1940 and 1938, respectively. Famous alumni aside, Shortridge High School was Indiana's oldest free high school, and its original superintendent, Abraham C. Shortridge, hired female teachers and allowed African-American students to attend it, which was highly atypical at the time.
Iowa: City High School, Iowa City
Since it was built in 1937, funded by the Public Works Administration, Iowa City High School has had six additions tacked onto the original structure.
Kansas: Wichita East High School, Wichita
The Collegiate Gothic–style campus (which spans 44 acres) is home to this public high school, with the building seen here built in 1923.
Kentucky: duPont Manual High School, Louisville
The 1999 film Insider was based on the true story of one of duPont Manual's teachers, Jeffrey Wigand. Many scenes were filmed inside the Gothic-style building.
Louisiana: Neville High School, Monroe
Listed on the National Register of Historic Places, Neville High School has undergone a massive renovation, completed this year, to preserve its historic, 86-year-old building.
Maine: Deering High School, Portland
Deering High School had humble beginnings as a one-room schoolhouse in 1874. The current main structure was built in 1922.
Maryland: Baltimore City College, Baltimore
Despite its name, this is actually a high school, affectionately nicknamed "the Castle on the Hill." It took its first students in 1839, and the current Gothic Revival building was constructed later and opened in 1875.
Massachusetts: Fairhaven High School, Fairhaven
This extraordinarily ornate high school was paid for in full by local millionaire Henry Huttleston Rogers, who then donated it to the town. He brought in Italian stonemasons and German woodcarvers to work on the architectural details.
Michigan: Grosse Pointe South High School, Grosse Pointe Farms
What was formerly swampland was transformed into the manicured grounds of Grosse Pointe South High School, which features a stunning Georgian Revival main building designed by Detroit-based architect George J. Haas.
Minnesota: Hibbing High School, Hibbing
Made rich by an iron ore boom in the area, the mining industry of Hibbing spent $4 million on this ornate school in the 1920s, which is a staggering $54 million today. Its centerpiece is an 1,800-seat auditorium modeled after the former Capitol Theatre in New York. Bob Dylan is an alumnus of Hibbing High School.
Mississippi: Columbia High School, Columbia
When the Works Progress Association built this high school in 1937, it took inspiration from European modernism, electing for a highly geometric structure painted white.
Missouri: Central High School, Springfield
Central High School was the first high school in Springfield, with the building seen today constructed in 1893. There have been multiple additions to the structure, the most recent in 2002.
Montana: Great Falls High School, Great Falls
This 1930 Collegiate Gothic building is listed on the National Register of Historic Places. The high school's original structure, built in 1896, was a Romanesque Revival construction, which later served as a junior high school and today is home to the Paris Gibson Square Museum of Art.
Nebraska: Lincoln High School, Lincoln
More than 40,000 students have graduated from this school since its establishment in 1871. The current Neoclassical building was built in 1915.
Nevada: Las Vegas Academy of the Arts, Las Vegas
Two Art Deco buildings from Las Vegas's first high school, built in the 1930s, are now part of the campus Las Vegas Academy of the Arts.
New Hampshire: Spaulding High School, Rochester
Built in 1939, the Georgian Revival main building of Spaulding High School takes its design inspiration from the river houses at Harvard University.
New Jersey: Columbia High School, Maplewood
One of the oldest schools in the country, Columbia High School was founded in 1815, though the current Gothic Revival building was completed in 1927.
New Mexico: Volcano Vista High School, Albuquerque
Unlike the majority of the schools on this list, Volcano Vista is housed in a modern building, and it's also a young school, founded in 2007. A rust-colored obelisk guards the entrance to the school, which is painted in earthy tones.
New York: The International Preparatory School, Buffalo
Though not purely a high school by traditional standards (it has students from grades five through 12), the International Preparatory School is one of the most beautiful buildings in Buffalo, and perhaps even New York state. The 1931 building originally belonged to Grover Cleveland High School, which closed in 2011.
North Carolina: Roanoke Rapids High School, Roanoke Rapids
Inspired by the University of Cambridge in the U.K., this 1921 school was designed by architect Hobart Upjohn in the Gothic style.
North Dakota: Grand Forks Central High School, Grand Forks
The oldest North Dakota high school still in operation, Grand Forks Central saw its original building torn down to make way for this 1937 structure, built as part of the Public Works Administration program.
Ohio: Withrow High School, Cincinnati
Architect Frederick W. Garber made an arching bridge and a 114-foot-tall clock tower the centerpiece of Withrow High School's campus.
Oklahoma: Will Rogers High School, Tulsa
This Tulsa high school, founded in 1939, is designed in the popular Art Deco style and considered one of the most beautiful buildings in town.
Oregon: Roosevelt High School, Portland
The 1921 brick-clad main building at Roosevelt is currently undergoing a $96 million renovation and expansion to modernize the school while maintaining its historic architecture.
Pennsylvania: Reading Senior High School, Reading
Reading Senior High School's current campus was in built in 1927 to resemble a medieval castle, which earned it the nickname "the Castle on the Hill."
Rhode Island: Westerly High School, Westerly
Though the first Westerly High School was built in 1870, the current iteration was built in 1937. The Greek Revival main building is named after former Rhode Island governor Samuel Ward.
South Carolina: York Comprehensive High School, York
When this $78 million high school was built in 2010, the architects, LS3P Associates Ltd., placed a focus on natural light, installing skylights and large windows.
South Dakota: Hot Springs High School, Hot Springs
Built in the 1920s, after an older building burned down, this two-story Tudor Revival high school is listed on the National Register of Historic Places.
Tennessee: Montgomery Central High School, Cunningham
Perhaps the most unusual school building on this list, Montgomery Central features a midcentury-modern design. Built in 1968, the school, designed by John Shaver, comprises several pod-like concrete shell buildings, some of which are partially built over water.
Texas: El Paso High School, El Paso
Opened in 1916, the grand Neoclassical El Paso High School, designed by firm Trost & Trost, takes the nickname "the Lady on the Hill." The school overlooks R. R. Jones Stadium, the first major stadium built of concrete in the U.S.
Utah: Ogden High School, Ogden
Built by the Works Progress Administration, this building was designed with Art Deco flair. Here, the architects actually used three different styles of Art Deco architecture: Zigzag Moderne, Streamline Moderne, and Classical Moderne.
Vermont: Peoples Academy, Morristown
The Neoclassical Copley Building at the Peoples Academy opened in 1929 (though the school was established in 1847) and still serves as the area's only high school.
Virginia: John Handley High School, Winchester
It's not just the Neoclassical Revival building that is gorgeous at John Handley High School. The grounds are equally beautiful—they were designed by famed landscape architect John Charles Olmsted.
Washington: Stadium High School, Tacoma
This list wouldn't be complete without a mention of the iconic high school used as a filming location in the 1999 film 10 Things I Hate About You . Stadium High School's original structure was intended to be a luxury hotel styled after a French château. One of the most striking aspects of the school is its sweeping views over the stadium and Commencement Bay.
West Virginia: Parkersburg High School, Parkersburg
The Tudor-style building of Parkersburg High School was constructed in 1917 on a site that was once swamp. Before the swamp was drained, students entered the building via a boardwalk.
Wisconsin: Lincoln High School, Manitowoc
Lincoln High School is best known for its ornate, Gothic-style tower, which can only be climbed during special tours. The building was completed in 1923.
Wyoming: Natrona County High School, Casper
This Collegiate Gothic–style building was constructed in phases between 1924 and 1941. The high school served as a temporary campus for Casper College in the 1940s.