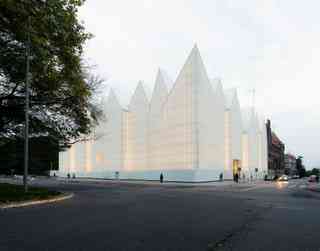 Visually light yet structurally strong, glass has long been favored by architects as a means of opening up a building to its environment while still protecting it from the elements. It stands to reason, then, that our modern visionaries would explore the material's many applications, treatments, and finishes to create buildings that clearly elevate our basic need of shelter to a high art. Whether it's mirrored to reflect light or frosted to diffuse it, etched with intricate designs or bubbled to playfully distort vision, glass offers not only a relief from obstinate, opaque materials but an opportunity to infuse a building's façade with fluidity in a way that no other material can. Here, Architectural Digest takes a look at 11 notable buildings and architects that have adeptly used glass to propose a new vision of nonresidential spaces that exist not just to function but to inspire.
The translucent ribbed glass of the Philharmonic Hall in Szczecin, Poland, reaches high to the coronal peaks of the steeply pitched roof. The building, designed by architecture firm Barozzi Veiga, features a large symphony hall and a smaller space for chamber music.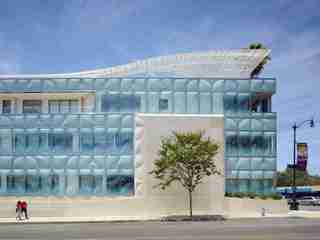 The slumped glass panes of the Gores Group Headquarters in Beverly Hills, California, form circles and diamonds, giving the building a soft, tufted appearance. The structure, a project of Santa Monica's Belzberg Architects, actually features a two-layer façade—the interior layer of the glass provides visual opacity and privacy.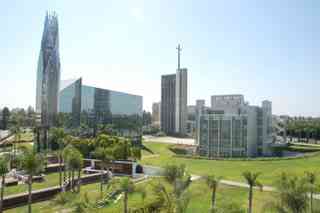 The Christ Cathedral—known informally as the Crystal Cathedral—in Garden Grove, California, was the largest glass building in the world when it was completed in 1980 by architects Philip Johnson and John Burgee. Outside, mirrored glass panes, secured to the building's frame with silicone glue, seamlessly reflect the serene environs. Within, a weblike white steel framework adds an airy yet warm dimension to the glass façade.
The undulating walls of Frank Gehry's IAC Building—home to InterActiveCorp's headquarters in Manhattan—gently twist and reach upward in two sections. The glass exterior features windows on each story with a clear-to-white gradient that adds to the soft visual motion of the structure.
The Bronx County Hall of Justice, completed by Rafael Viñoly Architects in 2007, features a corrugated glass and aluminum façade that surrounds the courtrooms and offices inside. The accordion-like encasement is made with panels of fritted glass that add an opacity to the outside of the structure while still allowing for outward views of the surrounding city.
The Prada store in Tokyo's fashionable Aoyama district uses concave, convex, and flat panels of glass in its diamond-quilted structure to give soft, rippling motion to the building's otherwise sharp angles. Herzog & de Meuron's design is not only stunning but visually interactive—the bubbles of glass distort the view within and without, quietly playing with the store's customers.
Five frosted-glass structures—referred to as "lenses" by their architect, Steven Holl—are connected by underground galleries to form the Bloch Building, a 2007 addition to Kansas City, Missouri's Nelson-Atkins Museum of Art. The translucent boxes filter natural light on the exhibits contained within, aided by a carefully planned interior that redirects light at every turn.
A collaboration between OMA in Rotterdam and LMN Architects in Seattle, the Seattle Central Library's postmodern, angular building is made with a mirrored glass and steel skin. About half of the panes are composed of three layers—aluminum mesh sandwiched by glass—to shield patrons from sunlight.
Home to the Hermès flagship store in Japan, Maison Hermès by Renzo Piano Building Workshop features a façade made entirely of glass blocks. During the day, the blocks entice customers with a softly blurred view of the goods offered within, and at night, the glass allows light to filter outward like a giant Japanese lantern.
The sail-like panels of glass on Frank Gehry's Fondation Louis Vuitton in Paris alter in color and transparency depending on the time of day and year, allowing the building to respond in kind to its environment.
The Utrecht University Library in the Netherlands uses a glass façade fritted with an abstracted print of fossilized papyrus to filter light into the interior. Wiel Arets Architects also used concrete panels with a relief of the same image on select portions of the building.