The wildfires that just swept through Northern California seemed to come out of nowhere. By the time they were extinguished, they burned through more than 250,000 acres and 7,000 structures.
One of the homes that was lost was this ranch house overlooking the Carneros wine region in Napa , designed by Loren Kroeger of Backen Gillam & Kroeger Architects. Ironically, the home was intended to reflect the landscape that ultimately destroyed it.
"The shock of something so beautiful [that's now] gone is still there," says Jennifer Macdonald of Jennifer Robin Interiors, who began working on the interior design two years ago. "We're still in the mourning phase."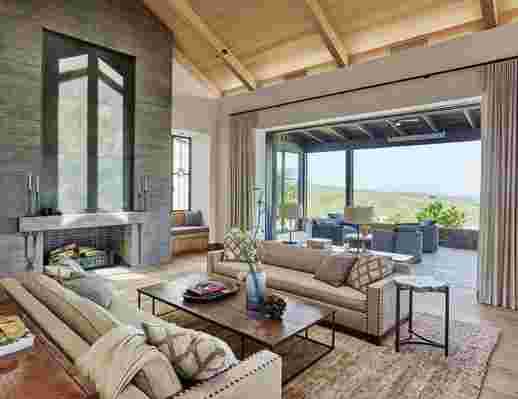 The living room.
The project included a 400-acre working ranch with several outbuildings, including three kitchens, two master suites, and a pool house, which took five years from blueprint to interior design. It was gone in hours. But the homeowners say they were lucky and grateful to escape with their lives, after almost no warning.
"We feel very fortunate, all things considered," say homeowners Stephen Juelsgaard and Lori Cook, by email. "The fire came upon us in the very early hours, with the winds blowing strongly and pushing the fire towards us. Once we saw what was happening, we hurriedly put on some clothes and escaped with our two dogs as the flames were nearing the house. The fire moved so fast there was nothing anyone could have done to prevent it from hitting the house. The only thing we could do was to evacuate as quickly as possible and hope for the best."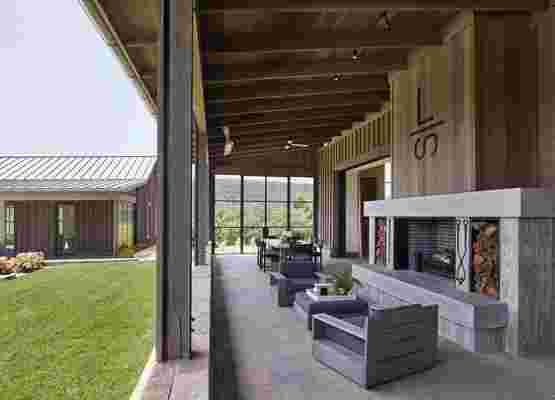 The porch off the main house.
Jennifer Macdonald's husband, Matt, is a Napa fire captain who battled the blazes from its beginning in the early hours of Sunday, October 9. "This is the worst incident I've ever been on in 19 years," he says. "It spread through homes like it did the vegetation, burned from home to home, which you rarely see, because of the winds. The fire started at the peak of the wind event: Some got above 80 miles-per-hour—hurricane-force winds. It was terrible timing.
"There were people fleeing on foot, some in tears," he says. "I was going door-to-door, waking people up if I had to. We were getting phone calls of people trapped. I pulled one guy out of his home, had to drive through some flames to get there. I was yelling for him and he came running out in just a T-shirt and boxers."
Jennifer Macdonald reflected on the project, which the homeowners intend to rebuild with the original team. "When you have such beautiful architecture and inspiring views, my goal was just to stay quiet and harmonize those elements," she says. The homeowners wanted a property that reflected their separate tastes. "I wanted it to be rustic to suit the ranch, but she has an elegance about her," says Macdonald, who works primarily in the wine country.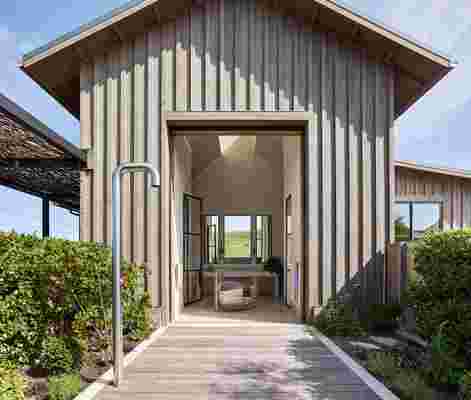 Lori Cook's master bath and garden.
To that end, a built-in banquette was made of leather that Juelsgaard was fond of to create a masculine vibe. Macdonald balanced this with delicate light fixtures and hammered-zinc accents that resembled jewelry pieces. Local materials and craftsmen were employed throughout: A long-slab dining table used reclaimed elm; a local woodworker built and finished it. Local furniture maker Gabriel Statsky made TV lifts for the master suites from reclaimed woods. The informal outdoor plantings were done by Claudia Schmidt Landscape Design.
The homeowners, who relied on construction by Jim Murphy & Associates, are intent on rebuilding, but "it's going to take a long time to clear the land and make it livable again," says Macdonald.
The pool house.
"We plan on redoing our interior exactly in the same fashion as was done the first time," say Juelsgaard and Cook. "We loved everything. There are some pieces that were one of a kind—the French wing chairs, the large petrified table in the kitchen sitting area, the walnut dining room table—that we will need to find substitutes for, but we are planning on staying with the original design, finishes, architect, builder, and interior designer. We loved our house and everything about it."
When we spoke, Macdonald had just returned from another project in the area that suffered damage, but the main house was still intact. "Keep going—that's very much the attitude up here," she says. "It's a really inspiring attitude that everybody has right now: Let's keep going and heal, and let's rebuild this beautiful area."