For architecture lovers, there's never a bad time to visit Chicago . But the Windy City is especially enticing during the Chicago Architecture Biennial , the second edition of which runs through January 7 at the Chicago Cultural Center (78 East Washington Street) and other venues. Curated by Los Angeles architects Sharon Johnston and Mark Lee of the firm Johnston Marklee, the Biennial showcases projects by more than 100 architects on the theme "Make New History." The Cultural Center, formerly the city's main public library, is an ornate building in a city that perfected modern architecture, then for a time became a hotbed of post-modernism. (The most influential architect of the 20th century, Mies van der Rohe, built gridded towers all over Chicago; the puckish post-modernist Stanley Tigerman once showed Mies's magnum opus, Crown Hall, sinking into Lake Michigan.) But this show is post-post-modernism—many of the entries are in a cartoony, anime- and Minecraft-influenced style. Even proposed additions to Mies's own Illinois Institute of Technology campus resemble Superman's Fortress of Solitude.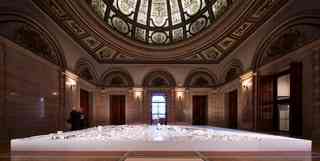 The largest model in the exhibition yanks the Illinois Institute of Technology, laid out on a strict grid by Mies van der Rohe, into the 21st century. SANAA, the Japanese Pritzker Prize-winners, have linked the land-locked campus to Lake Michigan with a series of crystalline, iceberg-like buildings that would dwarf Mies's horizontal structures. Mies's most loyal followers might not approve, but IIT Professor Dirk Denison thinks the master himself would. "He was always searching for the new," Denison says.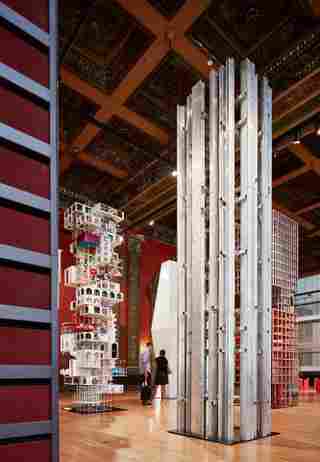 A cavernous gallery at the Cultural Center is devoted to a reprise of the 1922 contest that led to the construction of the Chicago Tribune Tower, a neo-Gothic masterpiece on North Michigan Avenue. This time, the entries aren't meant to be built—they're more like mini-dissertations (at maxi-scale) on what a tall building can be.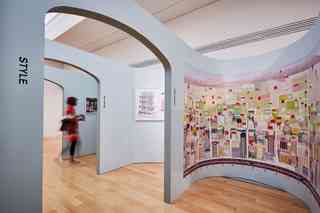 For sheer pleasure, check out the drawings by New York architects WORKac of their efforts to return an art deco building in Beirut to its original use as an urban villa. The "graphic novel" style of the renderings helps illuminate an approach to the building that the architects say will both "radically intensify its characteristics and celebrate its contradictions." Honors also go to Basel firm HHF Architects for its presentation (in collaboration with Swiss graphic designer Jiri Oplatek) of ideas for making parking structures suitable for more than cars. And Cameron Wu, a Harvard architecture professor, uses algorithms to unpack the geometric patterns in Baroque buildings. The resulting drawings are as beautiful as those of Louis Sullivan's equally ornate Chicago Stock Exchange, displayed at the Art Institute.
There are plenty of works in the show that make art from architecture—literally. The Swiss artist Philipp Schaerer samples portions of photos of Chicago rooftops to create stunning abstract compositions. The New York artist Jorge Otero-Pailos makes casts of dirt removed from public buildings; the results, in both cases, are haunting.
The rooms of the Cultural Center are filled with models of unbuilt structures (Stan Allen Architect's amusing exploration of the possibilities of the ubiquitous "balloon frame"); mock-ups of unbuilt structures (Andrew Zago's beautiful laser-cut facade for a performing arts center); mock-ups of built structures (Jeanne Gang's stunning wooden joinery for the Writers Theater in Glencoe); and models of built structures (a colorful collection of miniatures from the German Architecture Museum in Stuttgart, known as DAM).
Luisa Lambri's photos of the Farnsworth House find a Mondrian-esque rhythm in its Miesian geometry. The Farnsworth, one of Mies van der Rohe's masterpieces, has been photographed thousands of times, but perhaps never as abstractly as this by the Milan- and Los Angeles-based artist.
Linking robotic fabrication with traditional building methods, Shanghai-based Archi-Union Architects produces new buildings with old souls. Models of three Archi-Union projects, including a cultural center for a rural community in Sichuan Province, sit on pedestals created with the same materials and methods as the buildings themselves.
Improvising during a financial crisis, Konstantinos Pantazis and Marianna Rentzou of the Athens firm Point Supreme Architects scavenged materials for a house they are building on the remains of an old cottage. They also organized samples of the materials into totem-like stacks that are compelling artworks in their own right.
Models of buildings by Caruso St John, a top London firm, and images of the buildings by London-based photographer Helene Binet occupy a room sheathed in wallpaper by conceptual artist Thomas Demand. It's one of the most beautifully conceived installations in the Biennial: architecture in the service of architecture.
The renovation of the ground floor of the Museum of Contemporary Art (220 East Chicago Avenue), by the busy Sharon Johnston and Mark Lee, is worth a look. The new spaces include a restaurant, Marisol (pictured here), with murals by the British artist Chris Ofili and a fresh menu by Chef Jason Hammel. Try the Marisol salad (with dressing from the MoMA Artists' Cookbook; $13) and the rye bucatini with goat's milk butter and clams ($21). As for art, the reinstalled permanent collection offers some thrilling juxtapositions. And new work by Chicago artist Amanda Williams shows the city in a new, sometimes sobering, light.
The Roundhouse, a stable designed by Daniel Burnham in 1881, now part of the DuSable Museum of African American History, is worth seeing any time, but through October 29 it houses Singing Stones, installations by seven artists organized by Paris's Palais de Tokyo. Standouts include angular, bench-like sculptures by Raphaël Zarka, a colorful addition to the building's skylights by Cauleen Smith, and Thomas Teurlai's cunning depiction of a copy machine spewing out prints.
The Garfield Park Conservatory (300 North Central Park Avenue) is a marvel that doesn't need embellishment, but it's fun to see it while Francois Perrin's box-kite-like sculptures (called Air Houses: Design for a New Climate ) add a bit of mystery to the majesty of the 65-foot-high Palm House.
The Art Institute of Chicago (111 South Michigan Avenue) has unveiled its first permanent installation of architecture and design under the title Past Forward . Curator Zoe Ryan has filled the second-floor space in Renzo Piano's Modern Wing with a greatest-hits collection of furniture (including Ali Tayar's folded-metal shelving system), architectural drawings (there's a surprising standout by Tadao Ando), posters, photographs, and even whimsical objects like a hairbrush spouting hair by artists Ines Kaag and Desiree Heiss.
Skidmore Owings and Merrill, the firm behind some of the most innovative skyscrapers of the last 100 years, is exhibiting the work of its structural engineers in a satellite show at Mana Contemporary (345 North Morgan Street). The first part, which could be called "the art of engineering," describes the structural systems devised by SOM partner Bill Baker and others for supertalls, like the Burj Khalifa in Dubai and the Jin Mao Tower in Shanghai. The second part, which could be called "the engineering of art," offers a look at SOM's collaborations with artists whose work requires structural expertise, from Picasso to such contemporary figures as James Turrell, Jaume Plensa, Janet Echelman, and Iñigo Manglano-Ovalle.
In 1967, Moshe Safdie burst onto the scene with Habitat, a ziggurat of stacked, prefabricated concrete apartments in Montreal. Ground was broken for a second Habitat in Puerto Rico in 1968, but the project was abandoned mid-construction. Philadelphia-based artist David Hartt shot haunting photos of the unfinished units decomposing, which he titled in the forest . They're on display at the Graham Foundation (4 West Burton Place), which supports architecture not just in Biennial years, but every year.