View Slideshow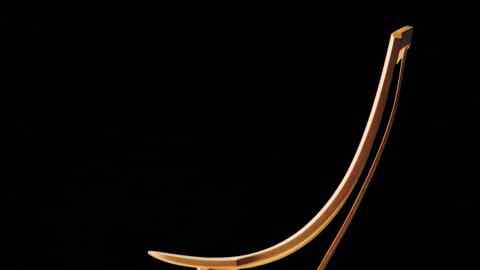 Penobscot Bay, halfway up the coast of Maine, has an unspoiled natural beauty that has long attracted artists, including Andrew Wyeth, Robert Indiana and Neil Welliver.
The seaside village of Rockport has become a haven for a different kind of artistic activity: woodworking. Four miles inland, on a slope along the Oyster River, is the Center for Furniture Craftsmanship, an 11-acre campus of four red barnlike structures built in the Maine vernacular style.
"I wanted to create a national center to promote the realization that designing and making beautiful things is as important an expression of the spirit as fine art," says Peter Korn, the founder and executive director. It is not a trade school: "The idea is to help students discover they have imagination."
The product of a Quaker school and the University of Pennsylvania, Korn devised furniture-making courses in everything from basic woodworking to advanced carving, turning and veneering. "Craft is a way in which people explore for themselves how to be a human being, how to create meaning in life," he says.
In 16 years Korn has welcomed 3,000 people from all walks of life. Recent participants include an emergency room doctor, a Coca-Cola executive, a former professional surfer and an antiques restorer. The nonprofit center offers several programs, from weeklong workshops for novices, priced at $650, to an intensive nine-month curriculum, costing $17,300.
Inside a naturally lighted workshop, student-made cabinets, no two alike, line the walls. Each houses an assortment of saws, planes and chisels, many made at and donated by the Lie-Nielsen Toolworks in nearby Warren. These fine tools are used for routine projects as well as intricate relief carving and marquetry.
"When you teach design, you are teaching a methodology," Korn says. "Becoming a really good designer can take longer than mastery of craftsmanship."
Yuri Kobayashi, a young Japanese fellow at the center, recently finished a large round wall sculpture in ash. With degrees in art and furniture design, she is 10 years into her craft. "But I still call myself a woodworker, not an artist," she says.
There are only a handful of woodworking schools in the country, which may explain why, last year, the center had 326 enrollments from 37 states and five foreign countries.
"Some of the top furniture makers in the world come here to teach," says Mason McBrien, a recent graduate who teaches at the center and has been fortunate enough to receive furniture commissions from architects, museums and retailers.
Korn has introduced a studio fellowship program that fosters the exploration of new work by both emerging and established woodworkers with exceptional records of creative achievement. He also spearheaded a collaboration between the Coastal Maine Botanical Gardens and five Maine-based alumni, who will each design a bench for the new sensory garden.
"I came here to learn skills, and then design became important," says Aaron Fedarko, one of the artists Korn chose to contribute a garden bench. "Now I can balance the design side with the technical execution side."