The concept of smart TVs isn't a new one, but a collaboration between JVC and Amazon may just be the smartest yet. While JVC handles the innards of making a great budget TV, Amazon handles the OS, meaning you get the very best of TV, movies and music right there on your homescreen – and all of it controllable with the power of your voice, thanks to Alexa.
The TV comes in three sizes – 40in, 49in and 55in – with prices starting at just £329. Here's why you should put JVC's Fire TV Edition set at the heart of your living room.
4K resolution and HDR out of the box
All three sizes of the JVC Fire TV Edition deliver 4K images in eye-popping HDR. What does that mean? Well, remember when Full HD was the watchword? Full HD means you're getting 1,920 x 1,080 pixels, but with 4K you're upgrading to 3,840 x 2,160. With almost four times the pixels, everything looks sharper than you'd ever imagined possible.
But it's not just about resolution. The JVC Fire TV Edition also comes with HDR. HDR stands for "High Dynamic Range" and means you'll get incredible contrast and a rich colour palette with images that burst from the screen with intense whites and deep, inky blacks. The JVC Fire TV Edition supports three of the major HDR formats: Dolby Vision, HDR10 and HLG.
Buy now from Currys PC World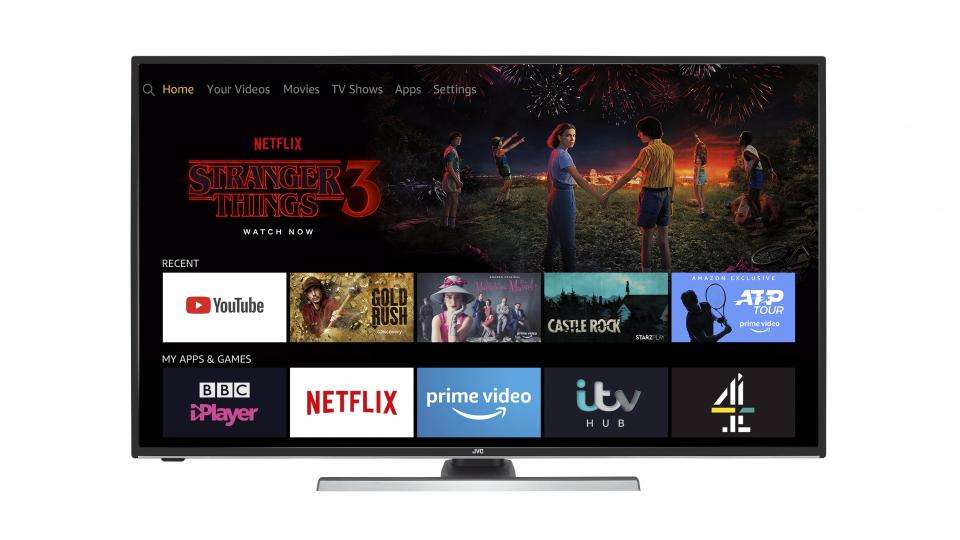 A world of TV and movies at your fingertips
4K and HDR would be nothing without content to showcase them, of course, and that's where Fire OS truly shines.
There are literally tens of thousands of hours of TV and film across a ridiculous number of services including Netflix, Amazon Prime Video, BBC iPlayer, ITV Hub, All4, My5 and more. Add in the YouTube and Plex apps and you can essentially stretch that number of hours indefinitely.
...not to mention over 70 channels with Freeview HD
Let's not forget this is a TV and not just a screen. With Freeview HD built in, you get access to over 70 channels – 15 of which are HD. There's a 14-day Electronic Program Guide (EPG) so you can plan ahead, and ensure you never miss the unmissable again.
All the world's musicians ready to play
But that's just scratching the surface of what Fire OS offers. Because Amazon's App Store is built in, you have your choice of apps to download and that includes your music streaming platform of choice.
Spotify, Amazon Music Unlimited and Tidal are all available. Add on a soundbar and you'll have an incredible music library with note-perfect clarity. Alternatively, you could get live radio with TuneIn, or kick back with an audiobook on Audible. Whatever your mood, Fire OS has something for you.
Take a break with fun and games
The JVC Fire TV Edition has 4GB of storage space built in – and you can add more using the two built-in USB ports. That opens things up to the games section of Fire OS, and to make sure that you get that spot on the high score table, you can always connect a PS4 or Xbox One gamepad via Bluetooth.
Alexa is waiting and ready to serve
Amazon's virtual assistant Alexa doesn't just live in Echo smart speakers – it's also in the JVC Fire TV Edition remote. That means you can control your TV with the power of your voice, switching channels, searching for content and controlling music.
What's more, if you have any compatible smart home equipment, you can ask your remote to control it. No need to get up: just ask Alexa to dim the lights to the right setting before settling it for the latest 4K blockbuster.
More HDMI ports to play with
It's true that you can get some of this functionality by adding a Fire TV Stick to any television with HDMI support, but that misses three key points.
Other TVs support some apps, but as we've seen recently with older Samsung sets, Netflix support can be pulled at any minute. With Fire TV at the heart of things, you can set your mind at ease.
Buy now from Currys PC World