Since the current government shutdown (which remains in place at the time of publication of this article) began on December 22, hundreds of thousands of federal employees have been forced to work without pay. President Trump hasn't budged from his desire for $5.7 billion to fund a wall along the Mexican border, while Democratic leadership remains steadfast in its refusal to provide that funding as a condition for reopening the government.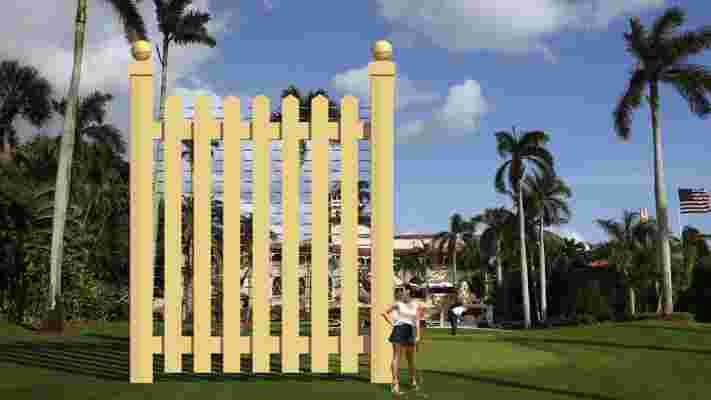 While it appears the State of the Union will be postponed to a later date, a group of architects and designers from Chicago have conceptualized a new project aimed at pointing out the absurd cruelty of Trump's central campaign promise. New World Projects Ltd., a subsidiary of New World Design , has released mockups for a proposed wall around Mar-a-Lago, the Palm Beach, Florida, club that Trump regards as his "Winter White House."
The design calls for a 30-foot-tall picket fence, making a statement about the separation of wealthy suburbanites from the consequences of the political decisions they often support. It'll be painted in a garish shade of gold, a longtime hallmark of the Trump aesthetic. Additionally, its designers would like the fence to be "lethally electrified" in order to prevent "illegal" entry to Mar-a-Lago, a system which would be powered by coal-fired power plants as a reference to America's fossil fuel addiction.
In 2017, New World Projects won an Association of Licensed Architects national Gold Medal Award for its proposal to block Trump Tower Chicago with a fleet of flying golden pigs . The Mar-a-Lago project is the latest manifestation of the group's belief that architects and designers shouldn't just refuse to work on Trump projects like the border wall, but leverage their talents to actively critique them.
"Mr. Trump has been promising a border wall since he was a Republican candidate. We decided it would be an interesting exercise to design a parody that would consider what Mr. Trump might want his wall to be," Jeffrey Roberts, Principal at New World Projects, said in a statement. "To do this, we looked back across the spectrum of Trump's statements and positions, selected the most irrational among them, then transformed them into architecture."
New World Projects has set up a GoFundMe campaign seeking $570 million to build the Mar-a-Lago wall. In the likely event that Mar-a-Lago blocks a project that actively trolls its owner from going forward, any money raised will be donated to the International Refugee Assistance Program. Will this incisive architectural proposal convince Trump to scrap his plans for the wall entirely? The chances are not looking good. But at a moment when all of politics feels like a farce, we could probably do with some architecture that imitates life.