In many ways, New York is an architectural wonderland . It is, after all, a city that boasts some of the world's most iconic structures as well as the masses of people walking past and observing them. Of the many, some hold the moniker for world's tallest: 432 Park Avenue , which is the world's tallest residential skyscraper (though that will soon not be the case), and One World Trade Center , which is the tallest structure in the Western Hemisphere, to name a few. Yet the Big Apple might soon have another record-setting title—this time, with the world's tallest wooden structure.
New York–based studio DFA recently unveiled a proposed 712-foot-tall prefabricated timber observation tower in New York's Central Park. Dubbed Central Park Tower, the structure would be located in the center of Jacqueline Kennedy Onassis Reservoir, a 106-acre man-made lake that holds one billion gallons of contaminated water.
Built in 1862, the reservoir is currently used as a landmark for visitors of the park to jog or walk around, but nothing more. Were DFA's project to come to fruition, it would place a tall timber tower with a vertical-axis wind turbine in the center of the reservoir. The power generated from the turbine would be used to filter the reservoir's water supply. DFA made sure the design of the structure was sleek, a minimalist effort that wouldn't be too invasive or cast too much of a shadow on its surroundings.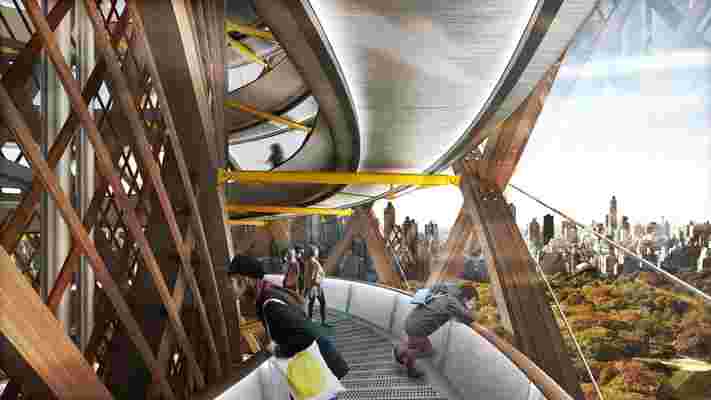 Standing hundreds of feet in the air with New York's closest skyscraper some two miles away, visitors would be afforded spectacular views of the city.
Like most everything in New York, the tower would feature a 56-foot-wide viewing platform for tourists and locals alike. The platform would allow visitors a 360-degree view of the city, with the closest skyscrapers roughly two miles south of the structure. "This conceptual project pushes the boundaries of what we perceive is possible in a city as dense, historic, and environmentally vulnerable as ours," DFA founder Laith Sayigh, in a statement. "The Central Park Tower has the potential to be a model project for other cities aiming to fix existing infrastructure, build tall to capture views, and elevate the urban public realm."