"This is not a minimalist apartment," Sam Jaradeh says of the SoHo loft he decorated himself. He lives there with his partner and their Maltipoo, Rio, which Jaradeh, who's 37, purchased as a compensatory gift to himself when a trip to Brazil was canceled. The 6,000-square-foot space, purchased in 2014, was once an art gallery, with its occupants living in the area that is now Jaradeh's bedroom. The current living room was the gallery, and in a way it still is, as he uses it not only to live, dine, and fête, but also as a kind of showroom for his furniture—pieces so uniquely over-the-top they defy categorization (let's call it Sex Dungeon Baroque)—which he'll be offering clients, starting this fall, as SJ Studio NYC . He wanted to mix an old-world, "Victorian" sensibility with something industrial and NYC , but made sexy. His inspiration board included images from the hotels in which he and his partner stay all around the world, especially Hotel Costes in Paris , a favorite. When all had been installed, friends began asking where they could buy the pieces for themselves, and a business idea was born. "I wanted every piece to be like a piece of art. If I'm going to make furniture I don't want it to look like you could get it at any store." Mission accomplished.
There's a lot of exotic skin. The chairs are python. There's a lot of fur and a lot of skin. A lot of fox. A lot of kangaroo. It's wild.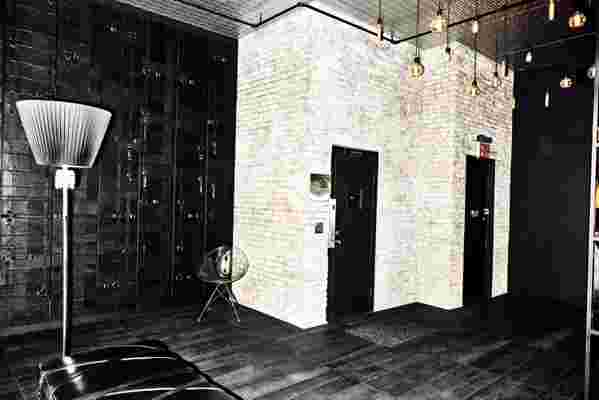 Architectural Digest: Where did you get your ideas from?
Sam Jaradeh: I was very inspired by the Hotel Costes.
AD: Hotel Costes meets The Eagle.
S. J.: Sort of. I wanted to do old French meets industrial and a little underground. This closet is all made out of leather harnesses. It's not an S&M fetish thing. There's no kink behind it. I just like that dark, sexy look.
AD: Just because I wear scrubs doesn't mean I'm a doctor.
S. J.: There's an old-European vibe, but I wanted to mix it with sexy stuff, mixed with some hard edge.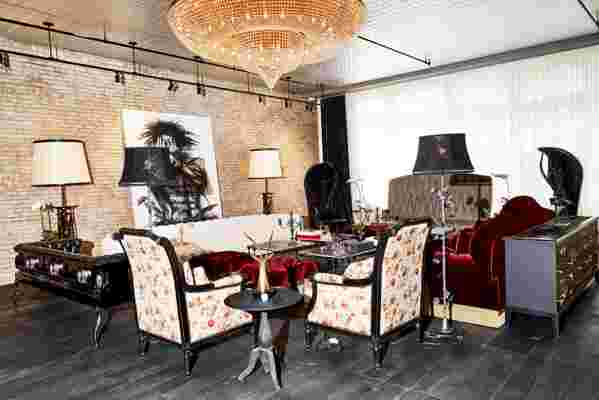 AD: What's the largest number of people you've had on that couch?
S. J.: I had a private party during fashion week; probably seven or eight people sat there. This is not my piece. It's a Baxter.
AD: The smaller couch, it's not yours either?
S. J.: That's actually a coffin.
AD: Jesus.
S. J.: This artist does them. He makes them in colors too. He's an undertaker.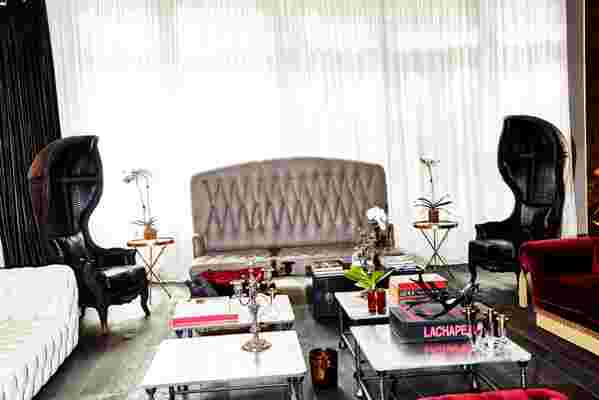 AD: Tell me about these python chairs.
S. J.: In order for us to have them cover a panel we had to use all bellies. And then the cushion is the tail. We probably used three or four snakes for each chair. The frame is burned oak wood. This silhouette been around for as long time; it's an old Victorian Gothic shape. I wanted two symmetrical pieces that would frame this formal area.
AD: Did you say formal?
S. J.: This living room is the formal living room and then it transforms into lounge-dining and bar, and then a comfortable TV room.
AD: Tell me about the bar.
S. J.: Originally it was a kitchen island. I knew I did not want a kitchen island that was going to ruin the look of my formal dining room. I wanted it in stainless steel to match the dining table. It's all one sculpture. It wouldn't fit in the elevator. We had to break two windows to get it in here. The whole idea is that when you're sitting there having dinner you're looking at a sculpture; you're not looking at a messy kitchen. This black wall you see behind the bar is functional. It's all a kitchen, but just for the bar.
AD: Is that where Katy Perry got her "swish bish" thing from?
S. J.: This is an artist who did this as a tribute to the artist David Hammons. I've always loved the Hammons piece and there's no access to it, nor could I afford an eight-million-dollar piece of art. I love how it's basketball, and then you take away the basketball and it's just a classical chandelier. And that's where my taste comes in—that fucked-up element.
AD: What's the bench made of?
S. J.: Chinchilla. All the brass hardware on it is a reflection of the room itself. The legs are golden columns that run into lion feet, resembling the room's gold central column. This will be one of my most expensive pieces.
AD: Big bedroom.
S. J.: I wanted a room where I could do anything inside. I have my office here. I have my bed. I have my spa in here. I have my library. And I have my minibar.
AD: Do you box?
S. J.: No. At Art Basel, I saw this artist who makes punching bags, but they're so colorful. I was like, "Fuck that, I'll make my own piece of art." Each piece of metal, stud and chain—I hand-did it. And of course I brought my trademark lion. The dumbbells and kettlebells are functional. I wanted to make a functional gym. I put my yoga mat down and work out here.
AD: The mirror is huge.
S. J.: For every panel you see, they broke four or five of them. The concept is to have dimensions. This is not a straight, mirrored wall.
AD: The tub in your bedroom says "Gold Digger."
S. J.: It's just a joke. I wanted a bathroom floating in the middle of the bedroom. But I wasn't going to have a ceramic tub or a porcelain tub. There's a British company, Catchpole and Rye, that makes brass tubs. This is brass, but in order for the color to never change it's gold-plated. Normally, the plaque here is the name of the company. I said, "We have to eliminate that because I don't want the name of the company exhibited in my house. This is not your showroom. How about you customize something for me?" Their technician said yes but I had to come up with the phrase.
AD: The dining table is downright mythical.
S. J.: The whole idea is that when you're far away from the table it looks like it's floating. I thought, Well, if it's a floating table why don't we have floating chairs? But how do you do a floating chair? Part of my collection is called the angel chair. The large angels are the head of the table. Each feather is individually sculpted by hand. All the seats of the chairs are made out of kangaroo.
AD: And the crosses and Stars of David?
S. J.: The religious symbols came after I found the cathedral organs of the chandelier above. I love the idea of having a dinner and having a religious experience around the table. I'm Jewish. I can't own a cross? Why not? I wanted to mix the angel chairs with something more structured and square. I wanted the woods mixed with the brass and stainless steel. Everything was experimental and everything was spontaneous.
AD: What are these leather things hanging on the wall? Do you have a horse somewhere in here?
S. J.: It's a sculptor in Berlin, an artist I know who does all these leather and rubber sculptures. He did it just for us. I already had the Louis Vuitton hammock and the leather closet—a little sexy, underground vibe.
AD: Is that a python blazer?
S. J.: It is. I wanted to create our closets where it's like a store, where there are compartments everywhere. There's an underwear section and a jewelry section. Everything is utilized to the max.
AD: What's with the giant golden dollar sign above your golden tub?
S. J.: People think, Oh, that's so funny, you built yourself a golden bathroom so you put a dollar sign in there. No, I already had it.
AD: Gotta ask: Why gold?
S. J.: Conceptually, I wanted it to go from a gym into a spa. I wanted you to walk into a gold tunnel. The only element I mixed in was the mirrored ceilings. Two weeks ago, I'm taking a bath. I look up and think, This is an Instagram opportunity . I've had every model from fashion week, every drag queen, get naked and stand in this tub and take pictures of herself. All people want to do is take photos in here. And I never really planned on that. I just wanted a golden bathroom.
AD: Where did you grow up?
S. J.: My parents had a place on the Upper East Side, and then we moved to Brooklyn when I was seven.
AD: Have they seen the place?
S. J.: Of course.
AD: What did they think?
S. J.: My mom immediately started crying. She was just really, really happy for me to have this kind of place. She was like, "Oh, my God, what did you do? I had no idea my son had this in him."