Viewsonic's latest DLP projector has a 1,280x800 resolution, so it's not quite the 16:9 aspect ratio we're used to on most TVs, but it can still play 720p HD content without scaling - simply by leaving the top and bottom 40 lines blank. It's really a business or school projector, though, and with a brightness of 2,700 lumens it's ideally suited to office environments with strong lighting, but as with many such 'cross-over' projectors, its ability to play HD and 120Hz 3D content is given headline prominence.
You get a wide choice of inputs, including two VGA ports, composite and S-Video and an HDMI port. The VGA ports can also accept component inputs, if you have the correct converter cable - it's not included in the box. Audio can be input either via HDMI or a 3.5mm jack, and there's also a 3.5mm audio output - the PJD5523w's single internal speaker is clear but not very loud.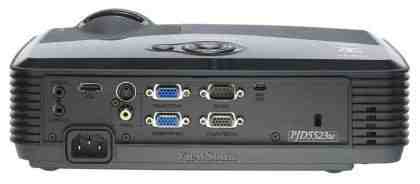 Even in its choice of ports, the PJD5523w has a split personality. There are mounting points underneath to mount it on the ceiling, and a proper RS232 port for remote control functions - ideal for a home cinema setup. Meanwhile, you also get a mini-USB input port that can be used for mouse control in presentations. There's no USB or memory card slot for reading presentations from flash drives, however, and it's worth noting that the PJD5523w doesn't include a carry case.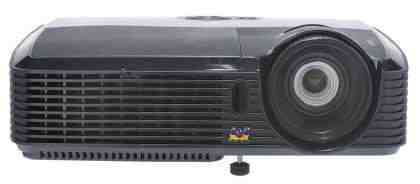 There are a couple of things to bear in mind when deciding whether you want to buy the PJD5523w. First of all, despite its home cinema capabilities, it's a noisy projector, so not ideal for watching movies unless it's mounted out of the way or you have a beefy sound system to drown it out. This is mostly due to the loud fan, which blows hot air from a vent on the front. The case above this vent also gets quite hot.
Secondly, even with a 6-colour, 7,200rpm colour wheel, the rainbow effect will still annoy those who are more susceptible to it, especially in black-and-white or dark scenes with occasional flashes of light. In colour scenes it's much less visible, and if you're used to DLP you'll probably find it hard to spot.