Just what exactly defines an American house? Is it the warm shingle style of New England's coast or the stately federal buildings of its cities? Tudor rowhouses or Prairie School dwellings of the Midwest? In the 21st century, it turns out, it just may be a bit of all of that. In The American House, (Images Publishing, $65) out today, editor Hannah Jenkins endeavors to explore the breadth of the country's recent architecture, curating 100 homes by over 50 architects, including Robert A.M. Stern and Olson Kindig. The results are as varied as their inhabitants, a phenomenon that—according to critic Ian Volner, who penned the book's introduction—is new to the 21st century.
"That the house should be the vehicle of such diversity in the United States is surprising only to the extent that, until fairly lately, uniformity was the order of the day in domestic residential construction," Volner writes, citing the aesthetic trends that ruled various decades. "Even into the present century, single-family residential development has largely been the province of the exurban real-estate developers and their oversized McMansions, hypertrophied versions of the Cold War ramblers that preceded them. But within this sea of sameness, there have arisen a few islands of originality and slowly they have now grown into a vast archipelago."
These homes, as Volner points out, often incorporate references to many of the styles that came before them, making diversity out of sameness. Click through for a preview of some of the featured houses.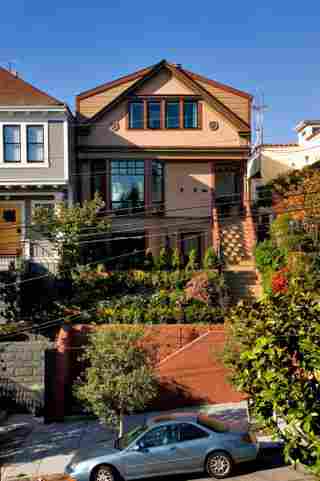 San Francisco Residence by House + House Architects
This San Francisco home's Victorian exterior belies the modern renovation inside.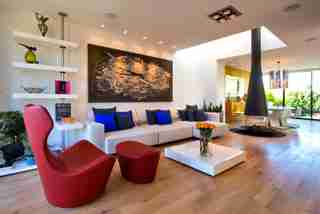 With high ceilings, skylights, and bare floors, House + House gave the interior a modern, airy vibe.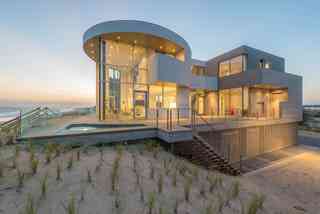 Beach House by Barnes Coy Architects
For this oceanfront home atop a dune, New York-based Barnes Coy Architects looked to traditional cedar beach houses, creating a modern version whose unusual shape maximizes views.
Panoramic views from the home's rectangular, sea-facing facade.
Kim Residence by Christopher Mercier
For this home in a wooded area, Mercer, of California's (fer) Studio, built several additional parts around an original center structure, adding to the onetime ranch-style home's footprint and optimizing its views and sustainability.
An unconventionally-shaped window in the dining area.
Minimalist Hideout by Dan Brunn Architecture
Originally built by Frank Gehry, this Los Angeles home got a minimalist renovation by Dan Brunn, who aimed to respect the original architect's design while adding new touches, including a copper-clad entryway and larger windows.
A unique tilted wall separates the bedroom and living room.
Adirondacks Home by Phinney Design Group
Though the shores of New York's Lake George might seem an unlikely place for a Japanese-style home, such was the request from Phinney Design Group's clients. The Saratoga firm opted to juxtapose Japanese details with more traditional vernacular style within the footprint of the lot's original structure—a summer camp.
The interior features an open floor plan that's a nod to the simplicity of Japanese architecture and a way to take in the lake views.
Connecticut River Home by Centerbrook Architects
This geothermal home, which comprises several buildings, was built in seven steps. Centerbrook Architects endeavored to nestle each building into the surrounding landscape to give the home and homeowners the feeling of being one with nature.
A rounded doorway connecting buildings on the property.
New Barn by Rios Clementi Hale Studios
Riffing off the shape of a traditional farmhouse, Rios Clementi Hale Studios turned this 1980s house into a modern home for indoor-outdoor living.
A single hallway extends the entire length of the home, connecting all of the ground-floor rooms, many of which open onto patios.
A geometric staircase gets an extra note of drama with a black metal panel.