When Chilean architect José Cruz Ovalle set out to design the South American hotel group Explora's first property outside of Chile, Explora Valle Sagrado in Peru's Sacred Valley, he knew it would be one of his most challenging projects to date. For one thing, the property, nestled in a narrow Andean valley, was incredibly hard to access. For another, the area was of great architectural value, dotted with ancient Incan walls, centuries-old corn and quinoa terraces, and structures that had endured since the Spanish colonized Peru in the 1500s.
Because of that, everything Ovalle designed would have to satisfy sustainable construction requirements set forth by the National Institute of Culture of Peru. Peru has seen a flurry of development in the last few years, but the country and those working there are taking careful measures to make sure it's done with integrity. This is in line with other preservation initiatives that include new restrictions on visiting Machu Picchu to help protect the site from damage caused by years of foot traffic and off-path exploration and measures to protect the 50 percent of the country still covered in rainforest. In fact, Peru is the only nation in the world hitting what the Worldwatch Institute calls "the sustainability sweet spot," with both high levels of human development and ecologically sustainable levels of resource consumption. Peru's high levels of sustainability and retention of traditional techniques have attracted the fashion crowd here, too: Peru is home to 80 percent of the world's population of alpaca, known for their extreme eco friendliness. Brands like Isabel Marant, Rachel Comey, Ulla Johnson , and Stella McCartney have been incorporating alpaca into their collections and using Peruvian workers to do the hand-knitting.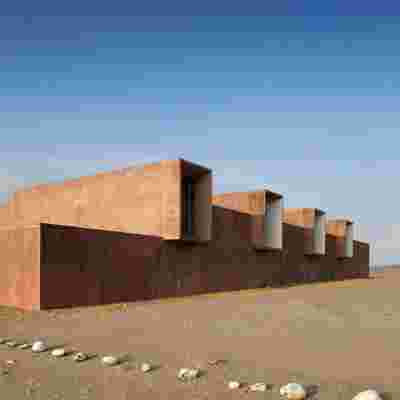 Barclay & Crousse redesigned the Peruvian archaeology museum Museo de Sitio Julio C. Tello after the original was destroyed by an earthquake. The low-rise, earth-tone museum was designed to blend seamlessly with its arid desert surroundings.
In Explora's case, working within NICP guidelines meant setting exterior inclines to meet minimum and maximum angles, ensuring buildings did not interfere with existing vegetation, and calling almost exclusively on local Andean materials, like stone, wood, tiles, and mud. Ovalle says these limitations were less a hindrance, however, than an inspiration. "The conception of the architecture of the hotel did not aim to work around historical prominence, but, on the contrary, to enter into resonance with it," he says. The Incans believed in the importance of connecting the horizontal with the vertical; to accommodate, Ovalle situated the hotel at a precise angle between the incline of a hill and the sprawling corn and quinoa fields. Throughout, walkways mirror the up-and-down rhythm of the Inca terraces, so that the mountains are always in view, no matter where you are. Using opaque materials to build, meanwhile, ensured that the hotel's architecture, says Ovalle, "does not burst but, rather, sits meekly within the environment."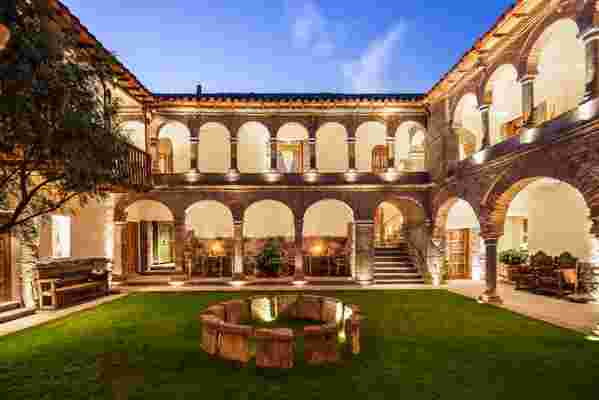 Most of the stone work in the courtyard of Inkaterra La Casona, a former 16th-century manor, was refurbished by hand.
Similar examples of environmentally cohesive design abound, from the low-lying, red-pigmented concrete Museo de Sitio Julio C. Tello at Peru's Paracas National Reserve, designed by Lima-based firm Barclay & Crousse , to the new restaurant Mil Centro by Estudio Rafael Freyre , built on the edge of the Sacred Valley's historic Moray Archaeological Complex, around an endangered Andean queñua tree, using local stone and adobe. (In keeping with the architectural ethos, the restaurant also grows much of its ingredients on-site.) When designing Inkaterra La Casona in Cuzco, on land that once served as training grounds for an Incan army, Peruvian designer Denise Guislain-Koechlin worked within NICP guidelines to retain most of what had been a 16th-century manor, repairing foundations, cracked walls, and gable roofs, and restoring original doors, windows, and wooden balconies—mostly by hand. Interiors were furnished with pre-Columbian and Spanish colonial crafts sourced from throughout Peru.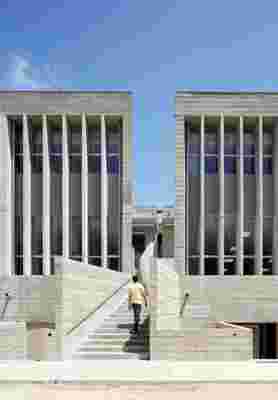 The Lima-based firm Barclay & Crousse's Edificio E building in northern Peru won the 2018 Mies Crown Hall Americas Prize.
All of which has the rest of the world taking note. Late last year, Barclay & Crousse's Sandra Barclay and Jean-Pierre Crousse were awarded the Illinois Institute of Technology's Mies Crown Hall Americas prize for their fragmented wood-textured concrete Edificio E building at Universidad de Piura in northern Peru, and this semester, the pair are teaching an advanced design studio course at the Yale School of Architecture. Their work, as they describe it, is about working with what you have while not letting what you have limit the work: Cantilevered roofs and perforated walls take inspiration from Incan design to prevent sunlight from overheating buildings; labyrinth-like walkways, ramps, corridors, and courtyard gardens follow a vernacular approach to encourage light, ventilation, and impromptu encounters. "[The attention has] given Peruvian architects confidence to do better-quality work," while also firmly putting Peru, Crousse says, "back on the architectural map."