When, in 2015, it was first announced that a Zaha Hadid–designed building was finally coming to Australia , there was a great deal of excitement. And rightfully so. Until her untimely death in 2016, the Iraqi-born talent had become world-famous for designing some of the most innovative structures on the planet . Add to that the fact that she was the first female to ever win the coveted Pritzker Architecture Prize, and that Hadid's signature flashy outfits almost become as iconic as her dramatized, highly angular architecture. Now, her vision will be on display once more in Australia. And this time, it will be with a $260 million luxury apartment building.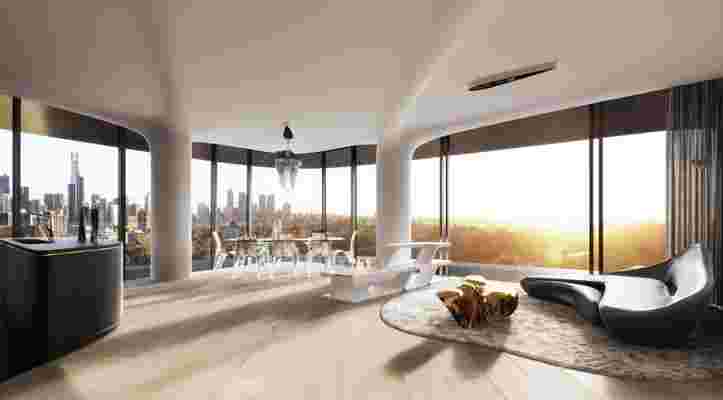 A rendering details the interior of one of the 158 units in the building.
It was recently announced that Zaha Hadid Architects (ZHA) has won planning approval for a 20-story residential tower in Melbourne. The structure, which is being called the Mayfair, will be located on St. Kilda Road, a major route through the central business district of the city, where the London-based firm is currently working on ZHA's other tower. The Mayfair will provide 158 one- to five-bed units, ranging in size between 755 and 6,000 square feet.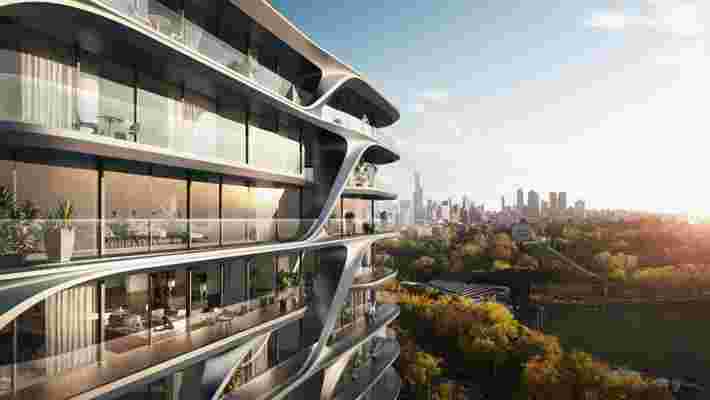 The balconies on each floor will provide residents spectacular views of the surrounding landscape.
The firm, now led by Hadid's former partner, Patrik Schumacher, included glazed balconies on each floor that are separated by diagonal struts, which link each floor together, creating a sinuous design around the façade. "The fluid forms of the façade define large balconies for each apartment and spectacular views of the Royal Botanic Gardens, Port Phillip Bay, Albert Park, and the skyline of the Central Business District," the firm said in a statement. Working in collaboration with the local firm Elenberg Fraser, ZHA's design will feature a beautiful communal roof terrace, complete with two swimming pools and views of Albert Park Lake. There is no indication as to when the building will be completed.